WHAT IS MARKETING AUTOMATION?
Marketing automation is where you use software or service to automate your marketing and sales tasks to simulate human behavior.
Essentially, the program follows the settings you make to deliver emails, campaigns, deals, etc. The program acts like a human being and delivers content to your audience as you normally would.
This creates the idea of personalized content being sent from someone on the other side of the computer screen – however, it is the program responding to your settings.
HOW DOES ACTIVECAMPAIGN WORK?
ActiveCampaign uses an intelligence system that gets smarter as it learns from your settings, such as:
what you send your customers
your customer's behaviors
the campaign conditions
the content you send
how often you send content
And much more. The system starts by you inputting content into templates to send, automating the conditions system, and applying your settings.
The system then does what it's designed to do – send the content based on your demands. As it continues the process of sending information and receiving intel on your customers from your website – the system grows smarter. This marketing automation tool can give humans a run for their money!
As the system learns about your habits and your customer's behaviors and responses it can suggest personalized content to certain users.

HOW TO USE ACTIVECAMPAIGN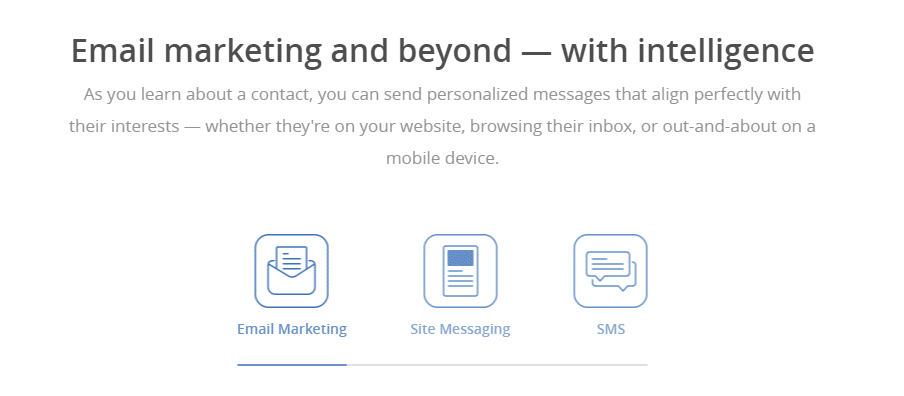 There are several features that make ActiveCampaign a great tool to use:
Import your contacts
Create a Campaign / Deal / Form
Create the Automation
View Reports
Integrate Services
These are the main features of ActiveCampaign. Using this service correctly can result in automated marketing designed your way for your company. Create lists, a marketing campaign, and generally use this tool with any marketing channel.
IMPORT CONTACTS AND INTEGRATE SYSTEMS
We all have contacts that we need to switch over when using different services and programs. The import system in ActiveCampaign makes it a quick and easy task.

You don't have to copy and paste your contacts into any list or upload a CSV if you have one. You can import all your contacts directly from multiple platforms.
Being able to upload your contacts from multiple platforms makes this simple to do and saves you a lot of time.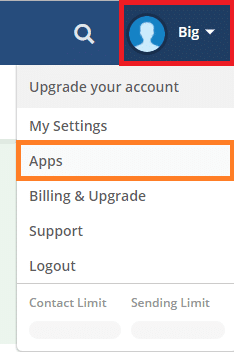 If you also have services you want to integrate to ActiveCampaign, they also include that feature for you. You can head over to Integrate Services and choose over 100 platforms to integrate into your ActiveCampaign platform.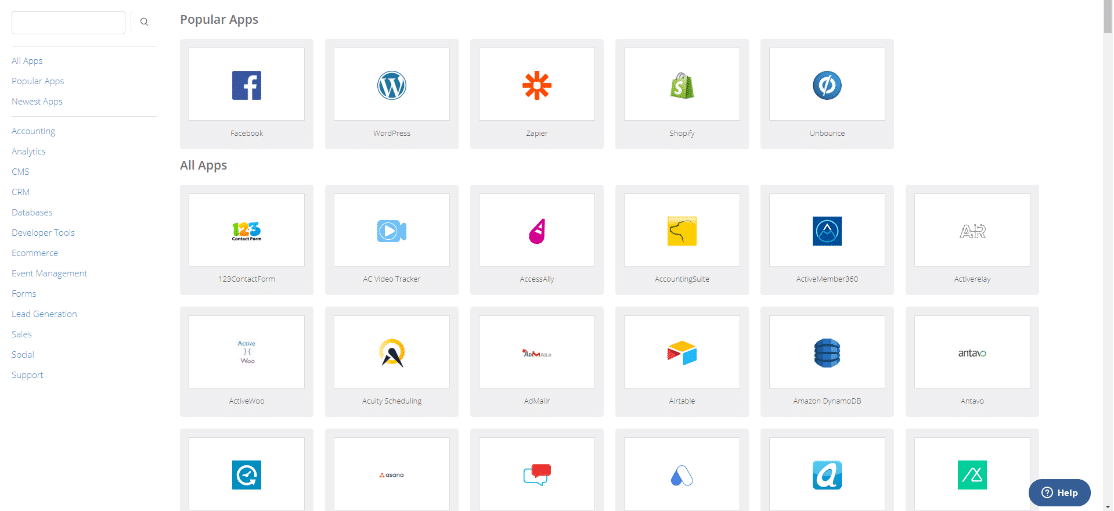 This makes it easy to keep track of your customers on all platforms and all your businesses. The deliverability (not just of emails hahaha) but also the actual platform is amazing.
AUTOPILOT CAMPAIGNS
Creating a campaign is a process that takes no time at all when using ActiveCampaign because each automation feature works flawlessly together to create your campaign. You can create one in just 9 easy steps!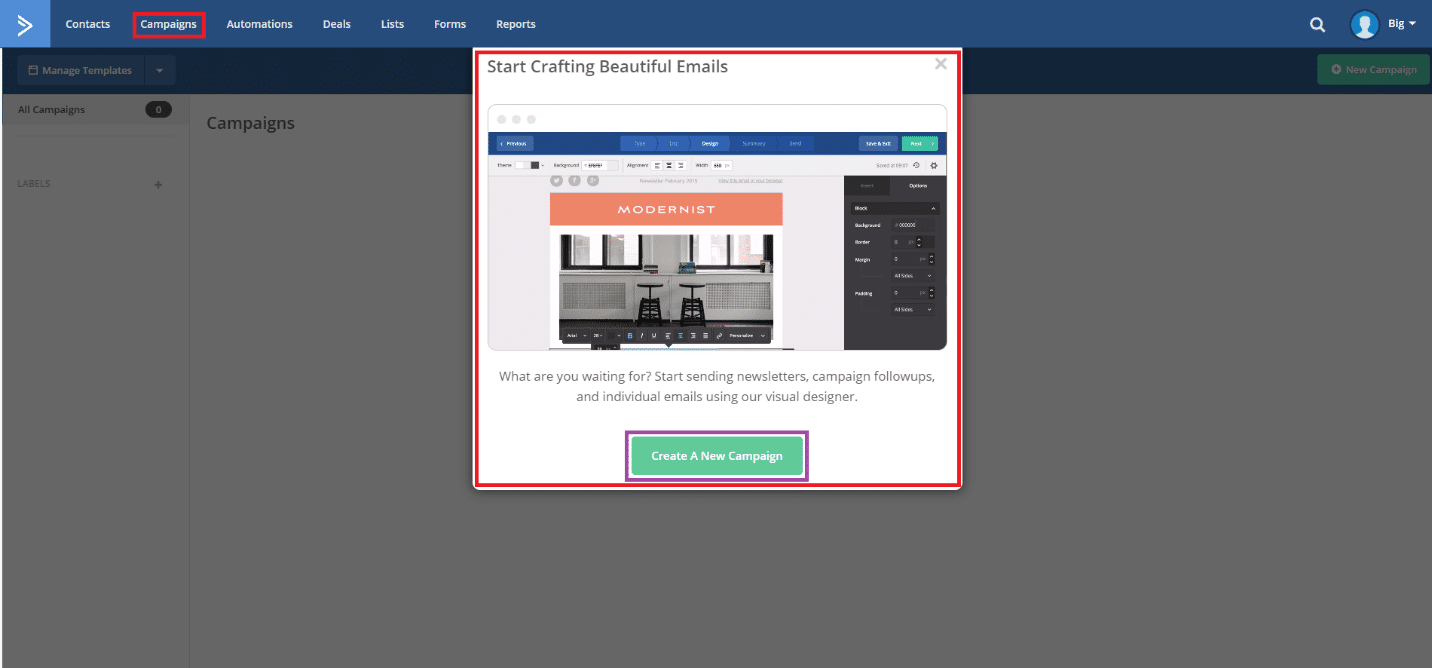 1. Select Campaign at the top of the screen. It will take you to the Campaigns Dashboard and a popup will tell you about Campaigns. Click on Create a New Campaign.
2. You can choose to Exit or Advance anytime during the process. Click the Text Box to type in your Campaign Name, then select your Campaign Type. You can choose between six different options depending on what you want.

3. Choose the Contact Lists that you want to send to; you can choose one or all the ones you select. Then you can hit Next to move on.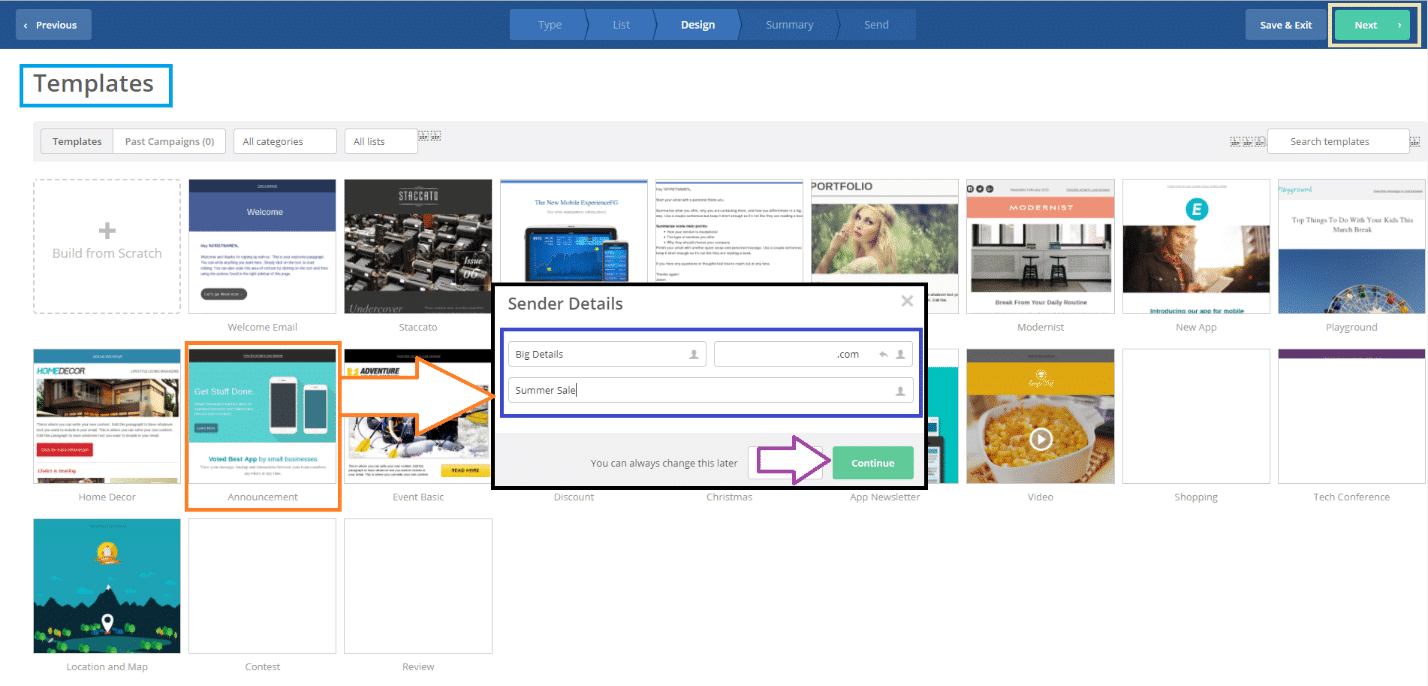 4. You'll be on the Template Screen, where you can choose to design your own template or use a premade template. Once you select a template a popup asking for your Sender Details will occur. Enter the information and hit Continue, followed by the Next button.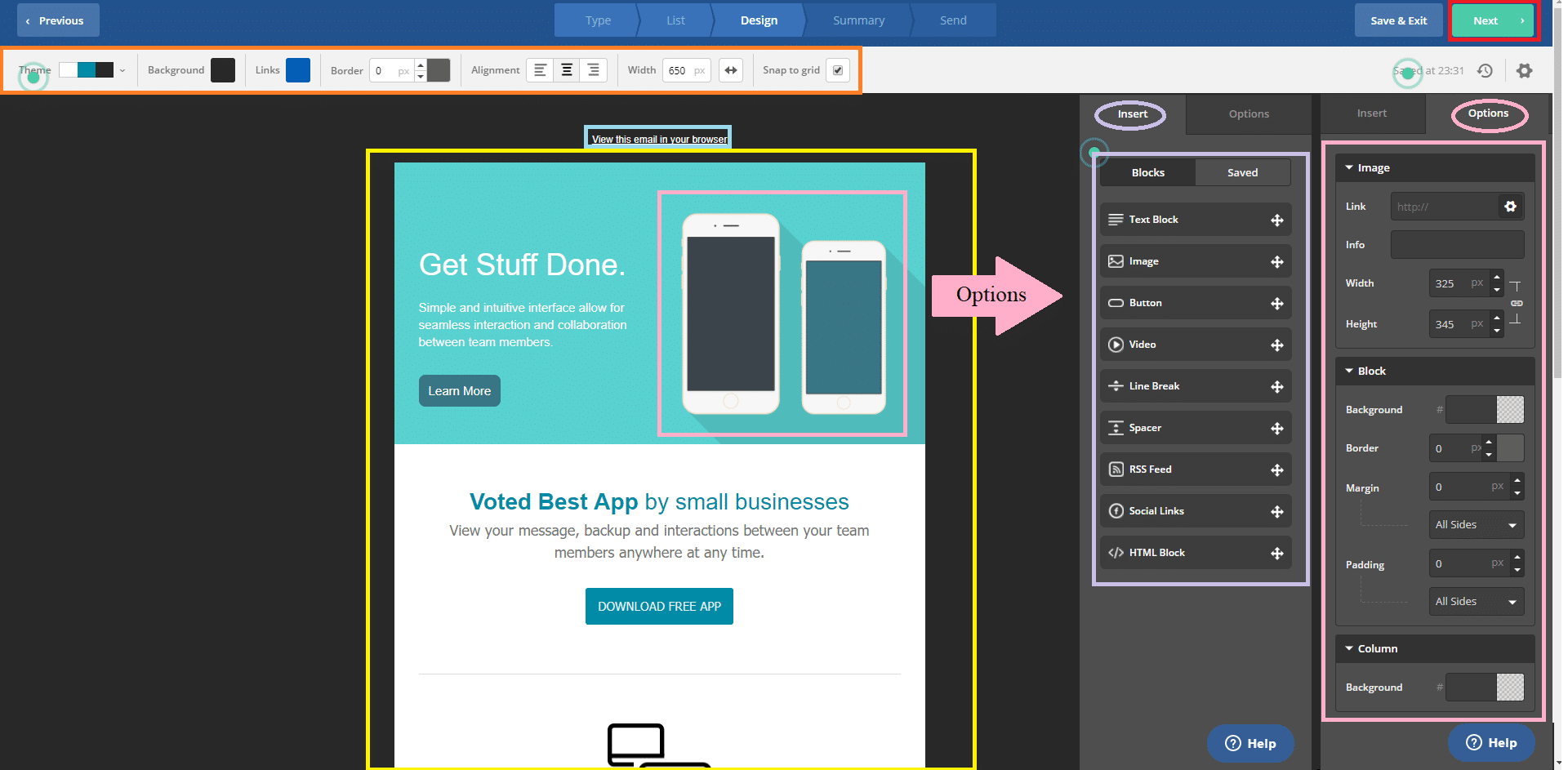 5. The Design Screen will have many options for you to create your custom design. You can change the template colors, background, links, border, alignment, and width from the toolbar at the top.

6. Then you can choose to Insert text blocks, images, buttons, videos, etc. If you click on an image on the Template and then the Options tab, you can change the link, picture, size, the background of that image block/text block, and choose the column color. Once you finish, click Next.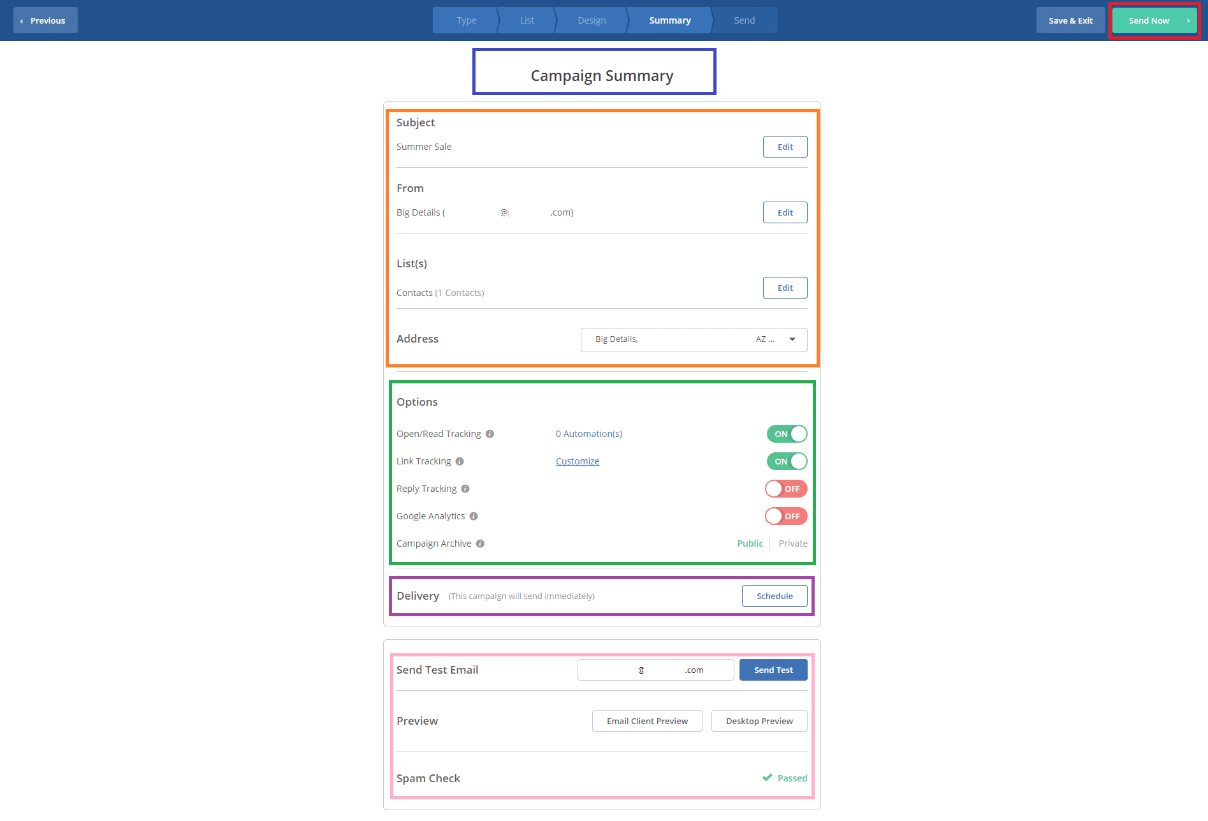 7. The Campaign Summary will display all the information from your business, contacts, options for automation and tracking, delivery schedule, test/preview, and spam check. If everything looks correct, select Next.

8. The Confirmation will pop up and if you are ready to send the campaign, select Send Campaign Now.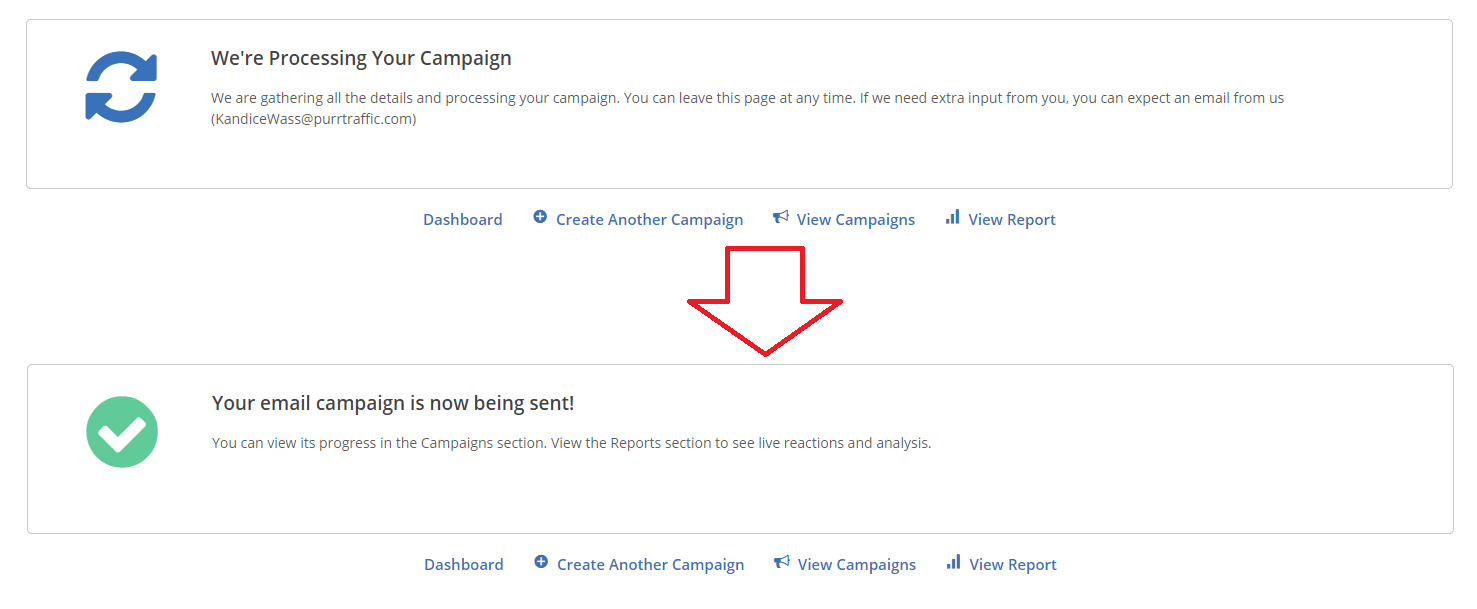 9. The campaign will now Process and then Send if it is processed quickly. Your first campaign has been sent out.

AUTOMATION INTELLIGENCE
The intelligence system that ActiveCampaign has created makes automation a breeze. It's akin to machine learning on some level as this tool start to learn your desired behavior. You can choose your conditions and with each condition, choose a different outcome. The ActiveCampaign automation sequence is really straightforward.
Let me show you this cool feature.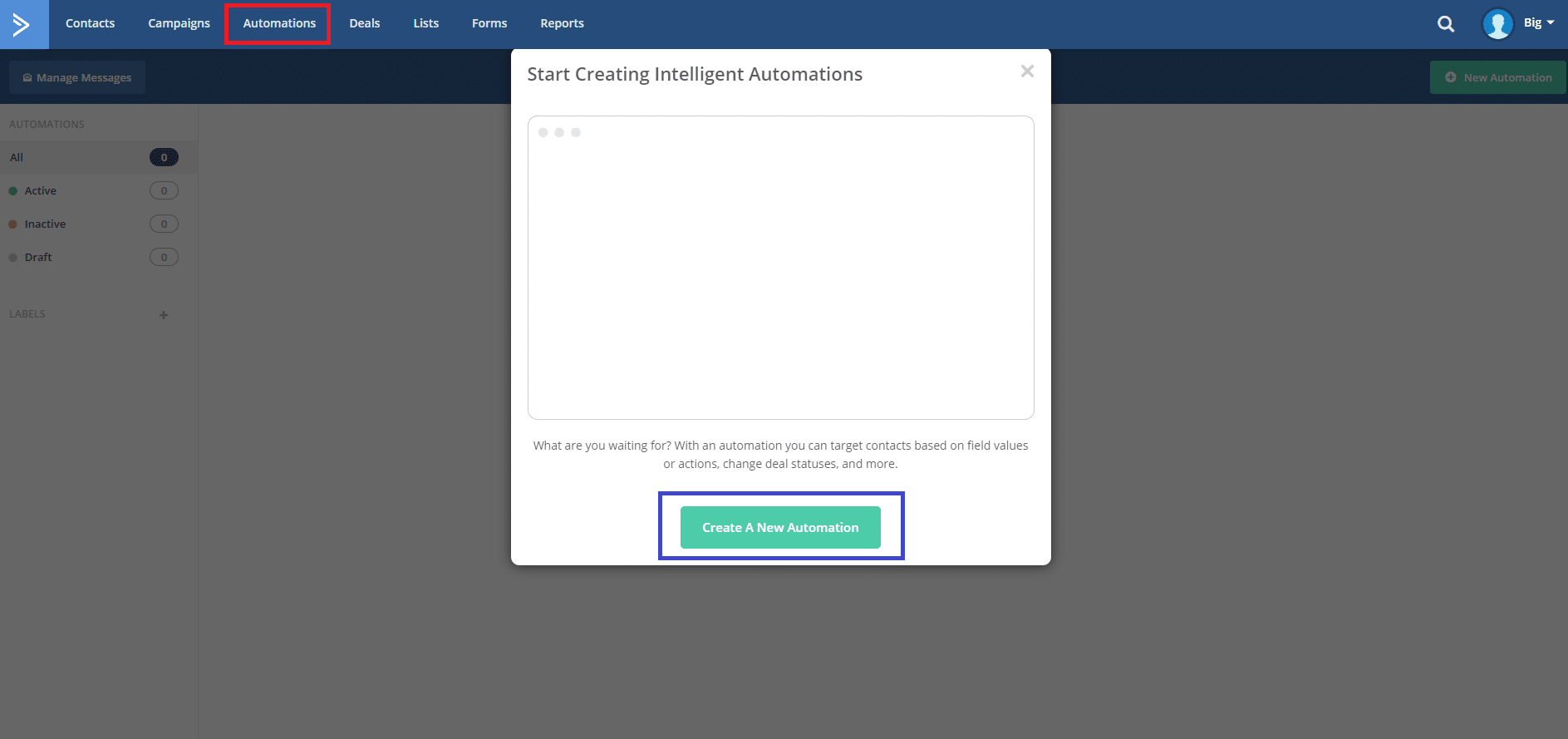 First, click on the Automation tab. It will take you to the Automation Dashboard and the popup will tell you about automation. Click the Create a New Automation button.

It will take you to the Create a New Automation screen where you can choose which automation you want to use. Select one of the Recipes to use and click Create.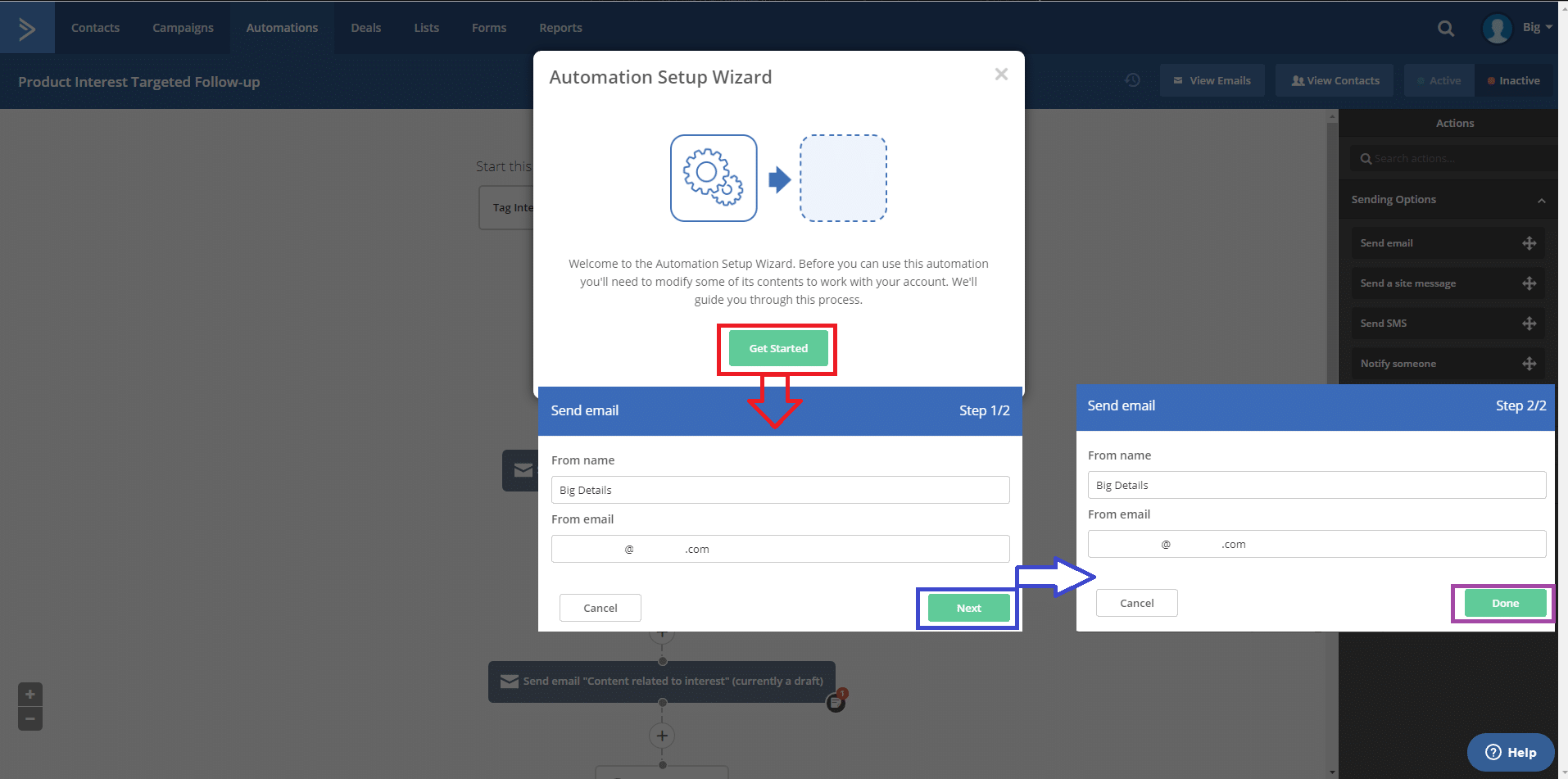 The Automation Setup Wizard will display. Select Get Started to move to the Send Email (1/2), make sure the information is correct, and select Next. The Send Email (2/2) is the same so click on Done.
This is the Automation Setup screen where you can design the routes you think your clients may take. To Add New Start, click on it. You can do this with the entire process to alternate different options with different correspondence.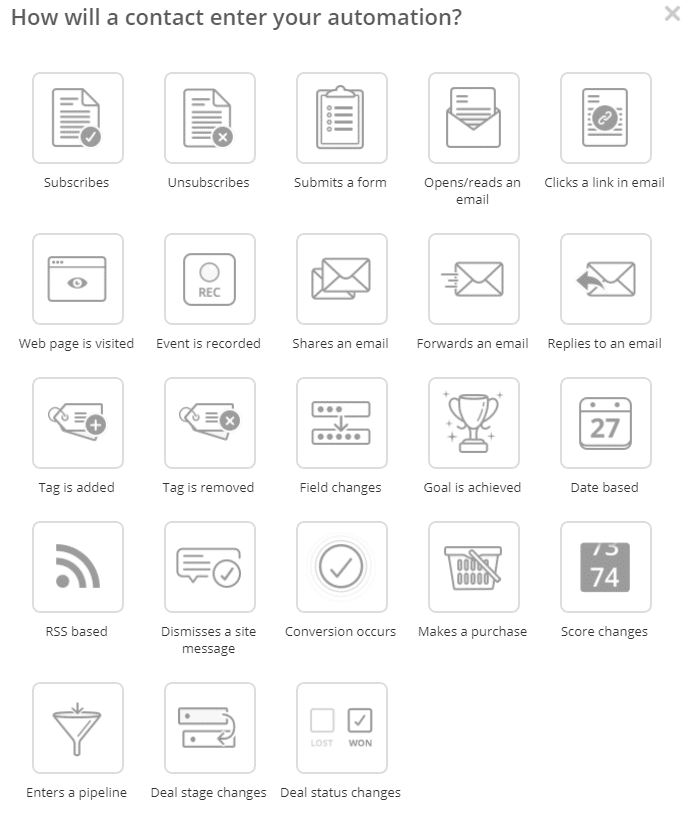 You can now choose which Start you want to include on your list. Select an option and you will see a popup.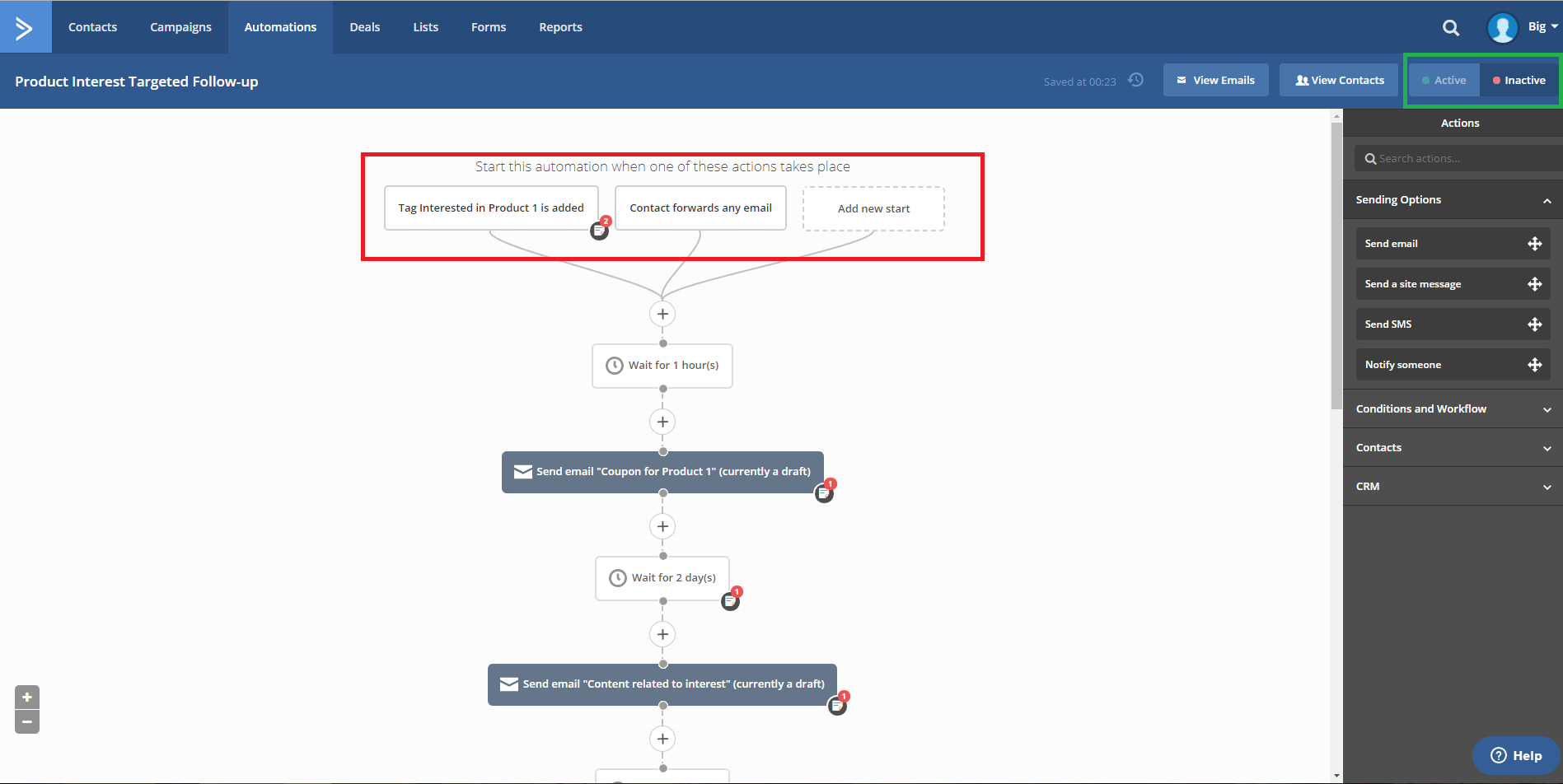 Once you Add New Start, it will show up immediately on the list and becomes an option for the intelligent automation system to choose between, based on your clients' behavior. Select the Active button to make your automation now available for the campaign we just created.

After you choose Active you can click on the Automations tab at the top to return to the Automation Dashboard where you will see your active automation.
There are a lot of tools in the automation marketplace, but I think ActiveCampaign marketing automation software is unparalleled. Automation workflows are still not fully incorporated into marketing and outreach campaigns which is a shame.

AUTOMATED DATA & REPORTS
I really like a platform that provides me with easy-to-understand and read analytics. I have a tough time with companies that overdo the data reports to the point where you need a specialist to read them.
When you click on your Reports tab at the top of the screen, you will see your Reports Dashboard. This will display your Campaigns that are currently running and past campaigns.

You can see your Campaign with basic reports such as clicks and open, which tells you how many of your contacts opened the email and how many clicked on a product/link in the email. Click on the title of your Campaign to open the analytics and data.
Such email and site tracking are really useful if you want to improve your opening rates as you can see what is working and what is not.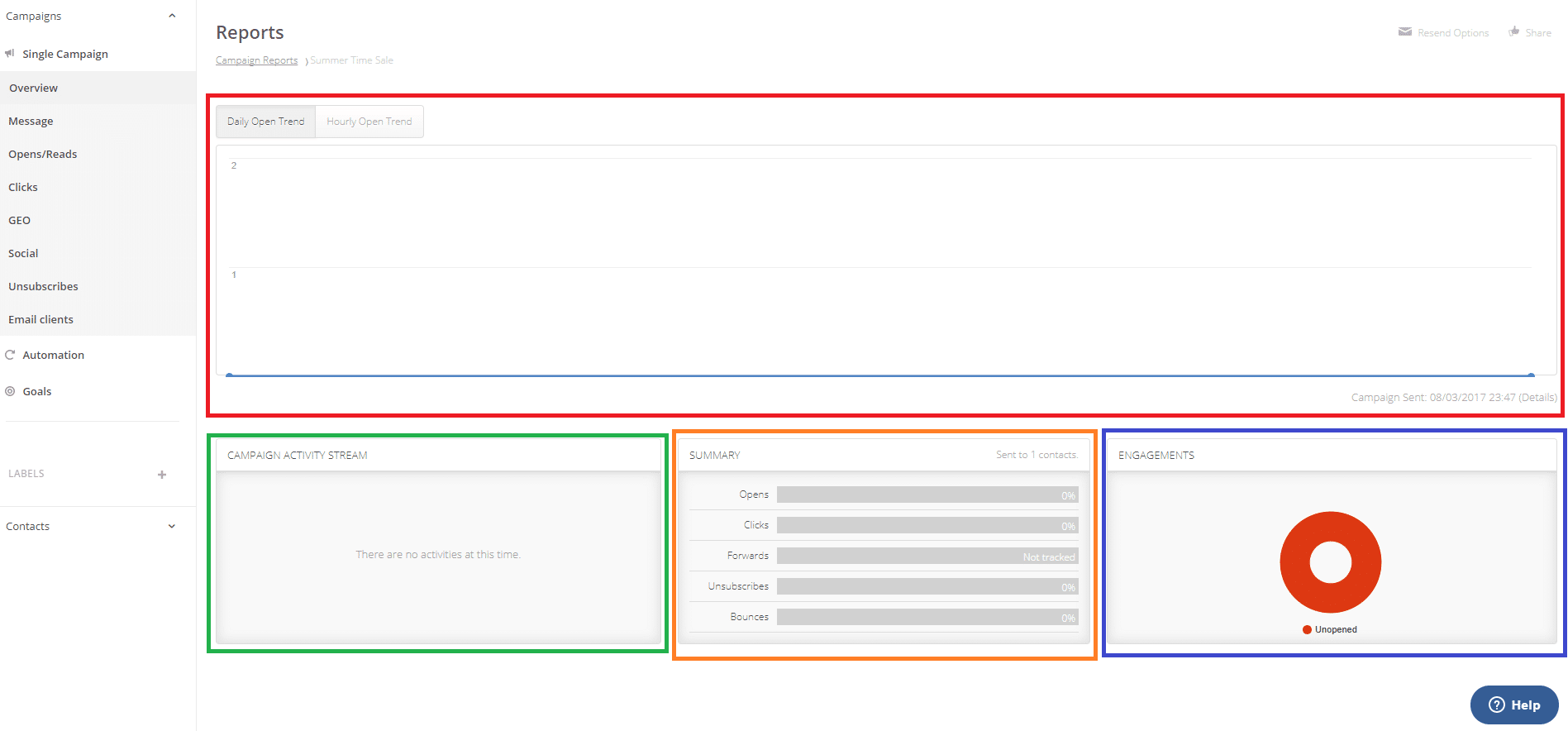 On this screen, you will see the Graphed Report of how many contacts opened your email based on daily time and hourly time. You can view the Campaign Activity Stream of who is opening, viewing, and clicking on your email and from inside your email.
The Summary sums up the number of clicks, bounces, opens, forwards, and unsubscribers for the Campaign. Lastly, the Engagements box lets you know how many of your contacts are engaging in your email versus how many aren't.
MARKETING MADE EASIER
ActiveCampaign takes the stress out of marketing automation. You can create campaigns with ease and put in an automated system that bases what gets sent, when it gets sent, and to who it is sent to, and it's based on the conditions met that you implement.
If you are looking for a marketing automation service that gives you the tools to build your campaigns with ease, set up a system that gets your marketing done, and with analytics that is simple to read, I highly suggest that you consider ActiveCampaign as your marketing automation system.
I hope this review helps sway your mind and will benefit you in the future when you decide to look into getting a customer relationship management – CRM platform for your company.
Additionally, ActiveCampaign has great customer support so if you need any help, they will be happy to answer your questions. And you can check out the ActiveCampaign pricing here.