ABOUT AWEBER
AWeber is an email marketing service that provides you with automation tools to reach out to your subscribers and potential leads.
Automating your marketing emails and campaigns can boost your productivity, make sure you're capturing all your leads, and getting their attention and interaction.
Email marketing is a phenomenal way to reach out to your audience and get them to buy something from you after you build trust in your consistent, non-spam emails. And if you get email marketing automation involved, then you're basically a pro and will never need any help getting leads for your marketing campaign.
WHAT IS A LEAD AND CONVERSION?
A lead is a person that fits your target audience, and that can potentially become a client/customer with the right steps. If someone clicks on your advertisement, fills out a form to be contacted – that is a lead.
You will then follow-up with that lead after their initial contact or request. Following-up with a lead and then sending them campaigns and newsletters will build trust (so long as it's not spam), and they will eventually buy your product(s).
Conversion is a marketing tactic that guides the user to a specific action – usually converting a user to a customer, and the conversion happens when the user buys a product.

HOW TO USE EMAIL MARKETING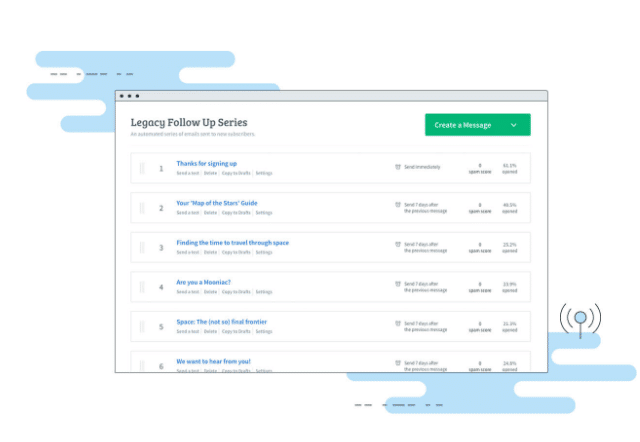 Using email marketing does take some time to get used to when you first start, and when using a service – you want to experience the tools so you can use them better when you are sending out emails and campaigns to your audience.
Sending out email marketing is one of the ways you can begin building trust with your leads to eventually turn them into customers. The end goal of email marketing is to turn qualified leads into long-term subscribers or repeat customers. You are essentially sending out transactional emails as your goal is to get people interested!
To use email marketing – you can do this yourself, but with a service such as AWeber, this becomes a much easier task to manage for businesses and entrepreneurs. Email marketing has a science behind it that engages the leads in ways to gain their loyalty to your brand.
I'll show you how to use AWeber to manage your email marketing service to your email list.
STEP ONE: START A SIGNUP FORM
The first step to this process is to create a signup form. This will allow users to sign up to your mailing list/contact list to be sent newsletters/campaigns/other marketing services.
At the top of the screen, you'll see Sign Up Forms, click on it, and you'll be taken to the forms screen where your signup forms will be located. You can choose to Create a SignUp Form or Add More Subscribers through Facebook, WordPress, PayPal, and other social media. AWeber integration is truly amazing and will increase your marketing efforts ten-fold. Click on the Create a Sign-Up Form button.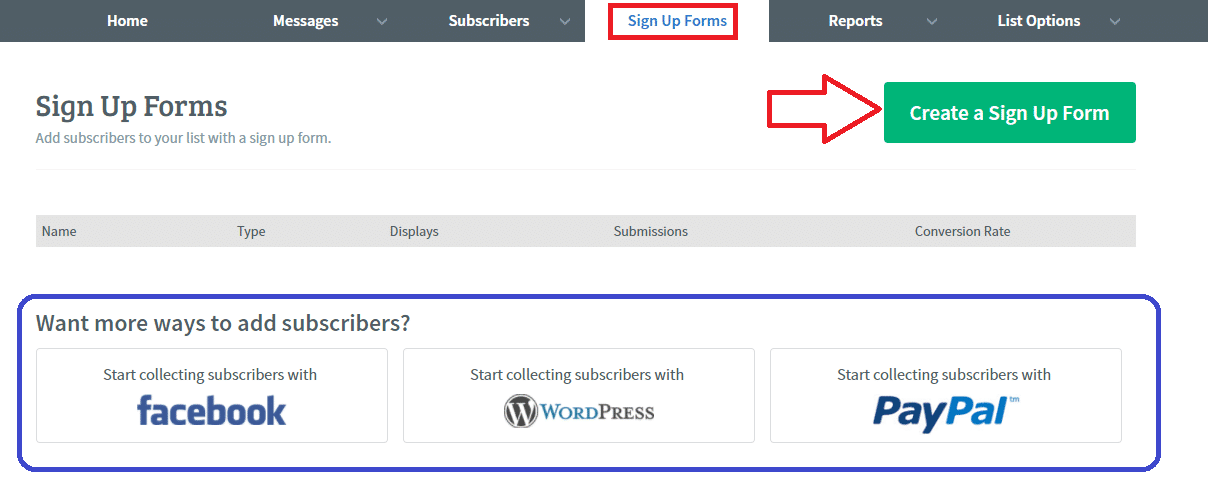 Next, you will be taken to the Design Screen. This is where you can design the template for your signup form. You can select to add a Field from the ones listed or Create a New Field. You can pick the Template Design and choose between the color palettes.
You can design the Header, Footer, the Privacy, add a Counter, and change the Image and Text. After you design your template – Preview it to make sure it looks correct and to your idea. You must select Save the Form to continue, and then you can Go to Step 2.
On the Settings Page, you should Name your form, choose a Thank You Page, and select the page for users who are Already Subscribed. Click on Show Advanced Settings, and you can choose to Name Ad Tracking and When to Start Ad Tracking. Now Save the Form and Go to Step 3.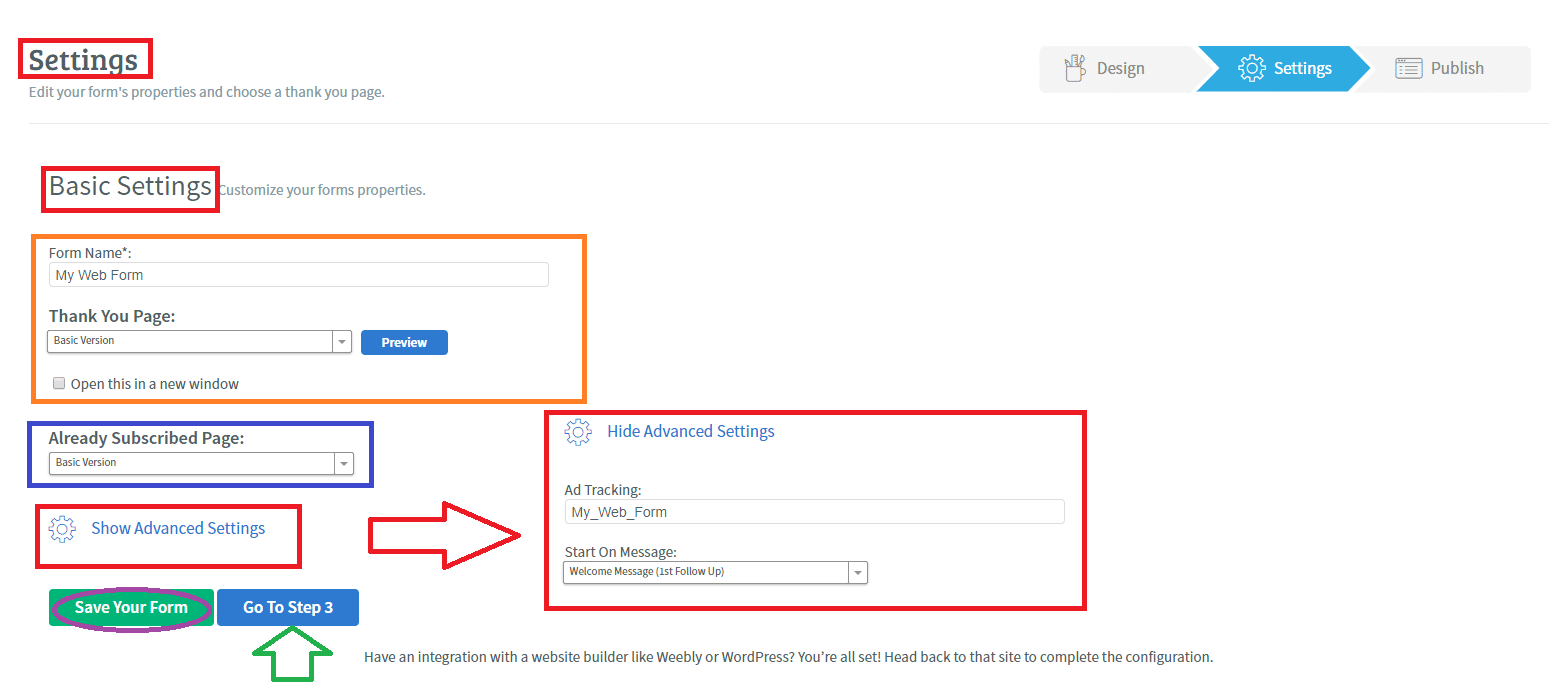 Lastly, you need to Publish your form. On the Publish Page, you can choose how you will be publishing the form. You can select to Install It Yourself, have your Web Designer install the form, or you can select to have AWeber Host Your Form. Select the best option for you.

Once you have your option picked – you can click back to the Sign Up Forms tab, and there you will see the form that you created.
STEP TWO: CREATE A MESSAGE
Now that you have successfully created a sign-up form, it's time to create a message to send to your leads. At the top of the page, select the Home tab. On the Home Page, select the Create a Message button. You will have three options to choose from: Drag & Drop Email Builder, Plain Text Message, and HTML Editor. Choose the best option for you.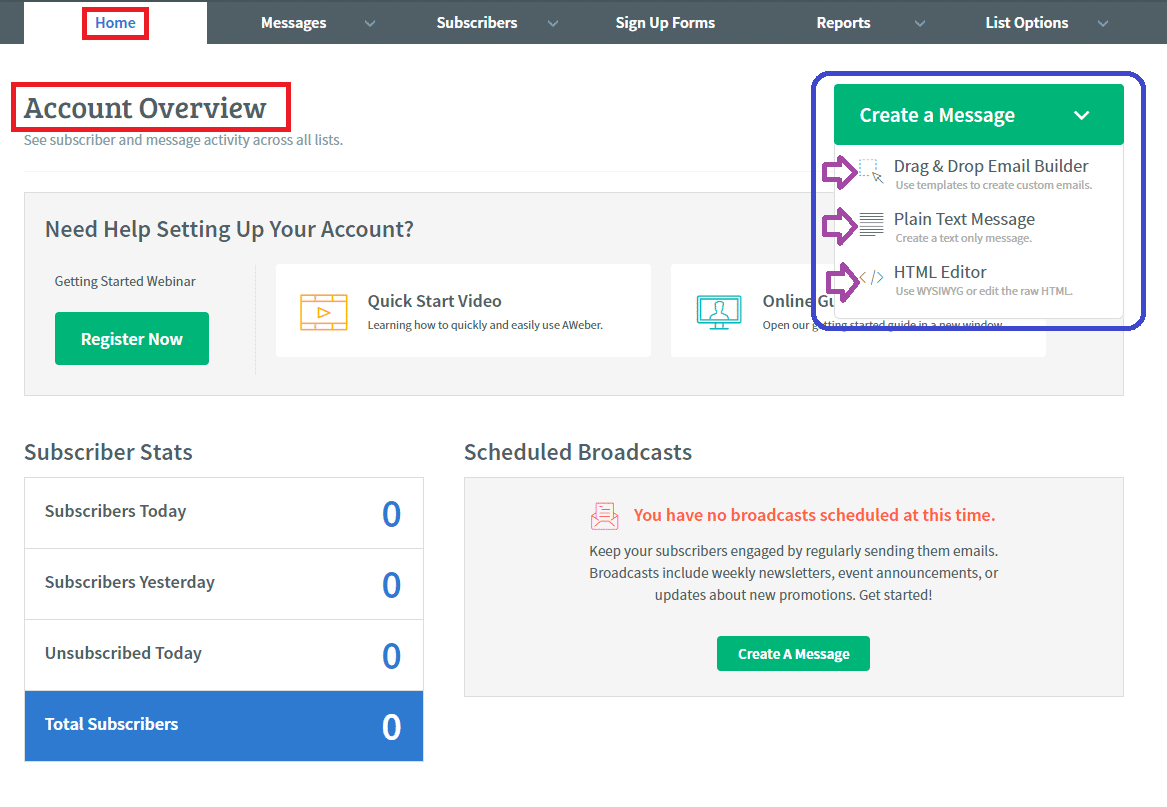 Depending on what you choose, your screen will look like either:


I chose the Drag and Drop Editor to experiment with. You can click and hold on a button located on the left panel and drag it over to the paragraph and choose where you want to place it.
Continue to build your Message Template until you find the design you like best. You have many tools at your disposal for this process. Once your Message Template is completed to your liking, click on Save & Exit.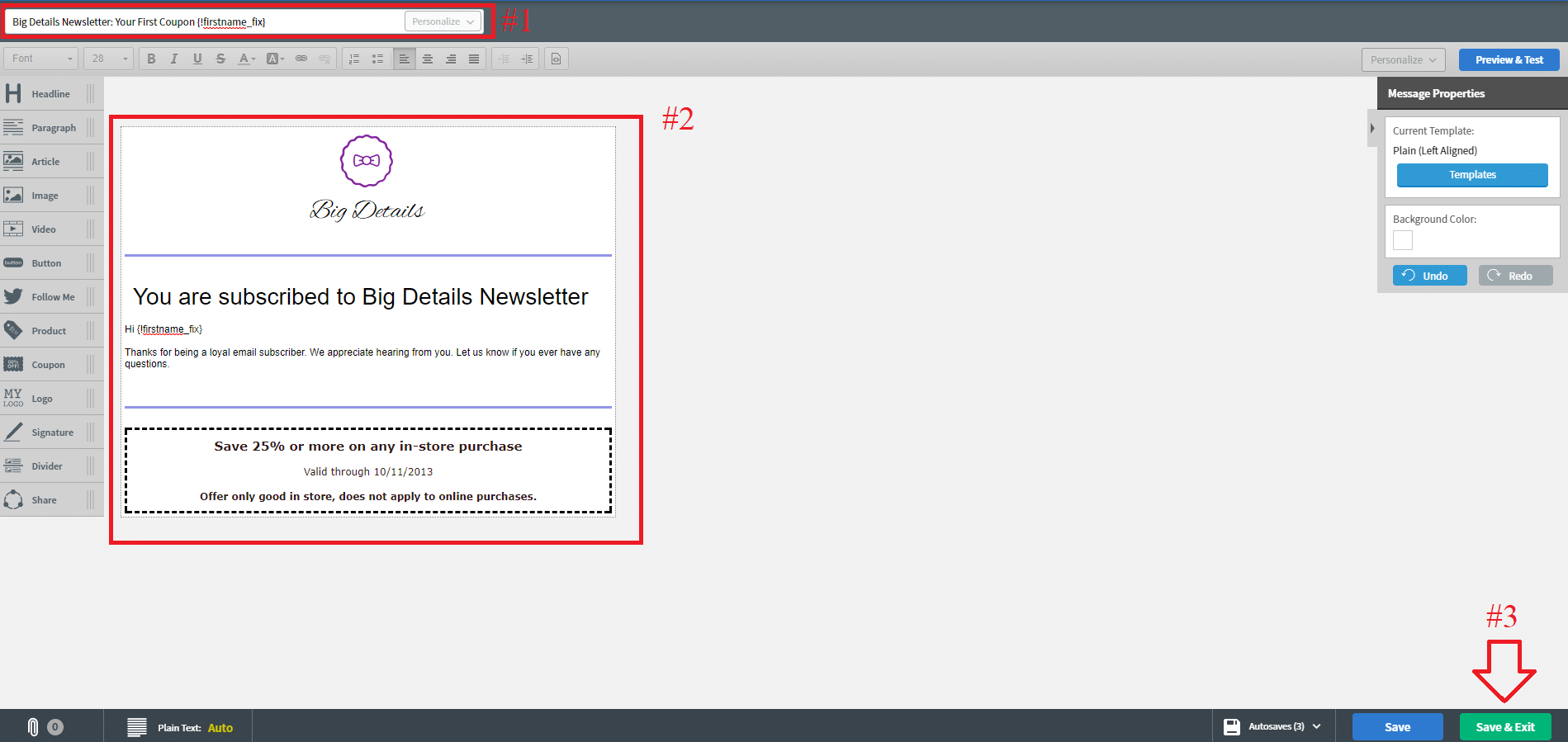 Lastly, you will be taken to your Messages tab. This is where you will see your completed Message Templates.
You can click on the Send Options, where you will see a list allowing you to Send a Test Email, Schedule a Broadcast, or Add to Follow Up Series. You can also choose to send your message In a Campaign by pressing the button next to Drafts.
STEP THREE: MAKE A CAMPAIGN
AWeber is, after all, a marketing tool, so creating targeted emails to move people along the sales funnel is important for you as a marketer.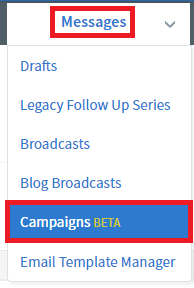 To start a Campaign, click on Messages and then Campaigns (which are in BETA testing right now). This process will take you five steps to complete.
1. You'll see the Campaign Dashboard, click on Create a Campaign.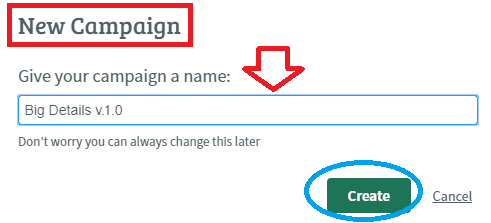 2. The New Campaign popup will activate. Type in the Name of the Campaign and then click on Create. You'll be taken to the Editor.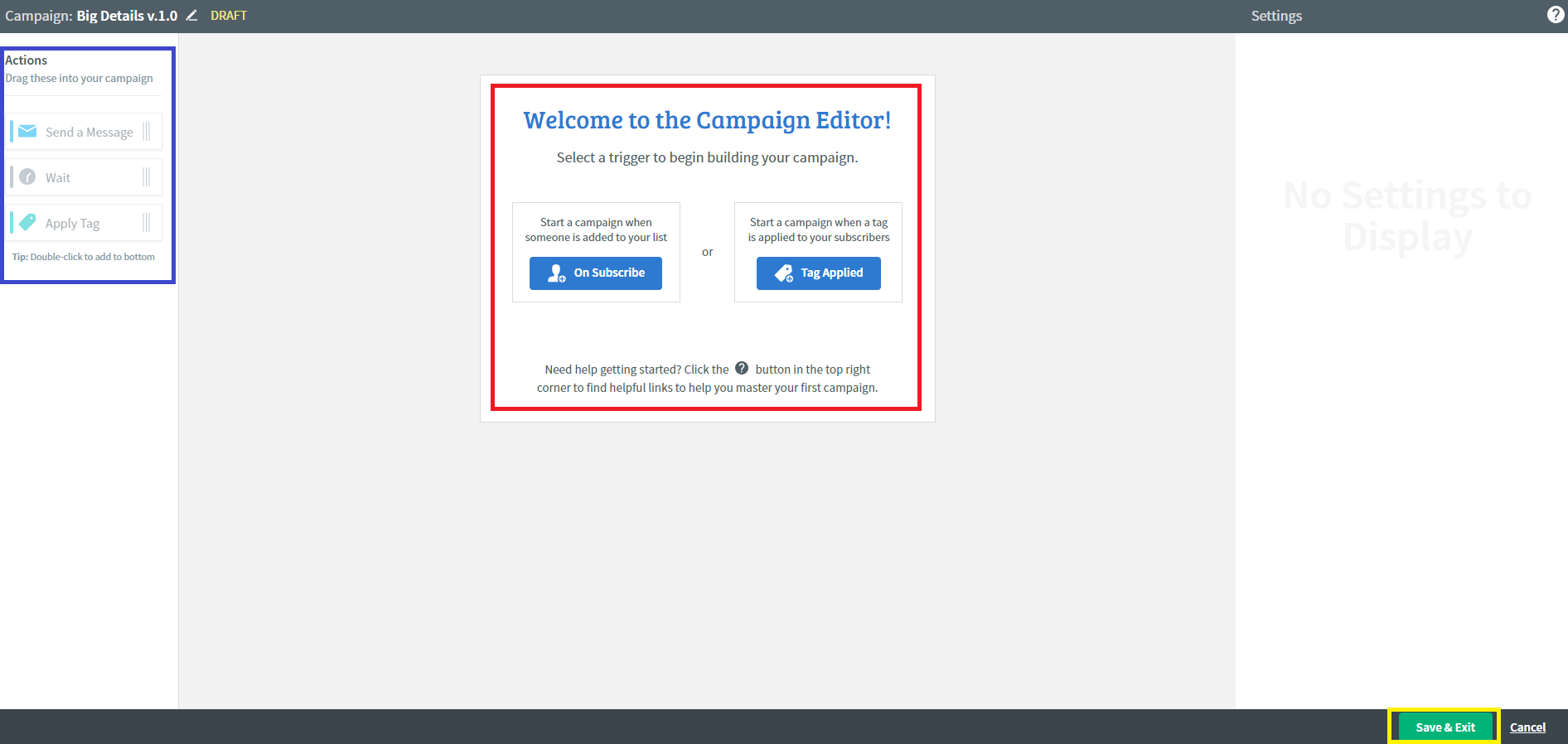 3. The Editor allows you to create a course of action for your campaign. If you have several messages to send to your subscribers – this will automate that process for you. I selected On Subscribe as my first action.
4. Once you select your first action, then you can begin building your automation process. You can choose to have delayed by adding in Wait periods, Send Messages after the waiting period, and Apply Tags after a certain action has been taken. Once you complete your campaign process, select Save & Exit.

5. This will bring you to your Campaigns Dashboard that now has your new campaign listed. On the right, it will show you the steps in your campaign. Next to your Campaign, it will have an Activate button. Push this to activate your campaign once you are ready to begin. Once you start the campaign – if you want to stop it, you CANNOT start the same campaign again.
STEP FOUR: INTEGRATE YOUR APPS – FOR SMALL BUSINESSES
Integrating your apps into your email marketing platform provides you with the ease of placing your button in your Message Template. You can do this with the drag & drop designer and simply drag the button to your message template – then choose from your apps – the button you want to add. B2B marketers already know the benefits of social media for automated campaigns, but a small business owner may not be too familiar.
To get to your apps, click on the My Apps tab at the very top of the screen on the right side.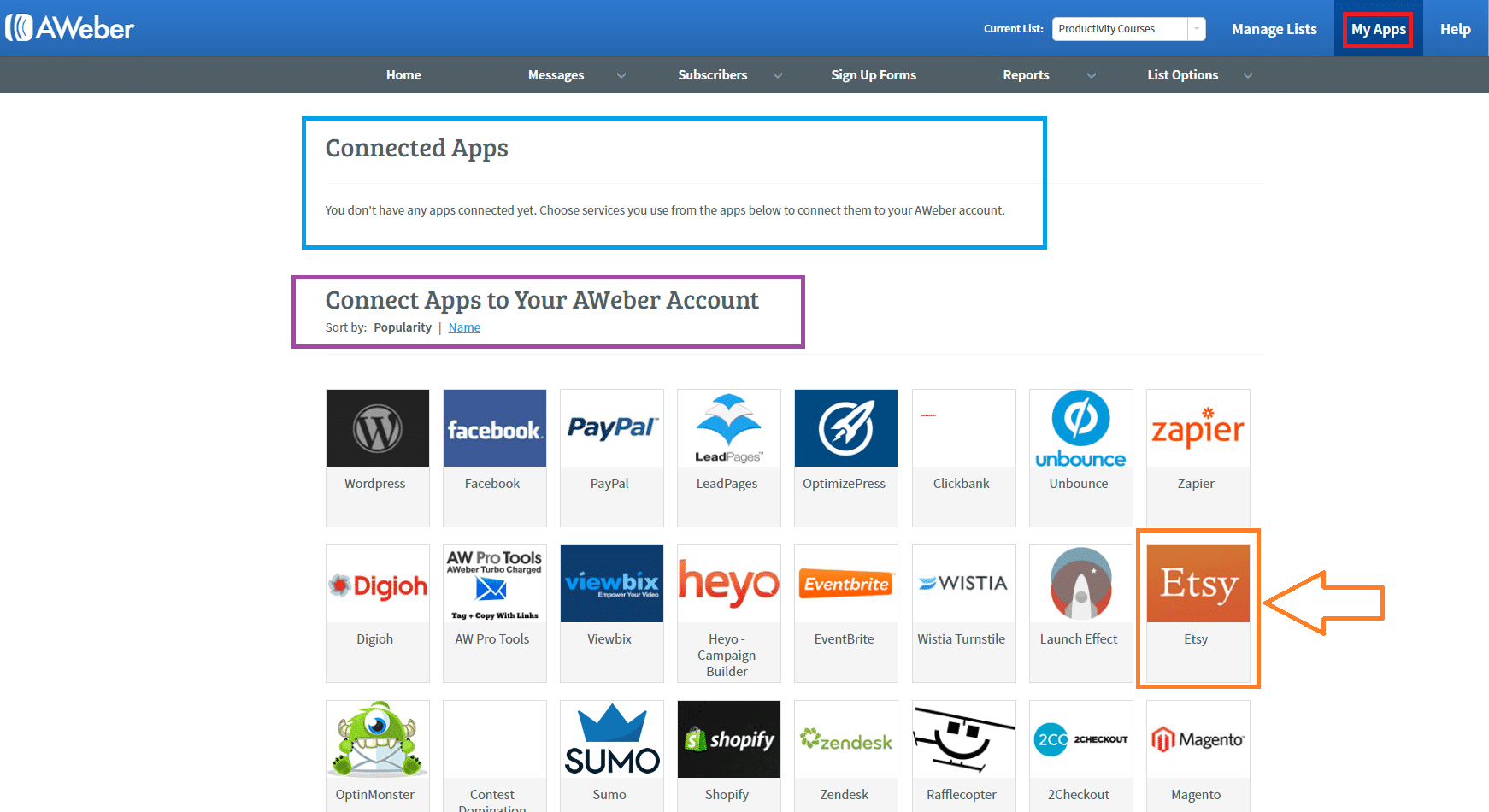 This will open the Apps Page, where you can choose from hundreds of apps to integrate onto the AWeber platform. I chose to add the Etsy App. Click on the app of your choice.

It will take you to the description/enabling page of the app. Click on Enable, and it will take you to the screen to allow access or help you install the app of your choice.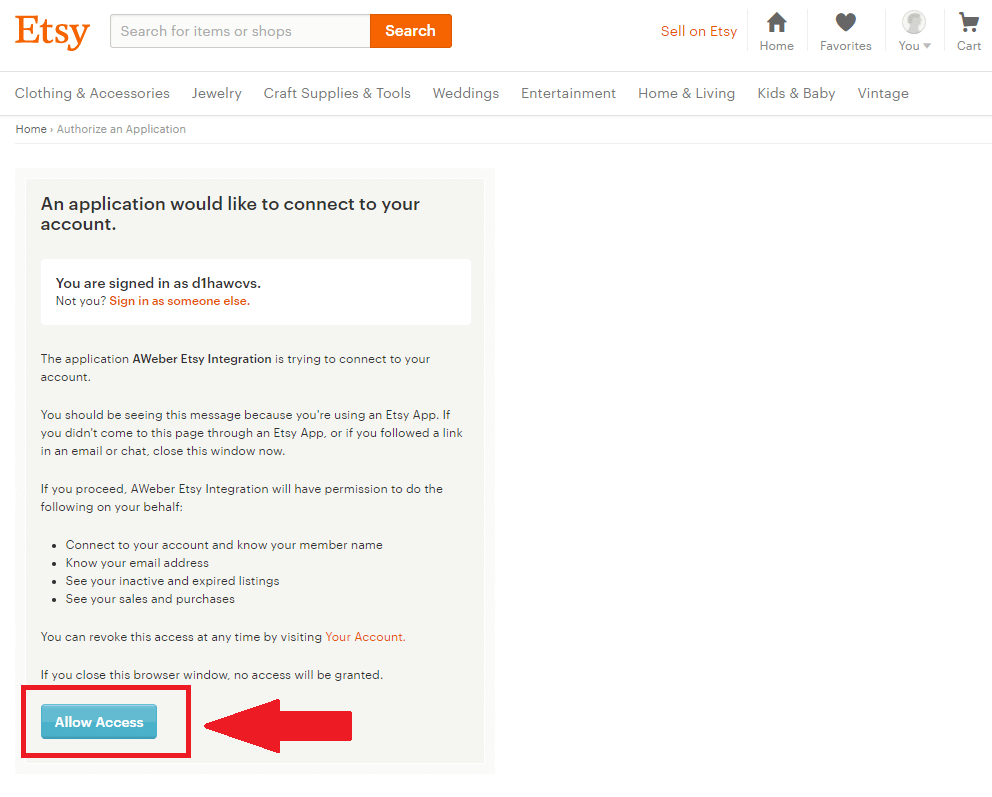 Mine directed me to the Etsy page where I had to Allow Access. After pushing the button, you will return to the AWeber site. Integrate as many apps as you would like to boost your marketing.
USING AWEBER FOR EMAIL MARKETING
Utilizing the AWeber platform to perform your marketing tasks can save you a lot of time when creating emails and building an automation workflow process for your campaign.
The drag and drop features make this template beginner-friendly, and the simple automation building is a feature I really enjoyed playing around with. If you are a business that sends out multiple newsletters a week, courses, or are sending out coupons or deals – this is a fantastic way to stay up to date. The efficient deliverability of bulk emails can be fantastic for your campaigns and conversion rate.
You can build your campaign the way you want to design it. It's completely up to you where you want to start and end – and how many campaigns you want to build up.
Overall, I think AWeber is a platform you should try if you're looking for an email marketing service. It's easy to use, beginner-friendly, and can help you raise your conversion rate. this AWeber review has been useful, and the features we explained are ones that are easy to understand – and easy to use!