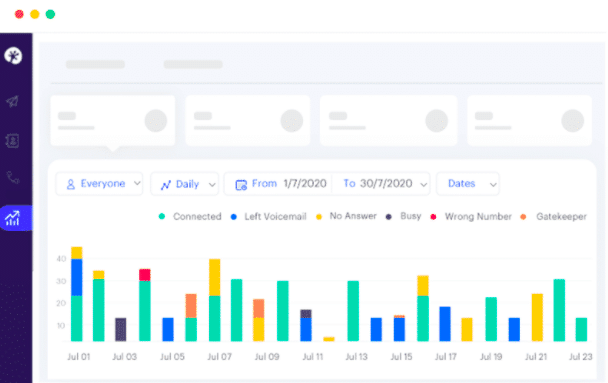 Source: engage.adapt.io
What is Engage?
Engage is a sales engagement platform that enables users to automate their sales processes.
The process of following up with leads on messaging platforms can be rather tedious. Engage makes it possible to automate all those processes with ease and efficiency.
With your Engage account, you can use multi-channel outreach tools to communicate with multiple leads across different platforms simultaneously.
This is incredibly useful for lead generation specialists and sales teams that don't want to switch from one messaging platform to another all the time.
It makes your life easier because you can stay in touch with leads and engage with them using one tool that gives you access to multiple outreach channels.
Engaging with clients can be complicated especially when you have hundreds of people to communicate with. Engage makes it possible for you to have personalized messages with clients.
Though these processes are automated, your leads won't feel like they're communicating with a bot or auto-generated messages. This is essential in creating a connection with your leads and making them feel like people….not numbers in your sales quotas.
On top of this, Engage ensures that you have all the analytical reporting you need to keep track of outreach campaigns and sales processes.
Engage could be a great asset for your sales team, let's further analyze its features to make a final verdict.
Analysis of Engage Features
There are six main features that you have access to once you create an Engage account.
Here are some of those features:
Sequences
Templates
Contacts
Tasks
Team
Reports
Sequences
You have two main options, you can either create your own sequences from scratch, or you could use one of the predefined sequences available.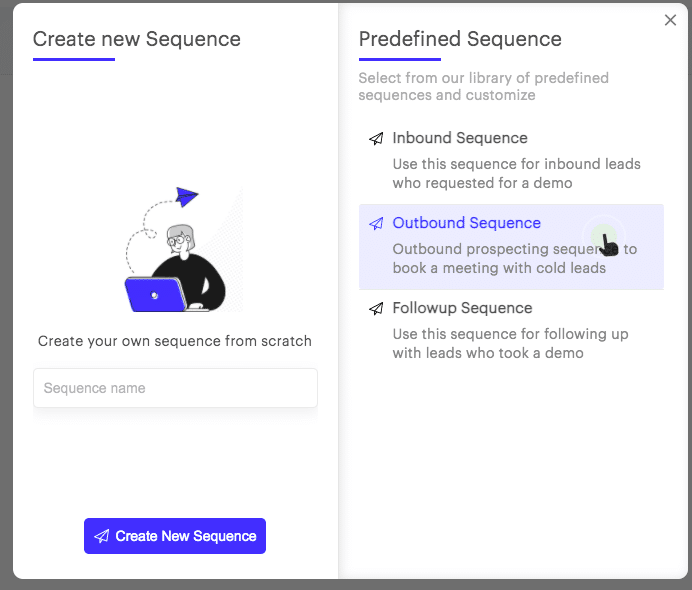 We'll analyze both options starting with the predefined sequences.
From this option, you have three types of sequences that you can choose from.
These include:
Inbound sequences (this can work for leads who need demos of your products/services)
Outbound sequences (this is great for booking calls or meeting with leads)
Follow-up sequences (this can be used to follow up on leads who've already used demos of your products/services)
If you choose outbound sequences, you get options like these:
These sequence templates are comprised of four steps. This is very useful if your email campaigns usually consist of more than three steps.
You can easily view the emails to see what the email copy looks like. This helps you determine whether it suits your campaign needs.
You can just scroll through and read the entire email to determine whether or not you want to use the template.
At the bottom, you can choose to create or customize each of the sequences.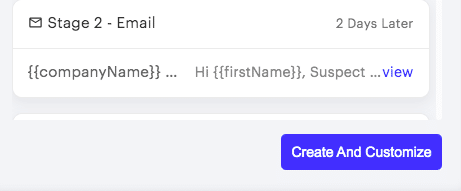 No matter how good email copy templates are, it's not advisable to use those exact templates for your campaigns.
It's recommended that you adjust the email copy to suit your writing style and brand voice. This way, you're not just copying and pasting pre-written work, but you are customizing it to suit your sales goals.
If you choose to edit a sequence, you can do this with great ease.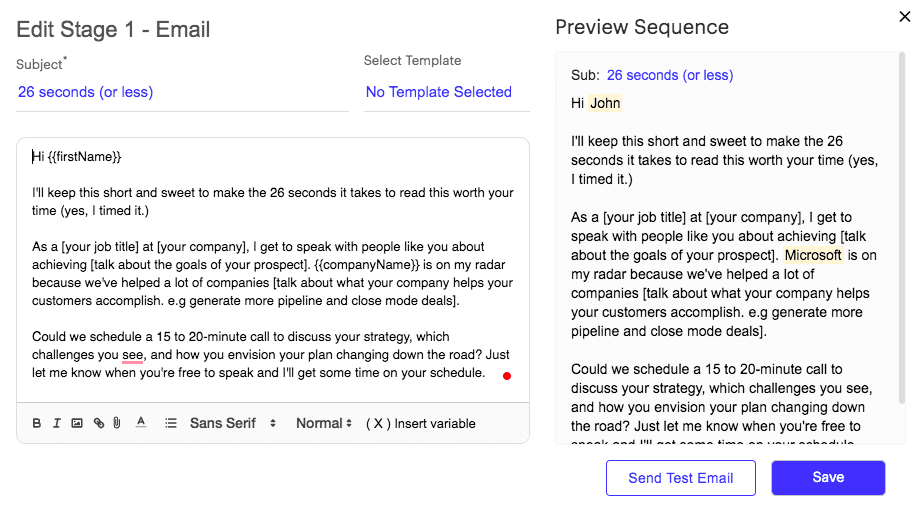 On the left-hand column, you get to edit the email copy and add as many details as you need.
On the right-hand column, you can preview the sequence and see how it turns out.
Once you're done editing, you can also send a test email to your own email account. When all this is complete, you can save the sequence and keep it as a template that you can use in the future.
When your email marketing campaign is launched, you'll be able to track how the sequences performed.
You'll be able to see analytical data about your contacts and your emails. This will help you determine how well your campaign is going.
It will also give you a better idea of how good your sales funnel is and how effective your email sequences were.
You can also manage all your prospects' contacts in the contact dashboard. You'll get information about click rates, open rates and how many contacts bounced your emails.
This data is very helpful in determining whether you need a new strategy for building a sales funnel. It's also great for keeping track of how much engagement you're creating with your prospects.
Templates
There are no pre-written templates available, but you can create your own email sequences and save them as templates that can be used in the future.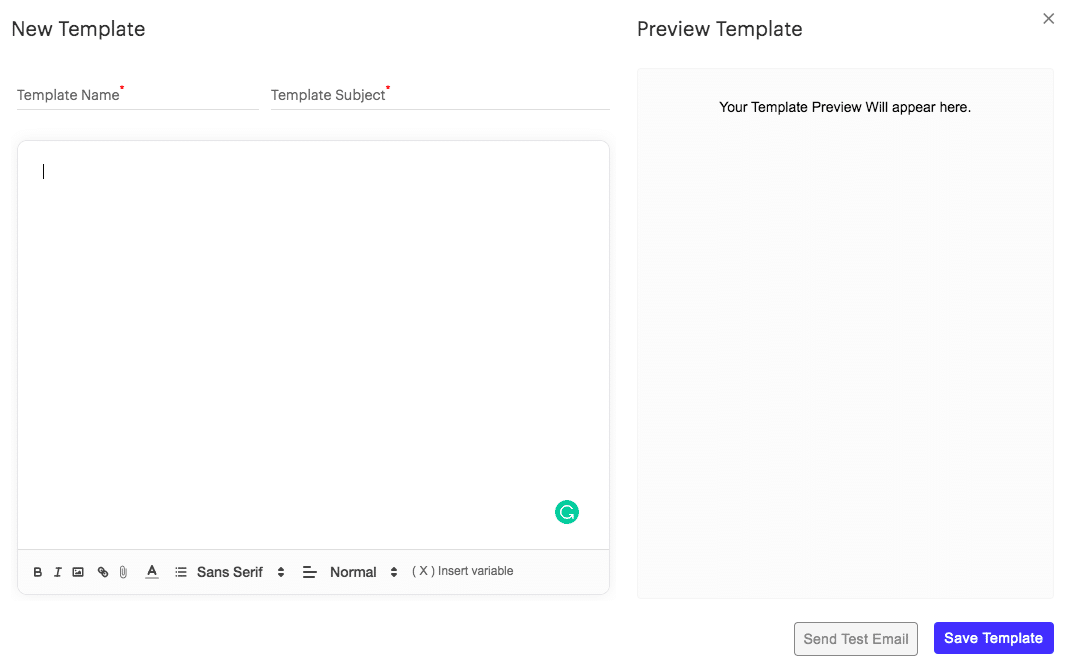 You can type your email copy on the left-hand column and preview it at the same time on the right-hand side of the dashboard.
The good thing about this feature is that you can share templates with team members and store those in a different section from your own.
Tasks
This sales engagement platform also makes it possible for lead generation teams to stay productive.
The tasks feature enables lead generation teams to keep track of important tasks, due dates and general team progress. 

Here, you can see which team member set up a task, the task type and its due date.
This is very helpful for team collaboration when you can manage outreach campaigns and tasks all in one platform.
Teams
You can manage all the team members in one dashboard. You can also add new team members as needed.
The process of adding a new user is very straightforward, you simply input their details and their roles in the company.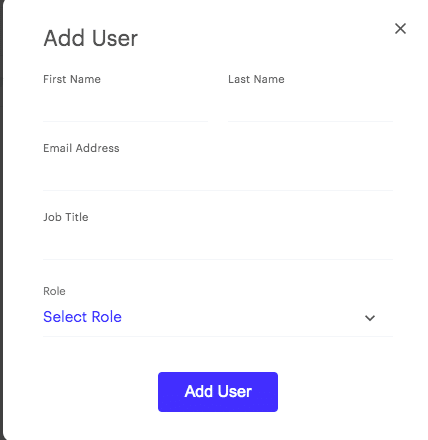 Once you've collected a solid team of users on your account, they will all be listed in the same dashboard.
This is the information you'll see about your team members:
Activity status
Role
Job title
Email address
Full name
Reports
Another important feature of this sales engagement platform is the report feature.
Here, you can get analytical reports about the performance of your email marketing campaigns.

You cannot run a successful email marketing campaign without observing its performance analytics. 
This is the only way to measure the success of your efforts and it helps you improve future outreach campaigns.
Engage: Pricing and Payment Plans
Engage has three main payment plans, here is an overview of the available options.
The Free Plan offers:
Basic features
Up to 100 contacts
Up to 3 email sequences
Basic analytics
Email tracking
Email templates
Shared sequences and templates
For $240/seat, the Starter Payment Plan offers:
Unlimited contacts
Advanced analytics
Team performance reports
Tasks management
Custom contact fields
Auto BCC for CRM sync
Import contacts from CRM
Email templates
Shared sequences and templates
For $480/set, the Growth Payment Plan offers:
Unlimited contacts
Advanced analytics
Team performance reports
Tasks management
Custom contact fields
Auto BCC for CRM sync
Import contacts from CRM
Email tracking
Email templates
Sync activities to Salesforce
Custom team onboarding
Priority customer support
Dedicated account manager
Dialer
If you're interested in an enterprise payment plan, then you'll have to contact the Engage team to access information about that pricing.
To learn more about Engage pricing and payment plans, you can visit this page. 
Engage: Pros and Cons
Here are the Pros of using Engage:
User friendly
The free plan gives you access to many features
Well-written email sequence templates
Here are the Cons of using Engage:
Not the best sales engagement platform for email outreach
Few email templates to choose from
Glitchy website
Final Verdict
This sales engagement platform works pretty well! It's not the best, however.
If you want other alternatives, try using Prospect.io or OutreachBin. 
The final verdict is: Engage scores 90%. If you want to use this tool, you can sign up for your Engage account here.