Source: findthatlead.com
There are many lead generation tools that claim to transform their users' sales processes.
Lately, there's been an onslaught of more tools that aim to make lead generation quicker, easier, and more efficient.
FindThatLead is a good example of this. This tool is designed to help users launch cold email campaigns with more efficiency than ever before.
Let's analyze this tool's features, payment plans, and its pros & cons to determine whether it's worth it.
What is FindThatLead?
Like most lead generation tools, FindThatLead is designed to help users gain more customers. 
FindThatLead is used to find qualified leads and create cold email campaigns.
Here is what this tool offers:

Lead Search
Email Verifier
Email Sender
Social Search
Prospector
A step-by-step analysis is the best way to understand what each of these features does.

An Analysis of FindThatLead Features
On your dashboard, you have access to all 5 major features with one click.

In lead generation, you start by searching for contacts, verifying contacts, sending emails, etc. This is why the tabs on the dashboard are organized in that way.
Lead Search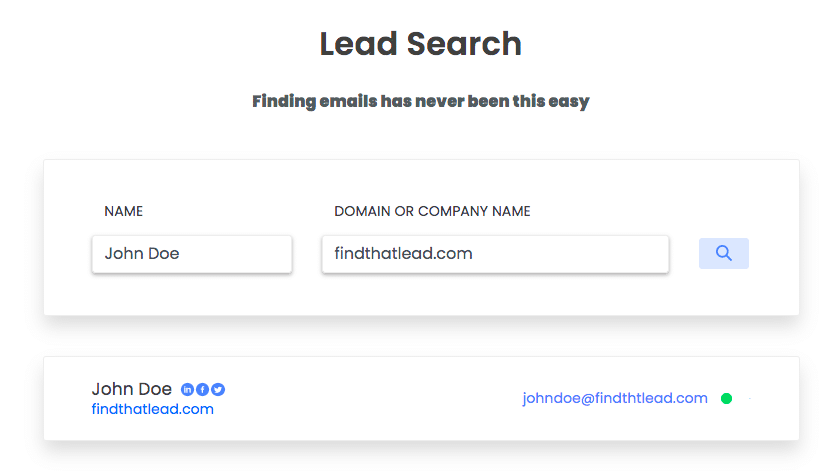 When you type in a person's name, domain, or company name, you can get access to their official email address.
This makes the process of building a sales funnel incredibly faster. Instead of manually scouring the internet for a prospective client's contact information, you can do this in seconds with this feature.

I typed in "Deepak Shukla" to see if I'd get the correct email address. Not only did the results show the correct email, but I also links to all his social media profiles.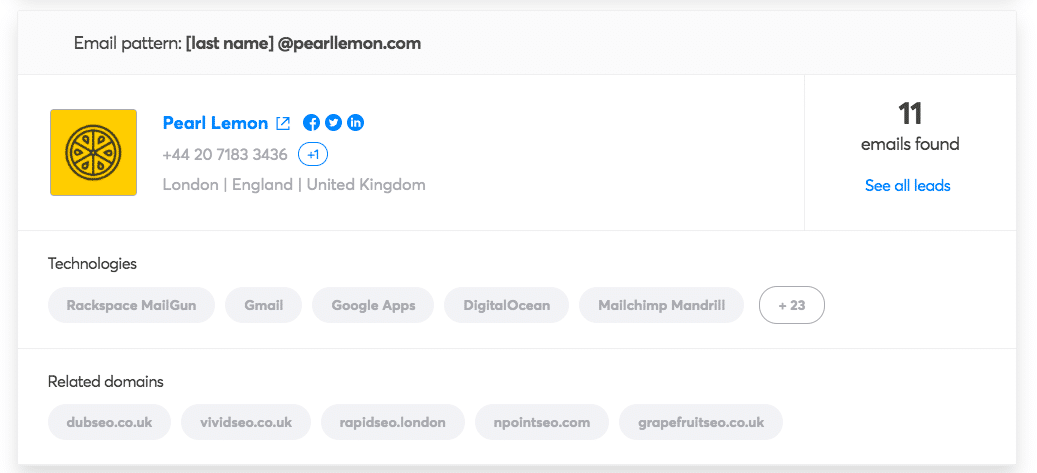 On top of that, there is a separate section that gives more details about the company and its relevant contact information.
The results are very accurate, detailed, and useful for the process of building a sales funnel.
Email Verifier

Using the email address I got from the Lead Search feature, I tested it to see if it was a verified email.
This is an important step in building a sales funnel, you need to make sure that you are contacting verified leads.
By using this feature, you can take the guesswork out of building cold email campaigns.
This also reduces your bounce rate and protects your own account.
Email Sender
In order to send emails, the tool makes you go through three steps.
Contact list: create a spreadsheet with verified contacts and upload it
Messages: build your email copy for your campaign
Schedule: determine when and how often your messages will be sent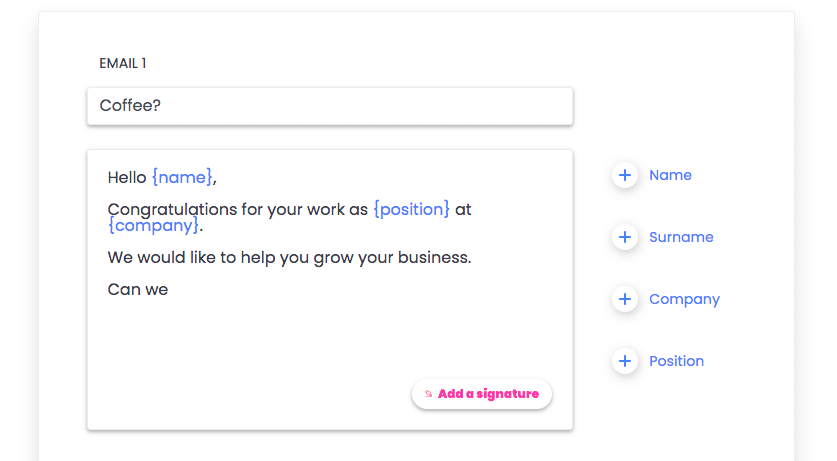 Using the buttons on the right-hand column, you can automatically add the position, name, surname, and company to the email copy.
These elements are already set before you start writing the email copy, this way you don't have to manually type in each element.
This feature is very user-friendly and easy to use. It makes the process of building an email campaign a lot simpler because it is automated and uncomplicated. 
Social Search

In theory, the Social Search feature is supposed to give users correct email addresses after they search for someone's Twitter or LinkedIn profile.
After multiple tries, no email was found. This feature is glitchy and it doesn't work well at all.
To test it further, I searched for my own LinkedIn profile. Here was the result:

According to FindThatLead, my actual name is "John Kasirye Kasirye" a senior lab technologist at Uganda Blood Transfusion Services.
Well, I can't stand the sight of blood, so that can't be right! And I'm pretty sure that I'm not a man…
This Social Search feature is totally unreliable.
Prospector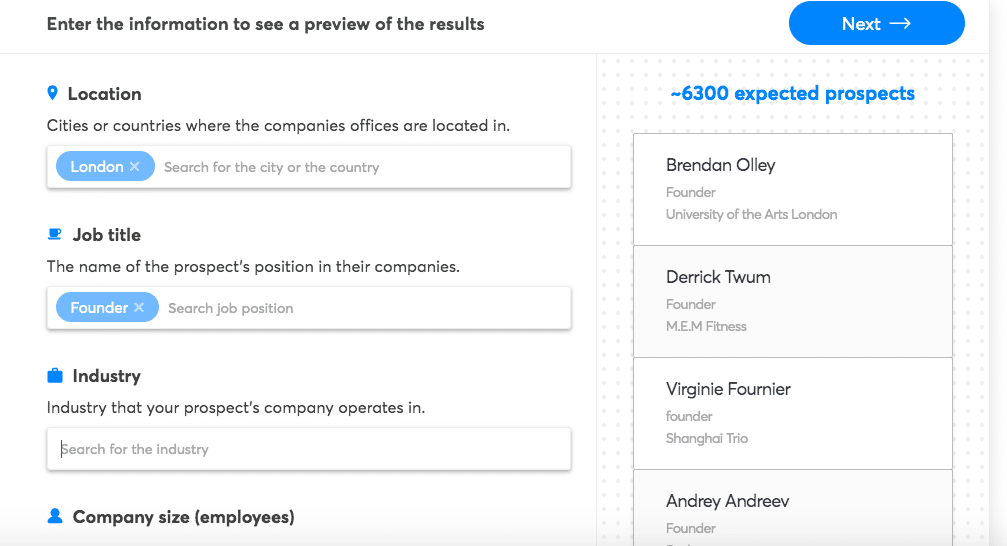 The Prospector feature enables you to have more detailed searches for prospective clients.
You can specify using the following criteria:

Location
Job title
Industry
Company size
Company name
Keywords
All these elements work together to give users access to prospective clients tailored to their specific marketing needs.
This is much faster and less complicated than sales prospecting through LinkedIn Sales Navigator.
It takes seconds to access the exact demographics of prospects you are looking for and you can also find their email addresses as well.
Once you complete your search, FindThatLead will create a report with a list of all your prospective clients with relevant information.

Who is FindThatLead Meant For?
With FindThatLead, there is something for all lead generation professionals.
When you find a tool like this, it's good to ask whether it's right for you.
FindThatLead is best suited for:
Sales Teams
B2B Companies
Recruiters
Growth Marketers
Sales Teams
Instead of spending a ridiculous amount of time looking for the right leads and their contact information, you can cut your time in half.
The features on this platform are designed to make sales prospecting easier.
The Lead Search and Email Verifier features are incredibly useful to you because you get a faster and more efficient way to build sales funnels.
B2B Companies
Notice that when you use the Prospector feature, you can filter your search depending on job titles as well.
This can be incredibly useful for those email campaigns that are aimed towards founders or senior executives.
Getting access to such detailed searches is very helpful in your lead generation processes.
Recruiters
Your ideal candidates are tailored to your specific needs, in order to find this specific demographic, FindThatLead gives you these candidates on a silver platter.
The features make this process quick and give you access to the social media accounts of candidates as well.
This could also prove useful for you depending on how in-depth you want your searches to be.
Growth Marketers
You can use the Email Verifier feature to ensure that you reach out to qualified leads for your marketing campaigns.
FindThatLead enables users to find these leads, export their data, and upload everything for your funnels.
FindThatLead Pricing & Payment Plans

FindThatLead offers three main payment plans. Here is an overview of each of them and what features are included.
For $49/month, the Growth Payment Plan offers:
Chrome extension
5,000 monthly credits
400 daily emails
2 campaign accounts
1 user
For $150/month, the Startup Payment Plan offers:
Chrome extension
18,000 monthly credits
500 daily emails
4 campaign accounts
4 users
2 Scrab.in Ultimate accounts
For $399/month, the Suite Payment Plan offers:
Chrome extension
30,000 monthly credits
750 daily emails
10 campaigns accounts
6 users
4 Scrab.in Ultimate accounts
Each plan includes these features:

Prospector
Bulk Processing
Email Sender
24/7 Customer Support

If you are interested in subscribing to an annual payment plan, you save about 20%.
Pros and Cons of Using FindThatLead
These are the Pros: 
It's user-friendly
The Lead Search feature works very well
The Prospector feature lets users have detailed searches
Building a sales funnel is easier and faster with FindThatLead
A free trial is available
These are the Cons: 
The Social Search feature is unreliable and misleading
The Local Business feature isn't ready for use
Some of the features are beta and not up-to-par yet
Final Verdict
If you are looking for a lead generation tool that will make your life easier, I'd highly recommend FindThatLead.
It has its flaws, but the other features are pretty great and worth the price tag.
The final verdict is: FindThatLead scores 85%
It would have scored higher if all of its features worked perfectly.
If you are interested in other alternatives, read my reviews about Leadfeeder or Prospect.io.
If you're interested in subscribing to FindThatLead, you can sign up here.