When it comes to sales and marketing, lead generation is probably the most crucial step in the process. Having a great product, pitch and brand is also essential, of course – but if we're not being seen and heard by the right people, chances are our sales are going to take the fall.
Those of us in Lead Generation know it's all about how and where to find the best prospects for our product or services. And how do we do that?
Yep – we build a list.
I love lists. In fact, they're a great way to organize your life in general, whether it's a to-do list for daily tasks, a shopping list to make sure you don't forget the milk for the umpteenth time, or (in this case) a list of contacts in your industry niche who are potential clients.
Of course, we want to build the most targeted list possible to ensure our carefully crafted campaigns don't die a slow, meaningless death in the Spam folder. Like me, I'm sure you have a pretty clear picture of your target prospect – you just need to FIND them!
This is where Lead Generation software comes into the picture. These kinds of tools can create lists and databases for cold outreach at the click of a button (or two). They usually also come with additional features to help us manage our campaigns and keep track of potential prospects.
Automation like this makes sense – and if we do it right, it can operate hand-in-hand with the 'personal touch' that we've seen will be a big factor in successful Lead Generation for 2021.
Speaking of 2021, we know that digital marketing isn't going away anytime soon. In fact, during the 2020 pandemic, our agency grew considerably, with more and more businesses investing in digital outreach services.
Cold emailing is still very much a thing, and at Pearl Lemon, we needed automation that was going to help us streamline quality cold email marketing campaigns (emphasis on 'quality').
This was when I stumbled upon Icy Leads. This wunderkind of the tool has decreased the time I spend crawling for relevant leads on places liked LinkedIn by 5x!
HOW WE USE ICY LEADS AT PEARL LEMON
At Pearl Lemon, we've used Icy Leads primarily to build lists from LinkedIn. It's as simple as going into the Sales Navigator, typing whatever lead spec I'm after (for example 'PR expert'). I then filter the search by a number of factors, such as Profile Language to narrow it down.
I generally like to target the decision-makers (IcyLeads is great for this) so I use keywords like 'director' etc. If unwanted results keep popping up, it's easy to exclude these through the Navigator.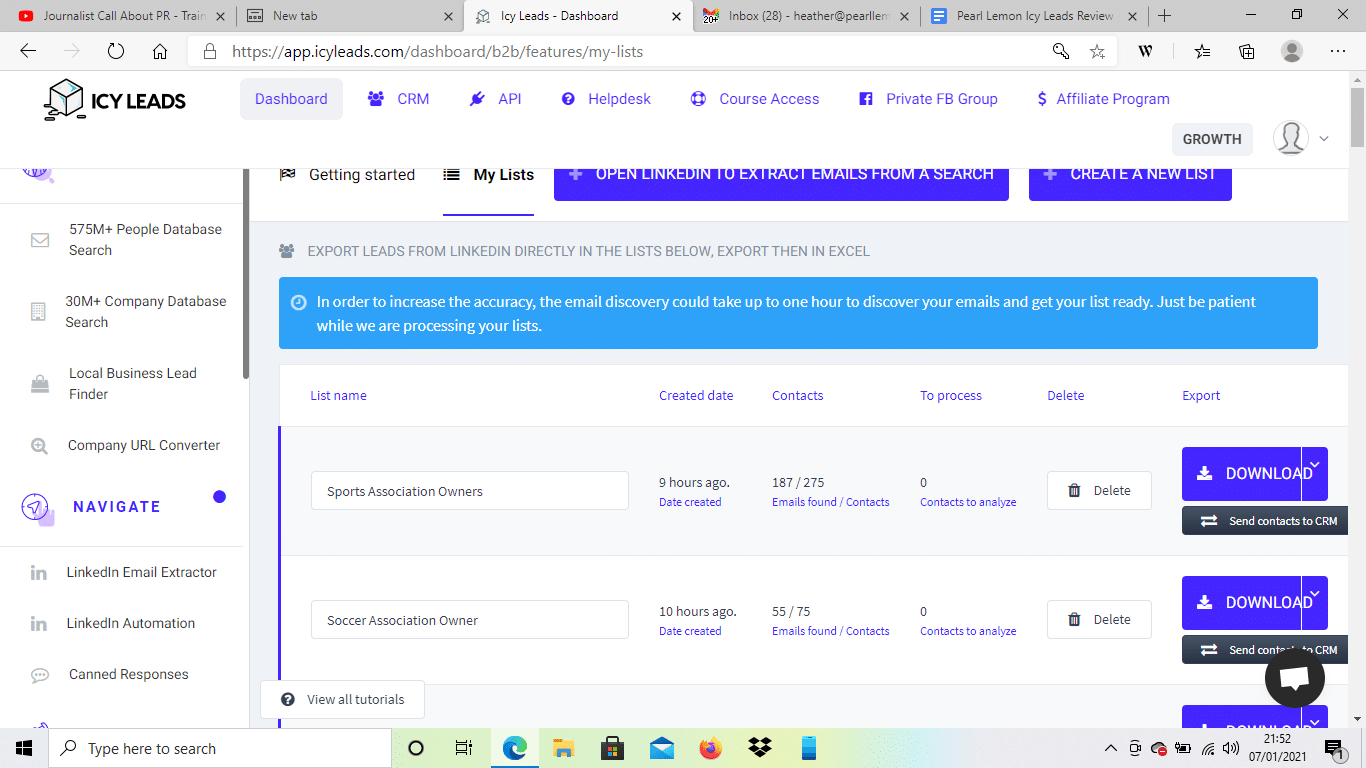 Once I have a decent list, I just click 'Search profile' on each hit. Icy Leads then extracts info like:
First Name
Last Name
Company Title
Company Name/Location
Primary Email
Secondary Email
I then use an email app like ClearOut to polish up the list, before importing it to Mailshake for a campaign!
In general, the primary way I use IcyLeads for lead gen is with LinkedIn automation. This is especially useful when looking to expand our network. Icy Leads has a plugin that works seamlessly with LinkedIn Sales Navigator to help me build a list of potential connections for my network.
Once the list is generated, Icy Leads will extract all relevant contact info from each profile in the list that I've segregated and send connection requests! Once I get a reply, I'll set up a message outreach sequence and move the connection on to the next networking step!
Before I started using Icy Leads, I'd need about 6-7 hours to scrape 1000 leads. Now, the same process will take 2 hours, max (and that's with it running in the background while I work on other tasks)!
Let's break down all the features Icy Leads offers in a bit more detail (so you can get a better idea of how it might work best for YOU)…

WHAT IS ICY LEADS (AND WHY IS IT SO AWESOME)?
Icy Leads is a multi-purpose toolkit designed specifically for cold outreach with entrepreneurs and small business owners in mind. It operates a wide range of features from a single dashboard (this is very handy – more on that in a minute).
Here's a quick list (yes, that's my buzzword right now) of its most impressive features:
A plugin that can build lists from various social networks (including LinkedIn)
A tool that can identify prospects in your industry/niche and extract all relevant contact information
Campaign management and lead closure on autopilot
The Icy Leads plugin is a thing of beauty – especially for small business owners looking to drum up leads in their wider network. It can be tough knowing where to start, and who to approach. This plugin is compatible with LinkedIn – the most popular professional networking platform around.
Let's take a closer look at the exact features that make this tool so awesome!
SEARCH
If you need to drum up big lists, fast, Icy Leads is the way to go. They offer an impressive database of 30M+ companies, plus 575M+ people that you can draw from – all with active emails included (so you're not wasting time crawling the web for their contact info).
This database is pretty comprehensive. It also lets you perform very targeted searches, enabling you to narrow the list down as precisely as you need to!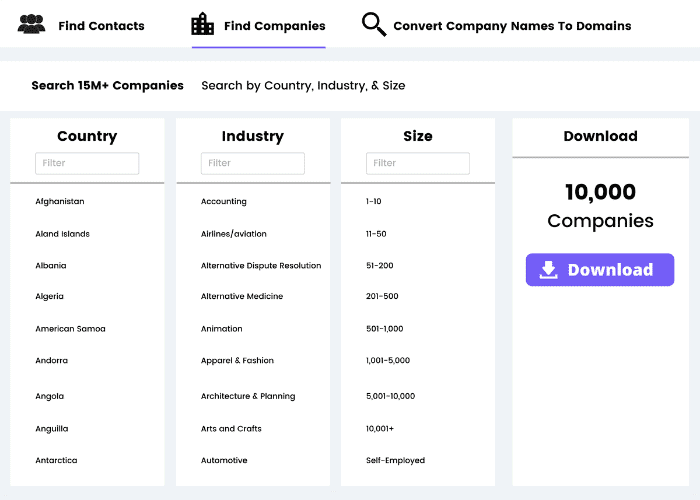 It gets better. If you've stumbled across a company that you think would be a great fit for your campaign, you can simply upload the URL into Icy Leads. It will then help you target specific job title owners for that company (meaning you're not reaching out to the wrong department).
You can do this for individual websites, or in bulk (for bigger databases such as LinkedIn).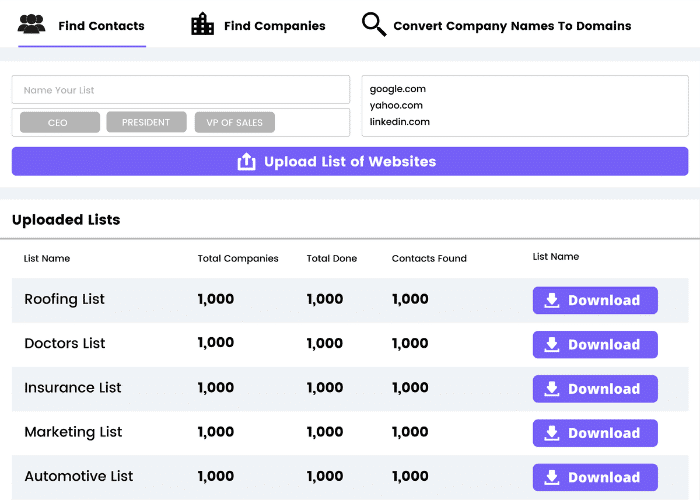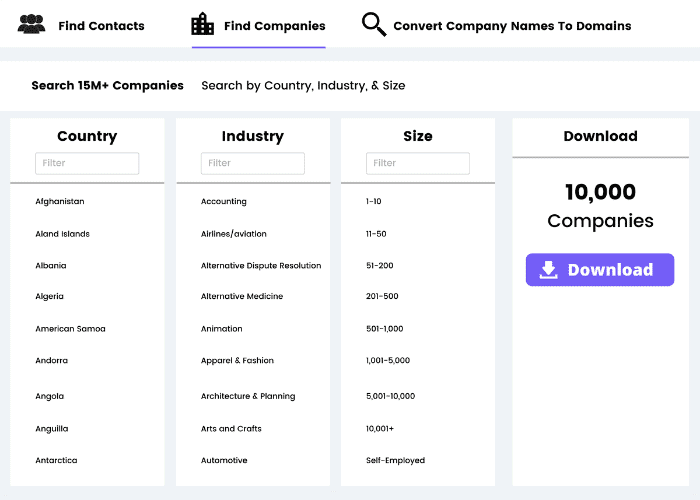 This also works in reverse. If you've only got a company name to work with, but haven't been provided with a URL (or maybe the URL you have is outdated/broken), you can just upload a list of these to Icy Leads.
It will then convert them into the correct company URL – and voila! You have a list of websites (which you can then input AGAIN into Search and extract all necessary contact information from – seeing a pattern of streamlining yet?)!
NAVIGATE
The navigator section of your dashboard is where you'll keep track of the lists you're building. You'll be able to keep track of your campaigns, import and export lists, extract email addresses – and much more.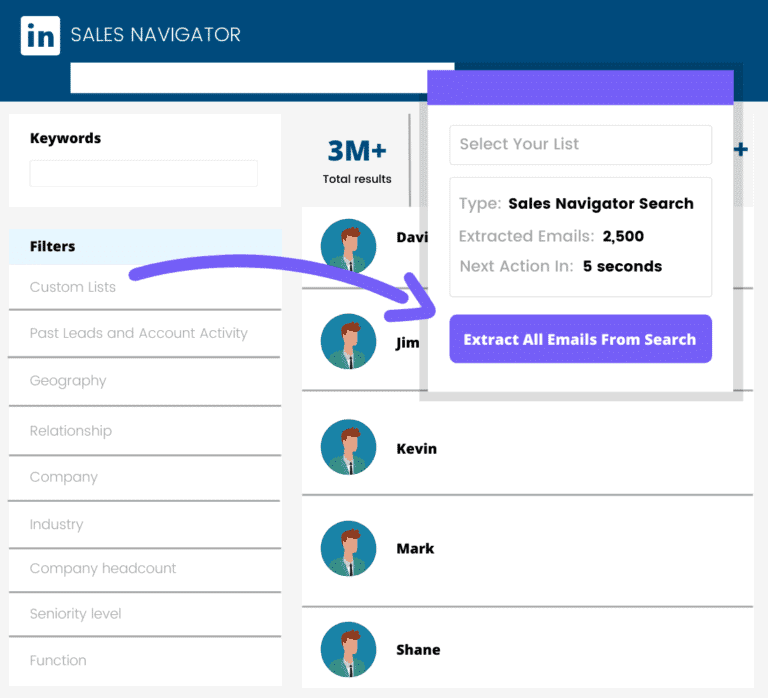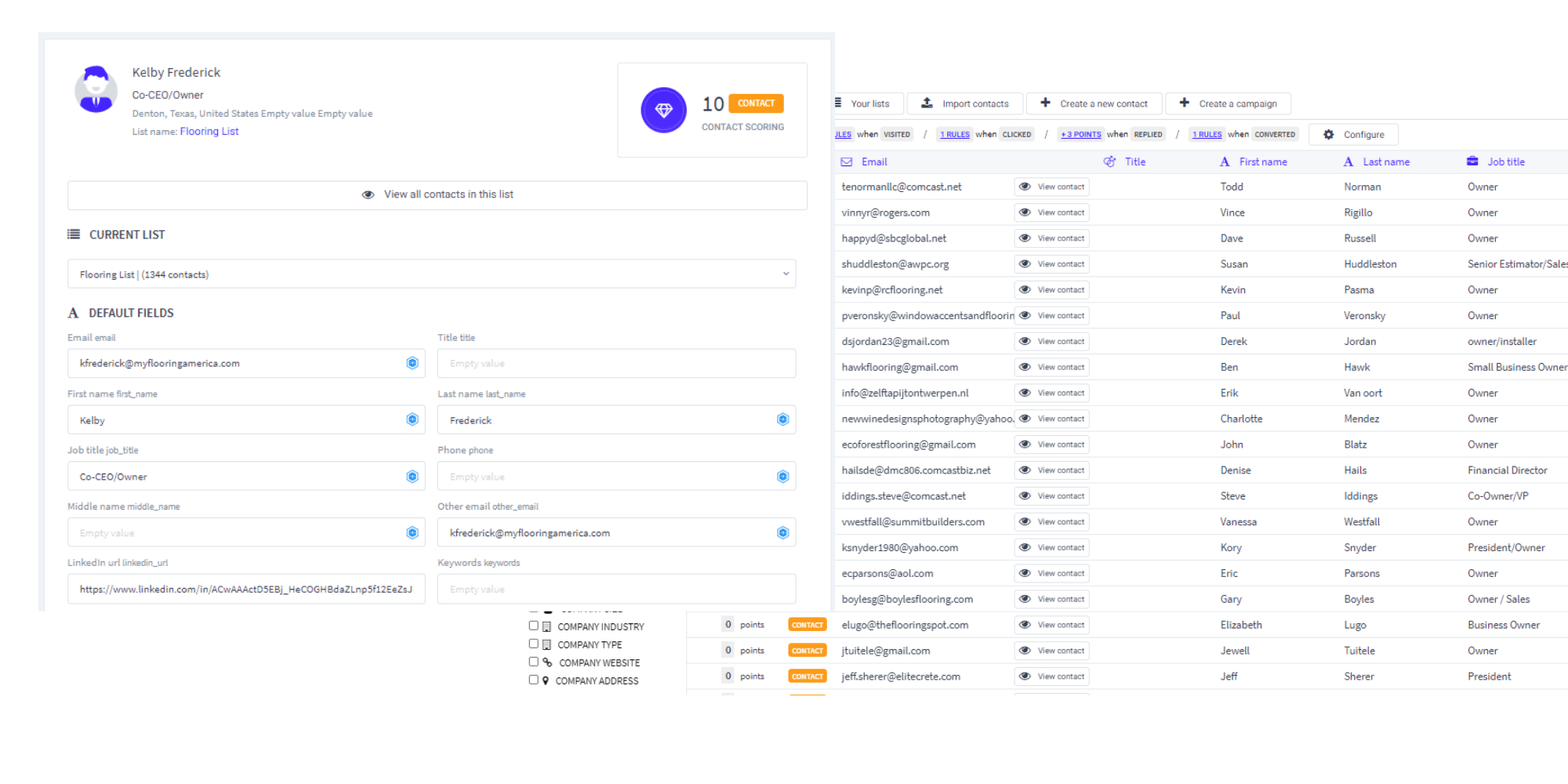 Once you've built your lists, you can extract EVEN MORE data to bulk out your contact's details using Icy leads. There's no limit to how many lists, contacts and databases you can create and pull from (and you don't pay per lead, either). So you can manage, automate AND launch your campaigns all from the same handy dashboard.
This is particularly important if, like Pearl Lemon, you're a remote-working team. Having access to all the information for campaigns in one place means that no one is wasting time hunting for lists or files. Same dashboard, same page. Simples.
DISCOVER
One of the features that make Icy Leads so popular is how one search can lead to another. For example, if you drum up a list of contacts from a keyword search on, say, LinkedIn, you'll be able to extract information from those individual contacts too (such as personal email addresses and social media).
This will enable you to build an additional list based on that individual's professional network, not just their company's. See where I'm going with this? The possibilities are endless – it's all about the data points!
EXTRACT
It's worth focusing solely on this key feature (though I've mentioned it already). Purely because of how amazing it is. Icy Leads can literally take a job title or industry keyword and – by the time it has worked its magic – present you with a detailed list of names, email addresses, and even phone numbers.
The time we've saved through this feature alone really can't be understated. As a lead generation and digital marketing agency, we often need to build detailed outreach lists at the drop of a hat. We also want to save our energy for following up on and converting those leads. If you've ever gone to the effort of building an outreach list, only to receive multiple 'no-reply' or 'delivery failure notices', you'll understand why up-to-date contact lists are so essential.
Icy Leads is the perfect tool for the job. It'll do all that tedious leg work for you, without the performance mishaps that sometimes arise from automated processes. The lists it builds are extensive and as accurate as any that you or I could create. It's just way, way faster.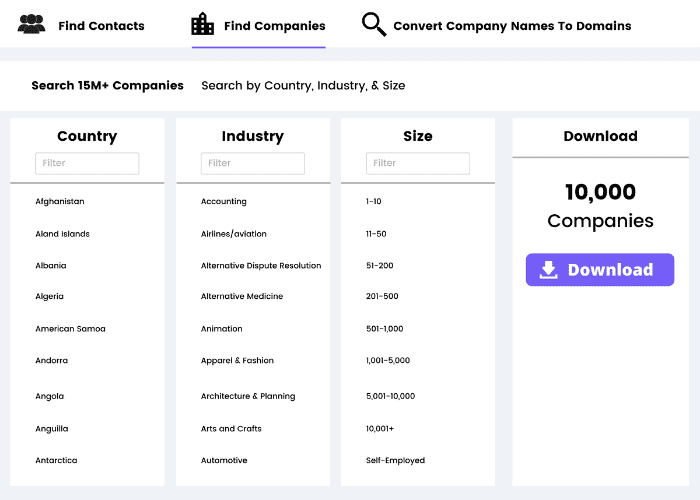 SEQUENCES
You can use Icy Leads to build and send UNLIMITED sequences to all your sales prospects – regardless of how many lists you've created!
Of course, an essential component of a successful cold email template is effective copywriting. And while that's largely down to your sales team, they'll obviously be keen to add the human touch to even the multi-est of multi-step campaigns.
Personalization is a huge part of doing that, and thanks to Icy Leads, you'll be well-equipped with personal information on all your prospects!
Not only that, but Icy Leads will automatically detect and log email replies, opens, and link clicks (without affecting deliverability). While this feature isn't unique to Icy Leads, it syncs flawlessly with the rest of its toolkit (which is arguably more comprehensive than its competitors).
Icy Leads is also compatible with most email servers and will allow unlimited SMTP transfers – another HUGE plus if you've operated previous campaigns from multiple accounts.
PRICING/PLANS
Like anything that's worth something, getting the most out of Icy Leads will inevitably cost you.
The good news is that their Free Trial is pretty comprehensive – meaning you get a fairly good idea as to how the tool will work for you.
Here's what a Free Trial will get you:
Export up to 500 contacts
Send 3K emails
100% verified emails
30M+ Company Search
575M+ People Search
Extract Phone Numbers & Social Media Profiles
Find Decision-Maker Emails by Job Title & Industry
Once you've taken Icy Leads for a test drive (and, like me, decided you simply must have it), it's time to draw up the paperwork!
Icy Leads is all about enabling small businesses and entrepreneurs to flourish. That's why they actually have a pretty affordable plan called the 'Startup', specifically tailored to this demographic.
The Startup costs a lean $47(£34.61) a month (less than most people's coffee habit). Here's what you'll get:
1K contact exports/mo
1K enriched leads/mo
Extract 1K Emails From a List of Websites/mo
Connect With 1K Prospects on Professional Social Networks/mo
3K emails sent/mo
30M+ Company Search
575M+ People Search
Extract Phone Numbers & Social Media Profiles
Find Decision-Maker Emails by Job Title & Industry
Also, if you take this plan out on an annual basis, you'll pay even less ($33/£24.30 a month)!
Not bad, not bad at all…
If your business is already off the ground and looking to level-up, you might need to flex a bit. The 'Growth' plan is described as being 'for serious business owners who need growth & unlimited access to our product'.
For $97(£71.44) a month, (or $68/£50.08 per month if you take out the Annual plan) you'll get:
Unlimited contact exports
Unlimited Lead Enrichment
Extract Unlimited Emails From a List of Websites
Connect With Unlimited Prospects on Professional Social Networks
Unlimited emails sent
30M+ Company Search
575M+ People Search
Extract Phone Numbers & Social Media Profiles
Find Decision-Maker Emails by Job Title & Industry
TO SUM IT UP
Basically, Icy Leads is a next-level lead gen tool that hits all the data points (and does it SO well). It enables those of us in the lead gen and marketing space to build very personalized, targeted lists from a huge variety of sources. Using Icy Leads for email campaigns means you're adding that human touch to all your outreach (and using AI to do it).
Major win-win.
faqs
Icy Leads allows you to extract contact details from websites and shares profiles from keyword searches.
What are the types of leads in sales?
Here are the types of leads you can gather from Icy Leads.
Cold leads
Warm Leads
Information Qualified Leads
Marketing Qualified Leads
Depending on your preferred strategy you can contact leads via call, email, mail, or through the internet like a chatbot or ad.