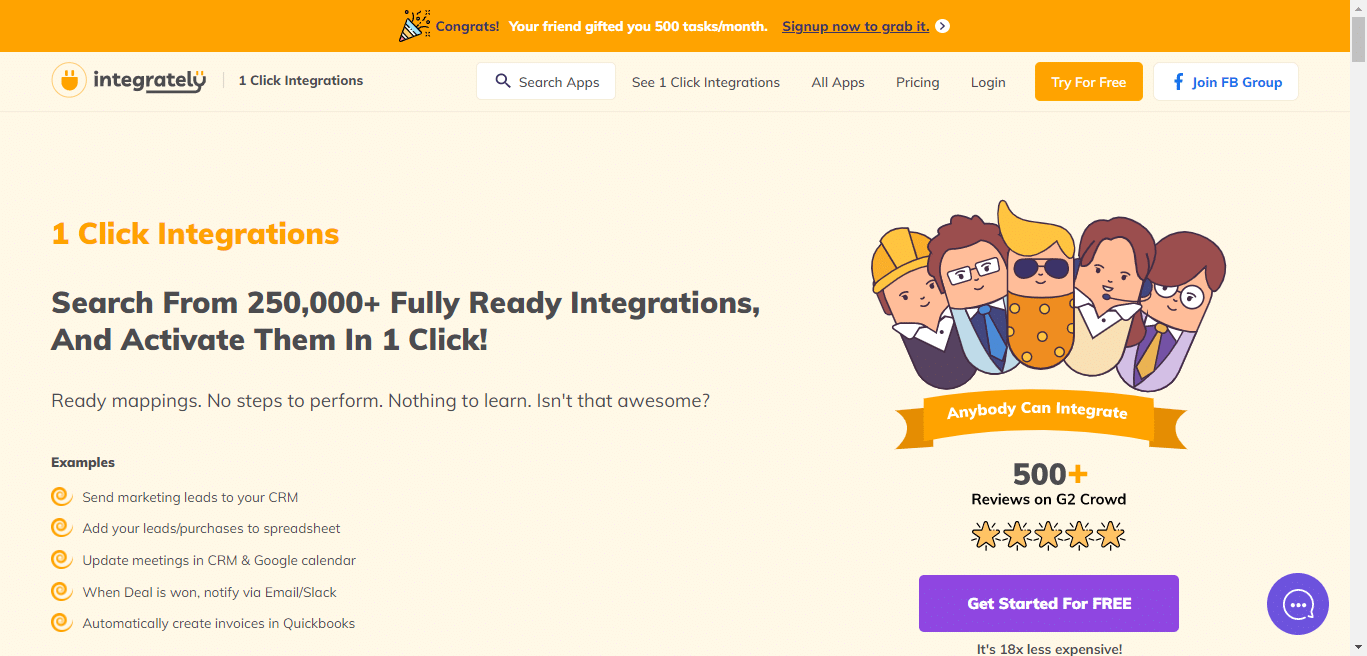 Source: Integrately.com
You can't get away from the idea of automation in this day and age. It's all around us.
Whether it's with your car, your online banking, or your smartphone, you're no longer allowed to just twiddle your thumbs and wait for the next time you can get some work done. You have to be proactive. You have to be better.
To be successful, you must integrate automation into your workflow and manage the entire process. Your business is only as good as your data, and without a solid foundation, things are bound to go wrong.
We're all just starting to get to grips with the world of automation. With the right tools, it doesn't have to be a chore to automate your time.
That is something Integrately has taken into consideration. 
Integrately allows you to integrate many apps with just one click!
But that's not all; you can refer your friends to get tasks free on the platform! The more you refer, the more tasks you can receive without paying a penny!
Integrately is all about integrating the best of the web into your life. Automation is all about making your life easier and simpler.
It's a match made in heaven.
So let's explore what makes Integrately so great (haha) at what it does.
What's Integrately About?
Integrately is an automation software that helps you connect several apps at once. There are over 425 apps available, including Gmail, Trello, Asana, YouTube, Mailchimp, Stripe, Todoist, Slack, and Quickbooks, to name a few.
Integrately automates your workflows. This means that you don't do any work manually and that everything you have to do is automated.
With just a click, you can do the following:
Create invoices automatically with Quickbooks
Send marketing leads to your CRM
Customise/create your own automations 
Update Meetings in Google Calendar and CRM
Add leads/purchases to a spreadsheet
Communicate with your team via Slack or Email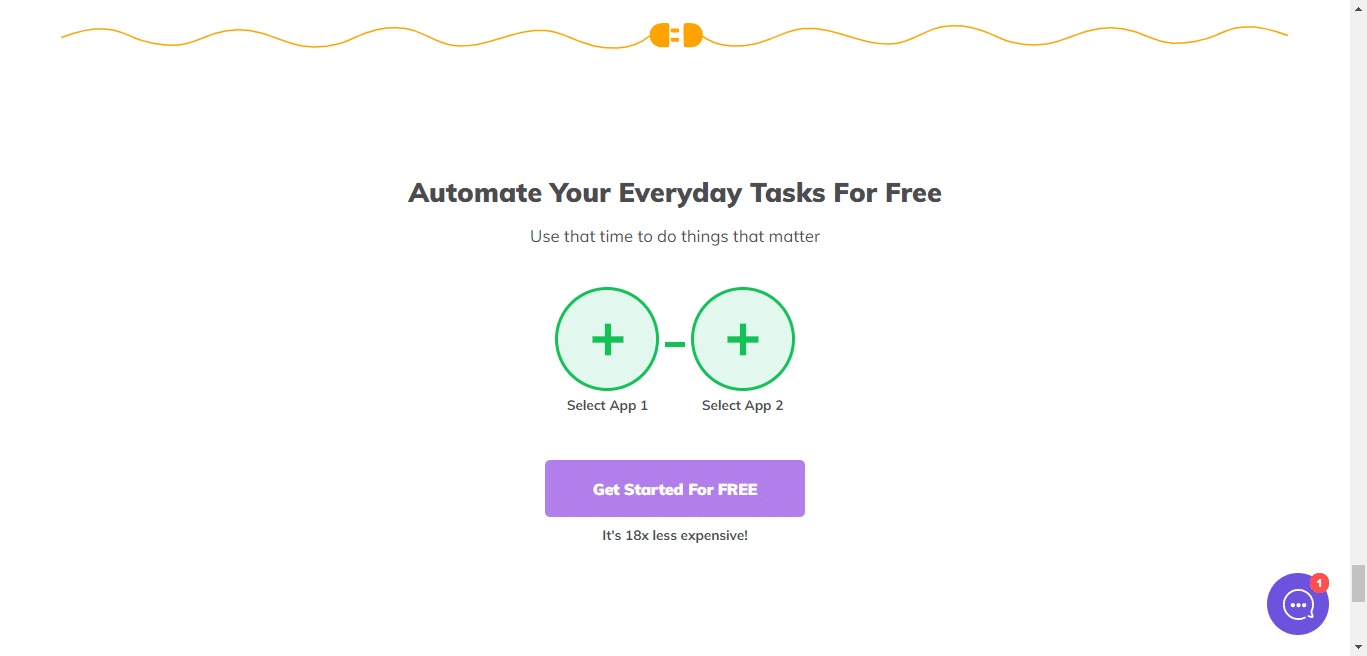 Source: integrately.com
Integrately also has a Facebook group where you can talk about your experiences using the software, talk to other people who use Integrately, seek help and get advice on making the most out of the platform.
To make things fun, Integrately has a Refer & Earn incentive. If you refer 12 friends to Integrately, you get 6000 tasks a month (while having the platform free for a lifetime). For each friend that signs up, both you and the friend get 500 tasks each.
The top referrers get a prize each month, in the form of tasks or having an Integrately price plan free for a lifetime! There's also a Lucky Draw Reward, where three winners who've referred more than 12 people receive the Professional Plan free for a year!
Without a doubt, Integrately has these incentives to bring people to the platform and entice them to stay by giving out prizes.
It's said to be trusted by over 10,000 customers and has won several awards recently. You can check them out here: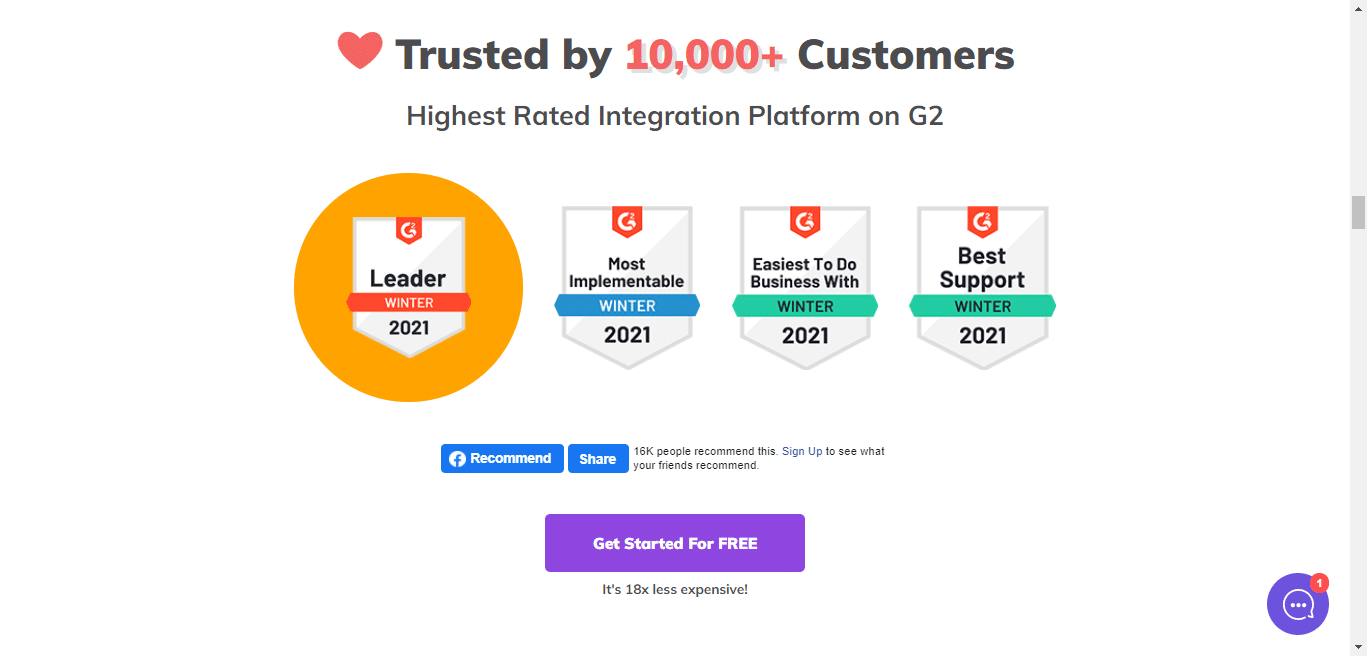 Source: integrately.com
So how does it work?
That's what I'll explain in the next step.

How Is It Used?
Integrately is very simple to use. As I've said before, you can integrate many apps and automation systems with a single click. 
The website's layout makes everything clearly visible and easy to see, which is essential when dealing with automated services that only take a click to set up.
Once you sign up, you're taken to this page: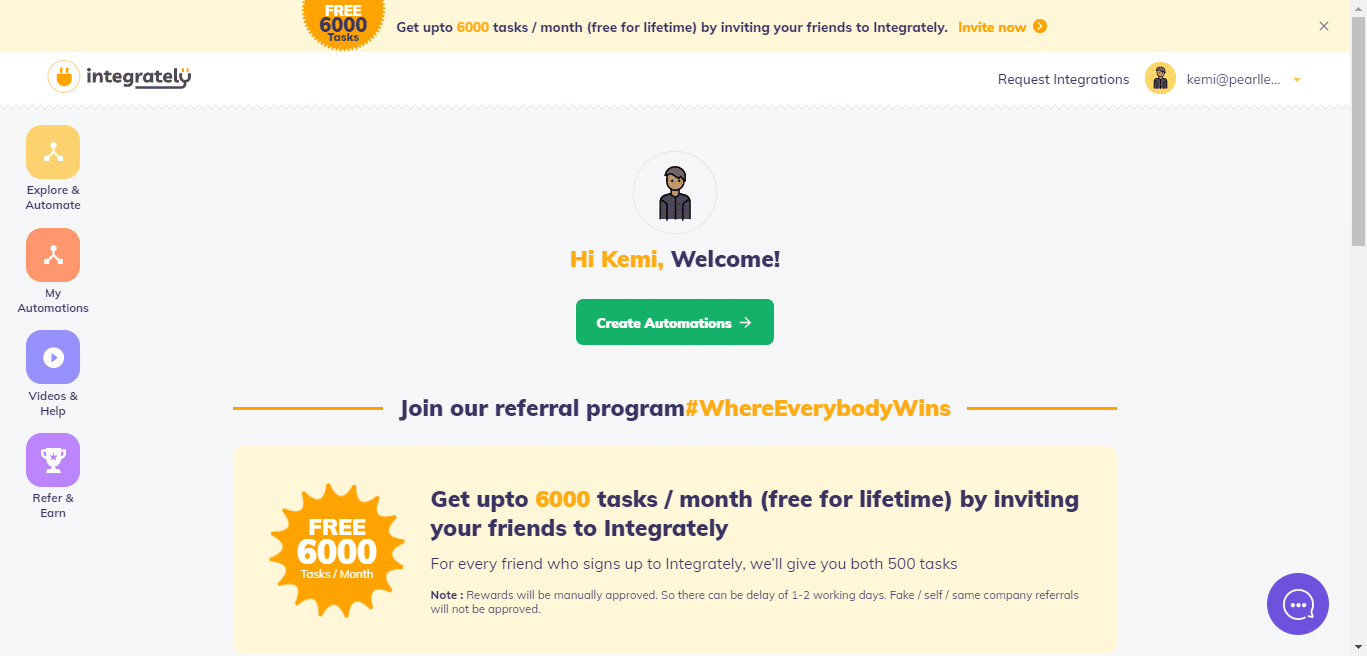 Source: app.integrately.com
On this page, you'll be asked to set up your own automations. When you scroll down, you can also find ways to share your Integrately link on social media sites like Facebook and LinkedIn. This makes it easier to refer people to Integrately by sharing the link with ease.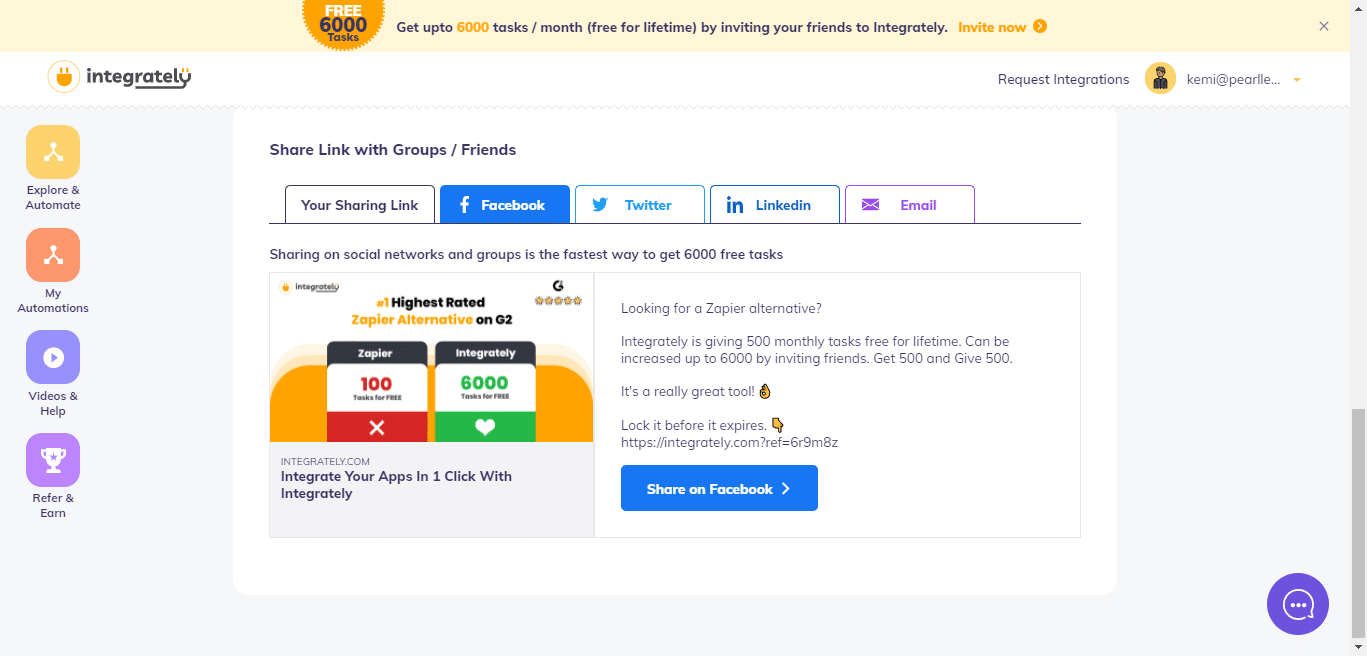 Source: app.integrately.com
On this page (screenshot below), you can choose as many integrations as you like by clicking the orange button with a white cross. Then you go to the "Select 1 Click Automation", where you can click on an action to create your own automation with the apps you've selected.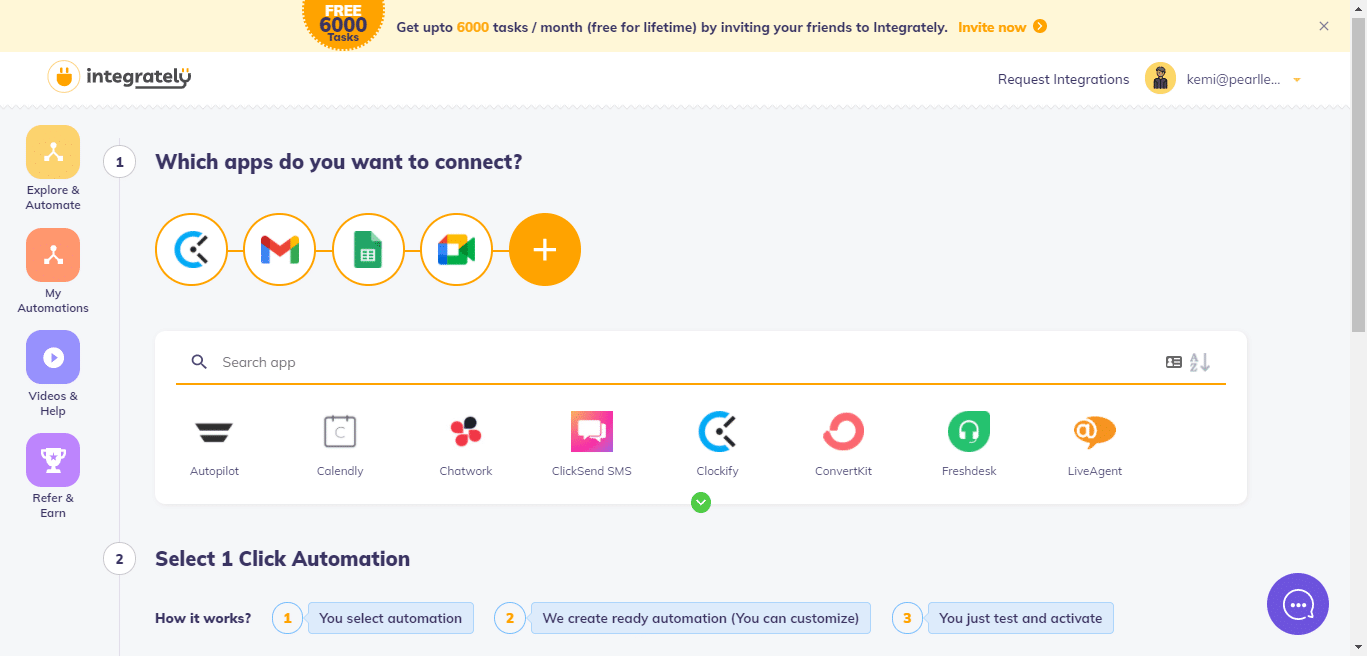 Source: app.integrately.com
You can click on any of the buttons to be taken to another page in the left sidebar. In "My Automations", you can see the automation processes you've created, along with your Connected Accounts, History, and Team. 
If you need some help with the platform, simply click the "Videos & Help" button in the left sidebar. You'll then be taken to this page: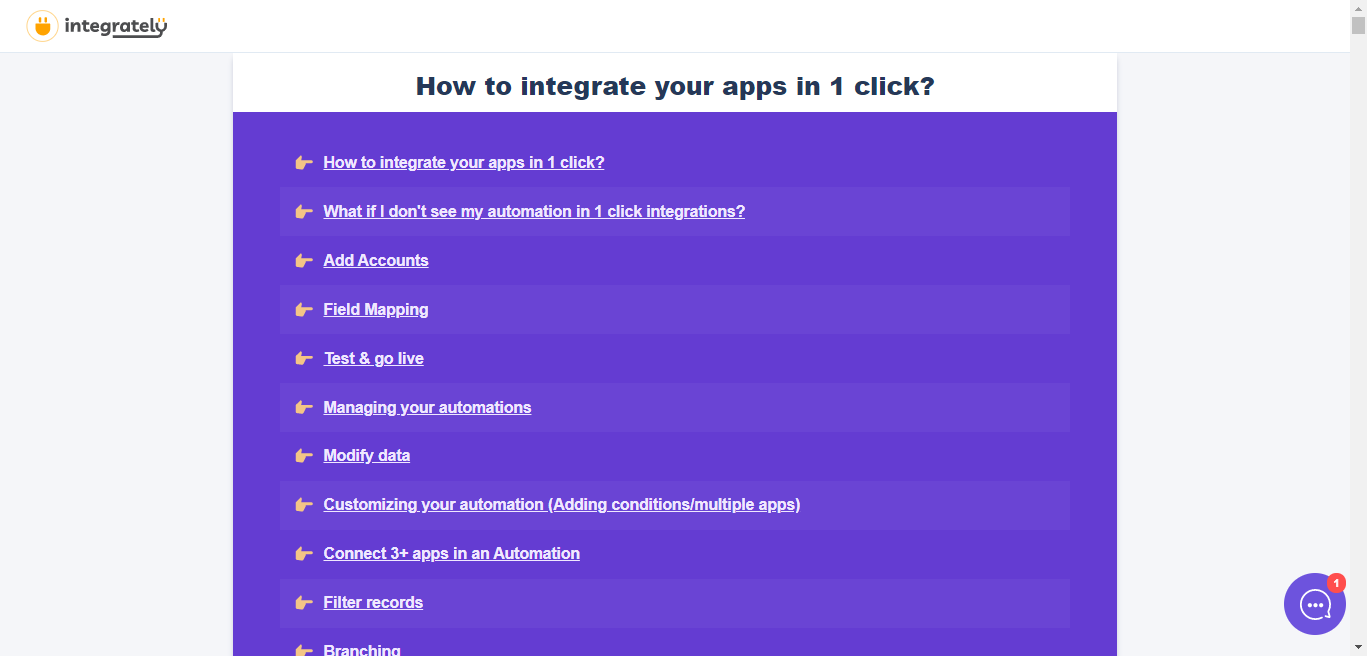 Source: app.integrately.com
This page is kinda like a Q&A section, where it tells you all you need to know about integrating your apps on Integrately. 
Click on any underlined link, e.g. "Add Accounts", and you're taken straight to that section. This section is comprehensive and explains everything in a simple way. No jargon, no long-winded explanations, just a short and sweet explanation on how to use Integrately. 
If you want to talk to a live agent, just click (you see how easy this is?) the purple speech bubble icon in the lower right corner. 
Once you've clicked on it, click the "New Conversation" button to send a message to a live agent. Once you're done, click the white "X" with a purple background.
The agent will reply within minutes, which is another bonus when using a software tool like Integrately. 
When a customer support agent replies to you within minutes, you can get your problem solved faster, spend more time getting the hang of Integrately, dedicate more time to integrating more apps, and referring more people in the hopes of winning a free price plan for a year!
That's all good and well. But am I the target demographic for Integrately?
That's what I'll explain in the next section.

Who Is Integrately Aimed At?
With the apps and integrations available on this platform, Integrately is suited for the following:
Remote teams
Social media managers
Project managers
Agencies 
Customer service employees
Marketing professionals
HR professionals 
Business owners
Anyone who wants to use Integrately to automate their online presence!
You don't have to be a professional to use Integrately – you just need a desire to automate the apps and tools you love and use in one single place.
Integrately is precisely that place – it's similar to Zapier, but I'll get to that later.
Pricing And Payment

Source: app.integrately.com
There are five plans with Integrately: Free, Starter, Professional, Growth, and Business. 
These plans range from $15 a month (Starter) to $250 a month (Business). But you get more perks with each price plan.
While the Free option only offers 5 automations, Single Step, Webhooks, and a 15 minute update time, the Business plan offers a lot more.
You get unlimited automations, 2 minute update time, Multiple Steps, Premium Support, Check condition, Search, Modify data, Webhooks, Unlimited users, Folder Permissions, and more!
The payment plan depends on your needs, but it's very affordable, and you get your money's worth with each plan.
Pros And Cons
Pros:
Support is readily available via live chat
Most things are done with a single click
Video tutorials offer help if you're stuck with something
Affordable price plans
You can request an integration to be added, allowing you to provide feedback.
Cons:
More integrations should be provided
A mobile app could be a good idea (not exactly a Con)
Some integrations need to be updated
Overall Verdict

Source: app.integrately.com
When it comes to automation, it's not just about automating your processes and keeping things running smoothly. It's about automating the boring stuff, the things that are not exciting but are essential to your business. It's about automating the routine tasks that waste time and money.
That's something that Integrately does well. While there are some things that Integrately is working on to be a strong rival to Zapier, the features it offers help Integrately hold its own.
The overall verdict is: Integrately scores 85%
If you're not convinced, here's a snapshot of reviews from people who have used Integrately and are singing its praises:
Source: app.integrately.com
If you're not already using tools like Integrately to automate your life, you should be. It can make your life easier and save you time, so why not try out one of these examples for inspiration?
If this review has made you want to check out Integrately, click here.