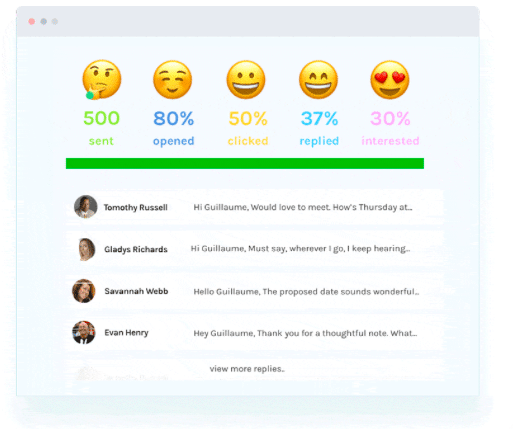 Source: lemlist.com
What is LemList?
LemList is designed to improve the quality of engagement that you get from your email marketing campaigns.
Oftentimes, cold email campaigns are not presented in an engaging or interactive way for prospects.
This lead generation tool can be used to change that. If you want to send emails that actually get replies and get yourself out of the spam inbox, then Lemlist may be the tool for you.
These are the main features of LemList:

Email deliverability
Email personalization
Automated campaign sequences
Follow-up emails
Integrations
To better understand what LemList is all about, let's analyze all its features individually.
Analysis of LemList Features
LemList editor is a feature that enables you to create and launch new outreach campaigns. The other tabs lead you to tasks, reports, and email warm-ups that help you plan and improve your campaigns.
But most of the action happens in the editor dashboard.
LemList has a very playful, cheerful, and interactive interface. It doesn't look very formal or uninteresting. That's what stood out to me about this tool.
Take a look for yourself: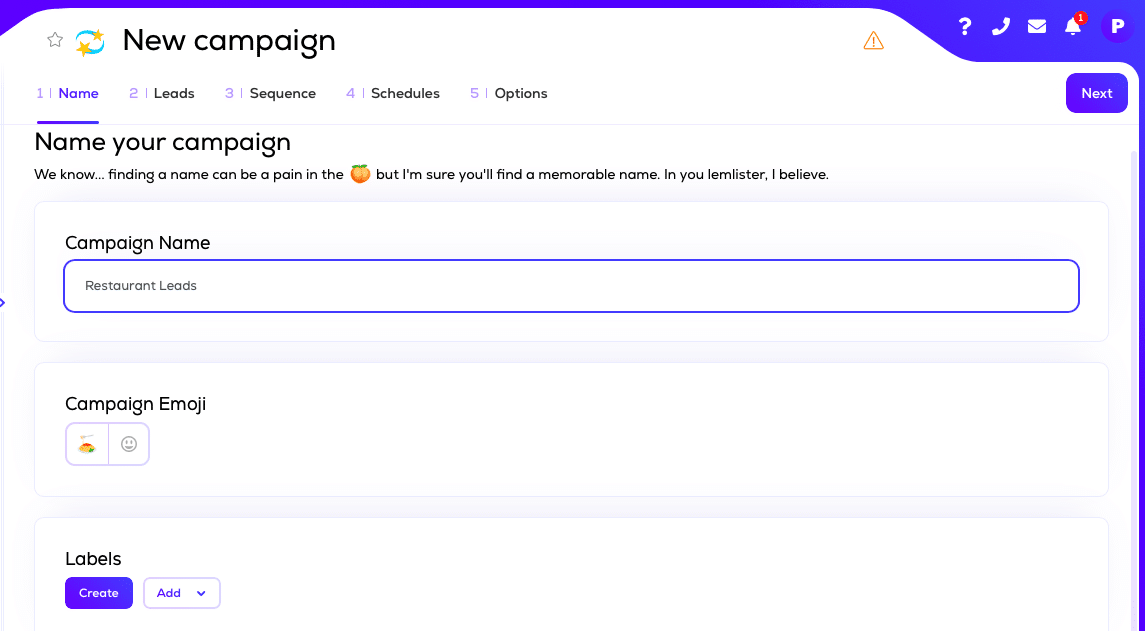 When you begin the initial steps of setting up your campaign, you'll be asked to include campaign emojis. 
Out of all the email outreach tools I've reviewed, this is the first time I've ever seen this as an option.
It really shows you the kind of approach LemList takes when it comes to email outreach campaigns. Instead of being as formal as possible, you can use emojis to create a more friendly and interactive impression to prospects. 
At least that's the impression I'm getting from LemList right now!
Take a look at the emoji options for a second: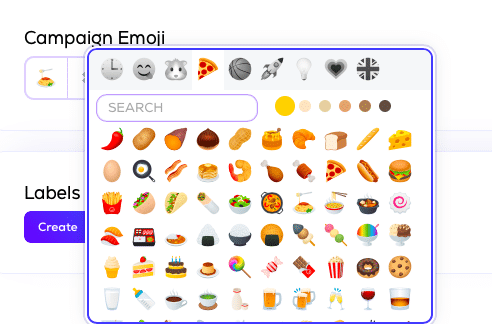 You have a diverse "emoji menu" to choose from. You can even classify your emojis according to skin tones to resonate with your target audience.
These are the brown-skinned emojis: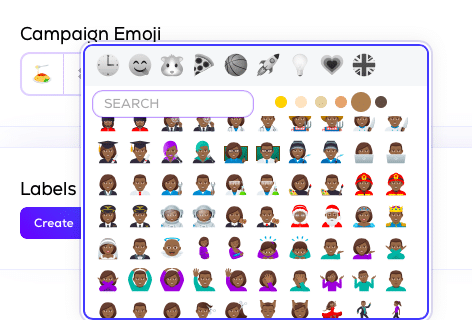 These are the white emojis:
These are the neutral emojis: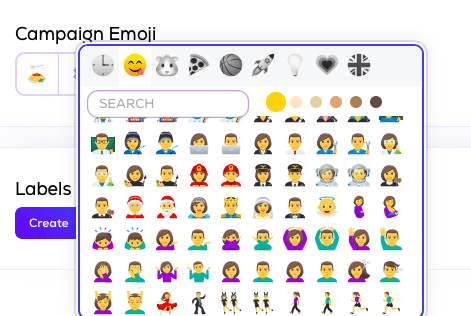 I took the time to highlight these features because it's quite rare to find in other email outreach tools. The kind of emojis you use when you contact prospects can really impact how the message will be received.
If they are used correctly, with creativity and sensitivity, emojis can drastically improve the way a boring sentence is perceived. 
But of course, there are those who prefer to take a more formal approach to email outreach, and that is perfectly fine. However, a little change would be nice!
So, back to the campaigns…
The process of building an email outreach campaign is divided into 5 main steps.

These steps are all pretty straightforward, but I'll walk you through each of them so that you get the full LemList experience.
Leads
There are three ways that you can add leads to your sales funnel. 
Enter contact information manually
Upload contact information through a CSV file
Import contact information from an existing campaign (on LemList)
Import contact information through an API
Create a form for leads to fill in their contact information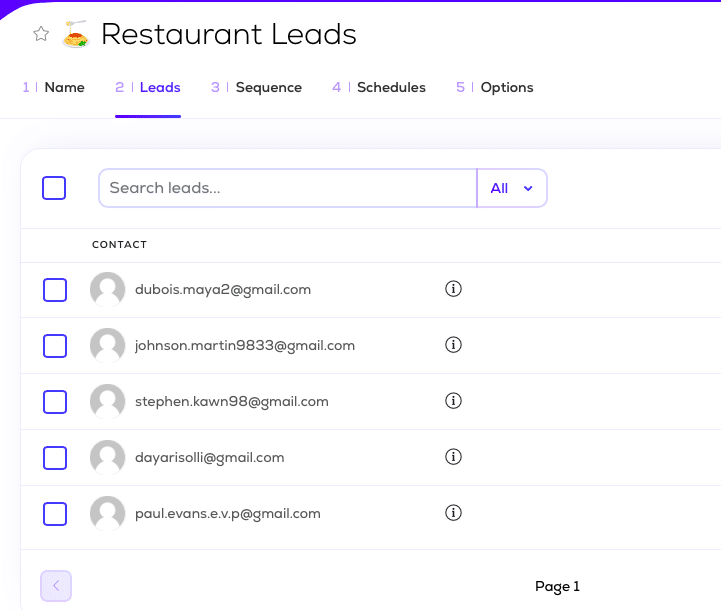 All your leads are neatly organized in your dashboard once you're done adding their contact information.
For ease of access, you can filter your leads according to their engagement and activity.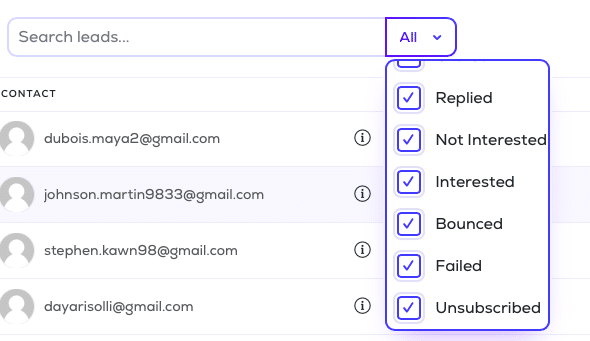 When you search for leads, you click the "all" button to find filters to use.
Here are the available filters:

Imported
Scanned
Skipped
Reviewed
Sent
Opened
Clicked
Replied
Not interested
Interested
Bounced
Failed
Unsubscribed
With such a wide range of filters available, you'll find the leads you're looking for in no time. You'll also manage your leads way better this way.
Sequences
You can create sequences for different kinds of campaigns. LemList provides multiple template types for you to choose from.
Here are the campaign options:

Email inspirations
Blank emails
Phone calls
Manual tasks
LinkedIn visits
LinkedIn invite only
LinkedIn messages
API calls
For this review, I'll focus on the email inspirations to see what LemList offers for email marketing campaigns.
All email templates are organized on this dashboard. You can scroll through the several email template options on the right-hand column.
Interestingly, all LemList email templates include images. This could be because this tool encourages engagement and connecting with your leads better.
Here's an example:
You can remove the image if you have a different one you'd like to replace it with. Or you could choose not to use an image at all. It really depends on how you approach cold email outreach.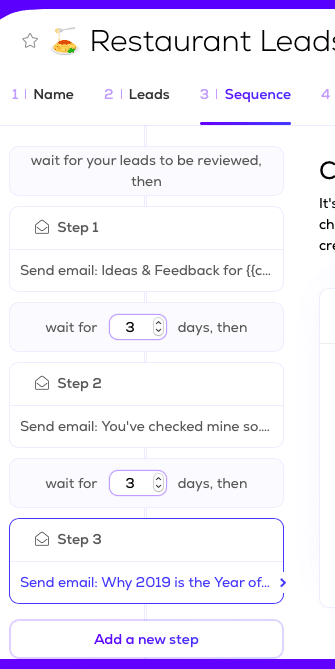 On the right-hand column of your sequence dashboard, you can specify the number of days between each step your emails should be delayed.
Once you've finished your email copy preparation, you can start scheduling your campaign.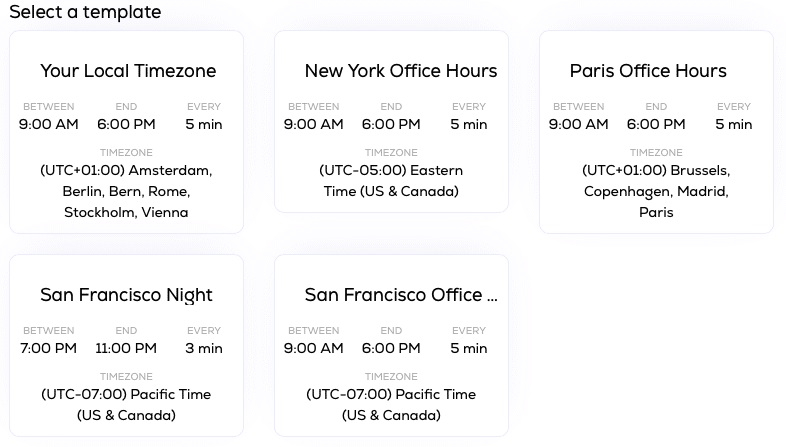 LemList offers multiple time zone templates that save you a lot of time from setting up time zone settings manually.
Once all this is complete, the final thing LemList enables you to do before launching is specifying when to stop a campaign.
You can stop sending emails when your lead:

Replies to a message
Clicks on a link
Opens an email
In addition to these options, you can also specify whether or not you want each email to be tracked. Each email can be tracked for email opens and link clicks. 
You can also choose the option to automatically create a task whenever a lead replies to an email or clicks on a link.
These diverse options really help improve your campaign before officially launching.
LemList: Pricing and Payment Plans
There are three main payment options available, here's an overview of each of them.
The email warm-up payment plan is best suited for users who want to boost email deliverability and warm up any email domain.
For $29/month, the Email Warm-Up Payment Plan offers:
Email deliverability booster
Auto email warm-up
Supports all email providers
Email verification
Complex, proprietary algorithm
20k+ members worldwide
25+ years domain age range
No fake accounts, only real people
The email outreach payment plan is best suited for users who want to send cold email outreach campaigns and have access to all the personalization features.
For $59/month, the Email Outreach Payment Plan offers:
Team collaboration
Automated sequences
Text personalization
Other integrations + APO
A/B testing
Pipedrive, Salesforce, Hubspot
Send cold email campaigns
All "email warm-up" features
The sales engagement payment plan is best suited for users who communicate with leads on multiple channels.
For $99/month, the Sales Engagement Payment Plan offers:
Team collaboration
Automated sequences
Text personalization
Other integrations + APO
A/B testing
Pipedrive, Salesforce, Hubspot
Send cold email campaigns
All "email warm-up" features
Aircall integration
Social selling
Video integration
Calendar & chat
Priority customer support
Dynamic landing pages
There is a 14-day free trial available for those who want to test out these features before fully committing to a payment plan.
If you are interested in learning more about LemList payment plans, you can read more about it here. 
Lemlist: Pros and Cons
Here are the Pros of using LemList:
Very user friendly
Email personalization features
Highly engaging and interactive email templates
Cool emojis
Email warm-up
Connect with leads on multiple channels
Beginner tutorials available
Here are the cons of using LemList:
No option to include detailed information about prospects
Final Verdict
The pros outweigh the cons here!
LemList is a truly engaging platform to use. And it could inspire you to make your campaigns as engaging and interactive as possible.
The final verdict is: LemList scores 97%
If you are interested in using this tool, you can register for LemList here. 
faqs
How do I warm up an email Lemlist?
Use Lemlist cold email templates to create your email
Then set your desired warm-up speed and click the start button
How many emails can Lemlist send?
During the free trial, you are limited to 50 emails per day. Check out the Lemlist pricing and Lemlist integrations to see what you are looking for in your upgrade.
How do I review leads on Lemlist?
Lemlist has an analytics-based section that includes the status of your leads and email progress.  From reviewing your leads you can make automated actions which is an advantage of Lemlist vs Mailchimp.
Lemlist is a cold email software provider to engage with leads across multiple channels.You use Lemlist to contact leads and monitor your email campaigns. A Lemlist review can show if this tool is for you but it is best to start with the Lemlist free trial.