The right customer relationship management (CRM) framework will supercharge your small business like very few other software and SAS solutions can.
It will help the marketing team find potential customers quicker, growing your lead volume by intelligently storing and handling consumer and prospect details. By improving the capacity of your sales team to close deals, it will earn you more clients. More clients mean more money.
A good CRM tool will support the service team with intelligent help desk solutions to make more customers happy. Happy customers mean more referrals, which again should mean more money.
Ideally, this is all done on one platform by a powerful, small business-oriented CRM software solution, keeping your business connecting end to end with limited IT participation and setting you on the path to significant growth. So everyone is on the same page when it comes to understanding the client.
Less Annoying CRM (or LACRM) is software designed specifically for small businesses for customer relationship management. It helps businesses to keep track of customer details, like other CRMs, with the goal of creating more leads, attracting customers, and keeping teams coordinated and on track. With plenty of support for users who are new to this kind of tech, Less Annoying CRM aims to have an easy interface at a reasonable price point.
But, naturally, most people – especially business owners – tend to view 'economy options' with suspicion. If they are so good, why are they so cheap, at least when compared with much of their competition?
It's the thinking behind the fact that many of us are willing to pay an extra pound or two (or more) for name brand foods even when we know there is very little difference in terms of ingredients between them and their white-label, generic counterparts.
That having been said, sometimes more expensive goods are better. But is that the case with CRMs? We took a closer look at Less Annoying CRM to try to find out.
WHO'S BEHIND LESS ANNOYING CRM?
Less Annoying CRM, founded in 2009 in San Francisco by two brothers, Tyler and Bracken King, set out with a simple mission: to create easy-to-use, inexpensive CRM software. In 2011, the platform recruited its first employee and surpassed its first 1,000 users one year later.
The business, now based in St. Louis, has over 22,000 users today. A team of fewer than 20 people is employed by Less Annoying CRM and caters only to small businesses. It is a corporation financed directly by its members, not by investors or by larger third-party corporations. The company stands out for its clear, no-nonsense approach: it offers only the CRM platform resources that small business owners need and understand, and for access to all its products and services, it charges a flat fee of $15 per user per month. This is one of the best small business CRM software that is out there.
LESS ANNOYING CRM FEATURES AND BENEFITS
Some CRM platforms give users the option of several plans, products, and packages that, as you level up, usually increase in price. To keep it straightforward, the only product offered by Less Annoying is its CRM, and it provides just one level of membership. Every user will receive their own username and password to access the following CRM features for $15 per user per month:
1. STREAMLINED CONTACT DATABASES
LACRM assigns an individual, easy-to-navigate profile to help users organise their customer details. Standard information such as names, phone numbers, and dates of birth are stored in customer profiles, as well as any files, records, assignments, or events associated with each person.
Users can monitor sales pipeline data using this data for each customer. The number of contacts a user can store has no strict caps, but Less Distracting suggests storing less than 50,000 to keep the app running smoothly.

2. SYNCHED CALENDARS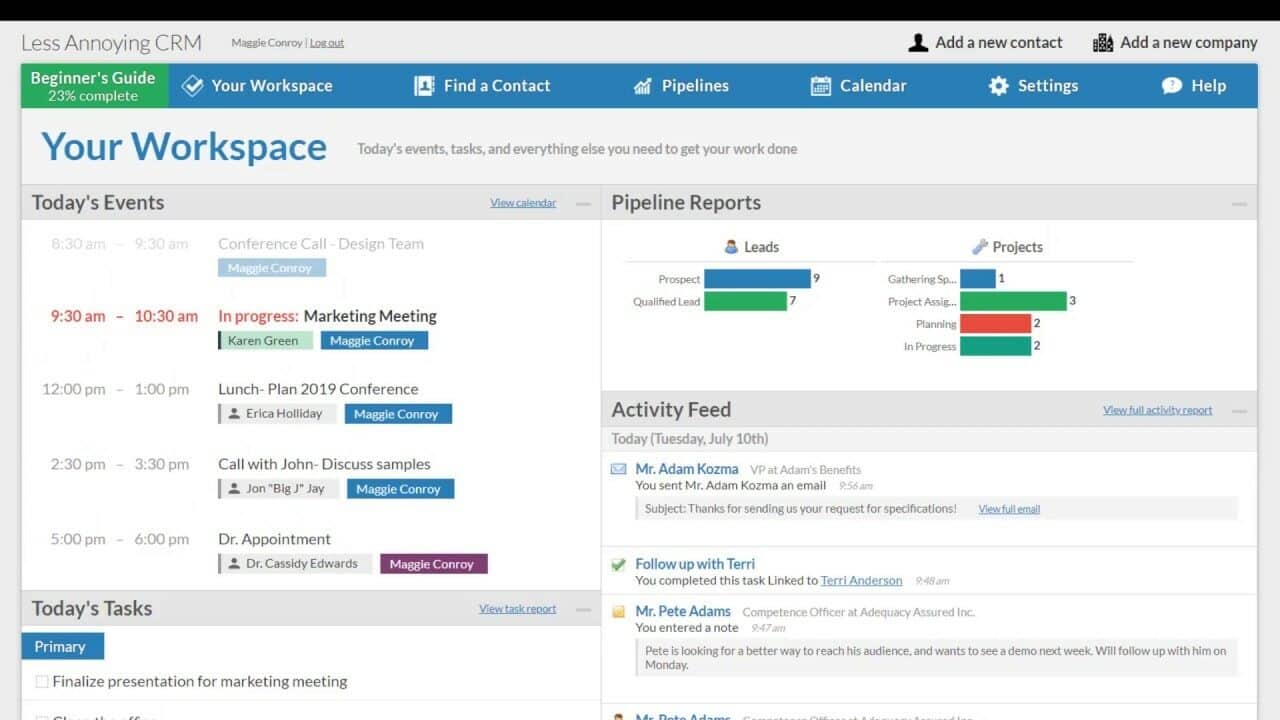 To keep your team coordinated, Less Annoying CRM features a built-in calendar. Users can sync their Google Calendar tasks and appointments into their own individual grid, or connect their calendars to a central one for use across the entire organization. This type of integration is very useful because people can see who is available when.
3. LEAD AND PIPELINE REPORTING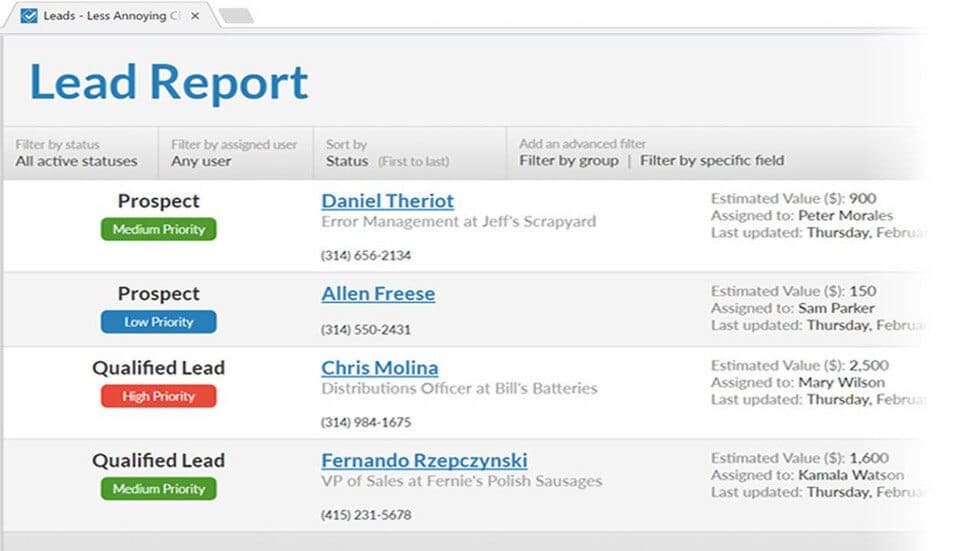 By listing the status and priority of each lead, as well as any related contact details and notes, this feature lets users keep track of all leads. In order to see where their team members are in the sales process, small business owners can also keep an eye on follow-up interactions with potential leads which is amazing for lead management.
Pipeline management is very easy with this CRM tool! Get organised quickly with Less Annoying CRM.
4. CUSTOMIZATION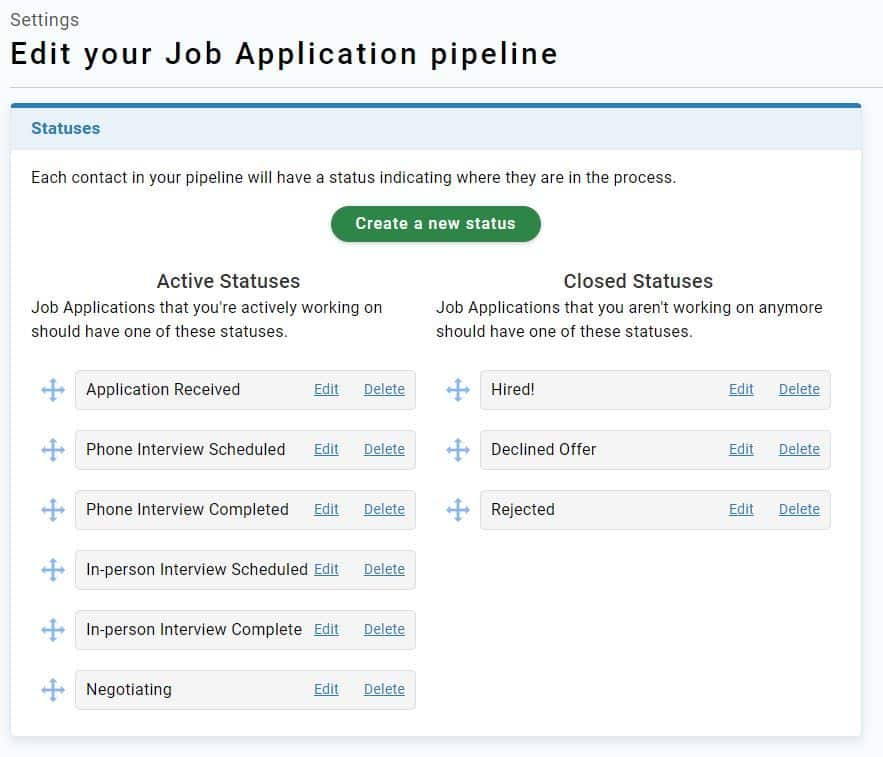 Users can create custom fields with LACRM for their contacts and businesses. When they need to be able to monitor extra workflows outside the regular template of the app, this tool can be useful.
5. EASY ACCESS ANYWHERE
It is possible to access all project management resources through your smartphone, tablet, or computer. You won't need to download a mobile app or synchronize any of your information from your computer to access it on your handheld devices because LACRM 's software is web-based.
Less Annoying CRM also provides additional helpful benefits in addition to these resources, such as free software updates, regular emails summarizing your tasks for the day, simple import and export of contacts and business information which is compatible with Microsoft office, 256-bit encryption to keep confidential customer information secure, and numerous backup servers for all saved data.
IS LESS ANNOYING CRM ANY GOOD?
LACRM's main concern is the ease of use; instead of removing some of the functionality from a more complicated framework designed for larger enterprises, Less Irritating built CRM software from scratch to provide only the resources that a small business owner. The result is a simple CRM solution that caters particularly to those who are new to CRMs in general.
LACRM's customer support makes it a strong CRM as well. To better help, small businesses thrive the organization trains all of its employees to provide support through email, phone, and free live demonstrations. The company's website also provides a range of opportunities for online training.
The clear-cut pricing of the Less Annoying CRM also makes it stand out because it does not differ by tier or company size. To use all the CRM's resources (after a free trial period), every user pays a flat rate of $15 per user per month as there is no pricing plan.
Is it as easy to use as the company claims? In a word, yes. It's simple, straightforward, and efficient. CRM without the BS. And for a small business that can be a very wonderful thing.
IS LESS ANNOYING CRM RIGHT FOR MY BUSINESS?
As good as it is, the fact is Less Annoying CRM is NOT for everyone.
Best suited for:
Small firms
Users that are not tech-minded and want more assistance
Users who don't have much time to learn the ins and outs of new apps
Not recommended For:
Large businesses
Users who want lots of choices for third-party integrations
Businesses that require advanced features or several plan choices
Less Annoying CRM is proud to be a user-friendly CRM system built for the owner of an everyday small business.
Thanks to its simple interface and step-by-step setup videos that illustrate everything from contact management to monitoring sales leads, all team members will be able to navigate the app, regardless of their technical know-how. The firm also aims to provide customized assistance to help every customer learn how to quickly and efficiently use the app.
However, other CRM systems could be a better fit for larger businesses or those with more specialized needs. Only one package is provided by Less Irritating CRM, so consumers requiring a plethora of product choices may want to choose a more layered, robust program.
A larger CRM could also be better suited for larger companies to manage onboarding and troubleshooting, as the team behind Less Irritating CRM is fairly small. Bear in mind, of course, that it will actually cost considerably more for CRM offerings with these extra features.
HOW MUCH DOES LESS ANNOYING CRM COST?
Less Annoying CRM costs $15 per user, per month, after a free 30-day trial. Members have access not only to the complete set of features on offer but also to email and phone customer service.
Although there are free CRMs on the market, Less Annoying CRM provides a lot more than any of them. Agile CRM, for example, provides a free plan, but complimentary customer support is limited to email messages and can take a few days.
Since LACRM users have only one plan available, members do not have to move to a higher tier to get more functionality. The platform does allow users to configure certain fields to better manage workflows and metrics for its logged customers and businesses. It doesn't cost you any extra fees to configure your account and it really is easy to use.
All in all, we like Less Annoying CRM – which is a great name too BTW – and for smaller businesses, it's well worth a try. You can get started with a free trial here, and if you are looking for a CRM for your small business why not give it a shot?