LinkedIn is one of the premier lead generation platforms used today.
On LinkedIn, you have access to hundreds of millions of users who are looking for the same thing as you: to do business.
In other words, you'd be a fool not to take advantage of this platform for generating leads.
But even though LinkedIn is amazing, it can always be better. After all, nothing is perfect.
Luckily, there are tons of tools and add ons that can help with lead generation on LinkedIn, from finding more qualified leads to streamlining outreach.
In fact, there may be TOO many tools. Because how do you decide which ones to use? How do you know which ones are best?
That's where we come in.
At Pear Lemon Leads, we are reviewing some of the best LinkedIn lead generation tools available, so you don't have to.
And this week, on Pearl Lemon Lead's LinkedIn Lead Generation Tool Review, we'll be discussing LinkedIn Sales Navigator.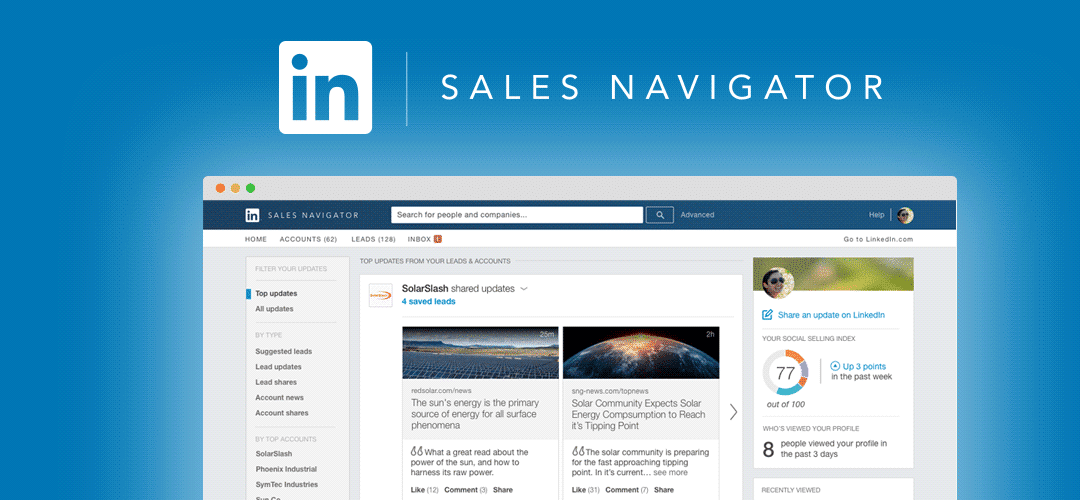 Source: Scientifically Speaking
What Sales Navigator Does
LinkedIn Sales Navigator is a tool developed by LinkedIn that is meant to help you find other LinkedIn users who are likely to become quality leads.
What we mean by quality leads is people who are:
More like your target audience
Will have a use/need for what you are offering
In your field
A key decision-maker
These aspects are important in a lead because it means there is a greater chance that they will become a customer.
Well, can't you just do this with LinkedIn by itself?
Sure, but LinkedIn Sales Navigator makes this MUCH easier.
How? Let's allow LinkedIn to answer that one:
"Sales Navigator features a powerful set of search capabilities, improved visibility into extended networks, and personalized algorithms to help you reach the right decision-maker," per LinkedIn.
So basically, LinkedIn Sales Navigator helps you find more leads with improved searching features and gives you better information on your results.
It also has a few other features that this review will talk about.

How Sales Navigator Works
If you have a LinkedIn profile, you can easily add this tool there. The LinkedIn sales navigator account is under the same profile, and luckily they offer a 1-month trial so you can see if you like it.
The main feature of LinkedIn Sales Navigator is its advanced search function.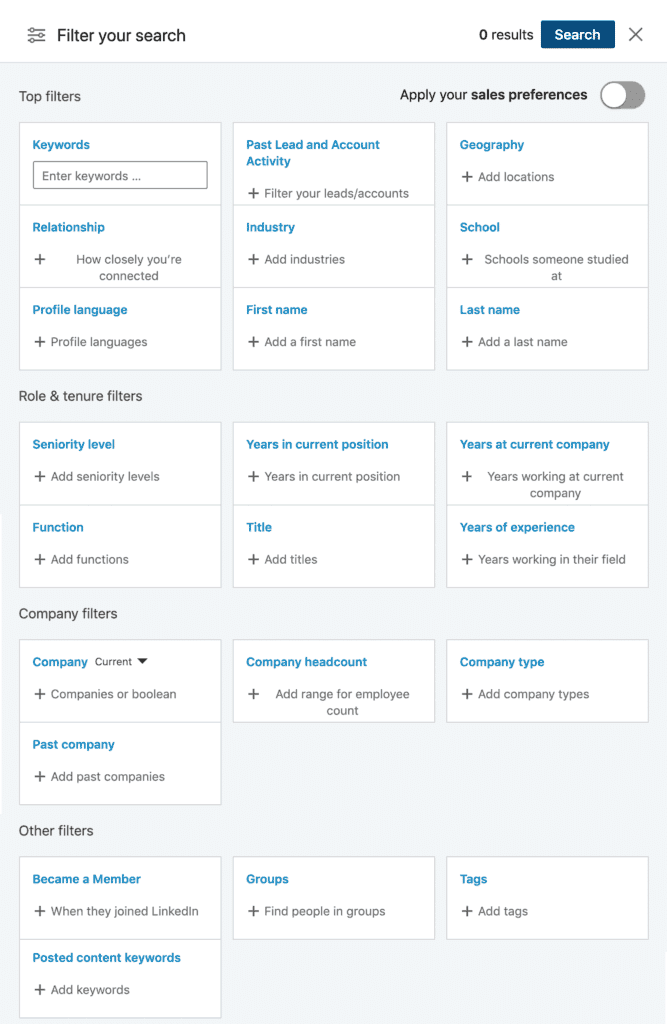 Source: Top Dog Social Media
You start how you normally would by typing in some keywords to find people in your target market – your potential prospects.
What the LinkedIn Sales Navigator advanced search does is provide you with a ton of filters to narrow down the field, saving you the time and effort of going through potentially hundreds of search results and bringing you the most relevant prospects.
Available filters include:
People search filters:
Size of company
Company type (public, private, non-profit, etc.)
Exclude contacted leads, saved leads and viewed leads
Group membership
Leads following your company
Mentioned leads
Leads with recent job changes
Recent LinkedIn lead activity
Leads with shared experiences/commonalities
LinkedIn member since
Location by postal code radius
Posted content keyword
Search within my accounts
Seniority level
Title (past/past or current/past not current)
Number of years at current company
Years of experience in current position
Company Search Filters
Company headcount growth
Revenue of company
Size of company
Department headcount growth
Department size
Fortune (listed on Fortune 50/100/500)
Headquarters location (by region/state/postal code)
Hiring on LinkedIn
Industry
Job opportunities
Number of followers
Recent senior leadership changes
Relationship (companies where your connections work)
Other Features
The search filters are probably the main function of the Sales Navigator tool, but it also has several other features that you can take advantage of to find more leads, as well as make your LinkedIn experience more convenient.
Here are some other great features of LinkedIn Sales Navigator.
Find Similar Prospects
Let's say that after using the advanced search function, you have finally found a prospect!
Sales navigator made that really quick and easy, didn't it? Well, it's about to make finding another prospect even easier.
After finding an ideal prospect, if you go to the drop-down menu and select "View similar," LinkedIn Sales Navigator will show you profiles similar to the one you're viewing, so you can find even more new leads through the sales nav lead recommendations! You can create a custom list or create a lead list for any future projects.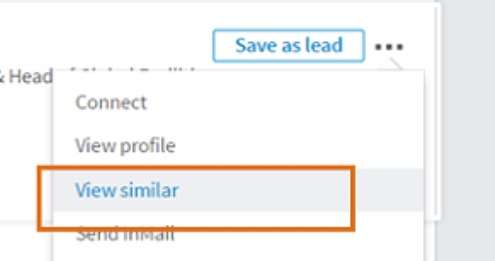 Source: Brain Shark
Wow, that really was easy!
Save Leads
If you're a person who likes to separate the search process from your outreach, then LinkedIn Sales Navigator's save leads feature will be invaluable to you.
Once you find a prospect, you can save their profile to the Sales Navigator homepage. This creates a convenient list of potential leads you can now go through one by one and contact when you're ready.
Or, if you typically automate your outreach process, having a list of prospects already made will make it easier as well.
Save Searches
People are constantly making new profiles, updating their current ones and adding new connections, so the same search can bring you different results even a month later.
So, let's say you ran a search using a ton of different filters and came up with some great results. And now, three months later, you want to run the same search to find some more leads.
Instead of racking your brain trying to remember if you used the said 10 or 15 years of company experience, what if you could just go back and see exactly which filters you used?
Well, with Sales Navigator, you can!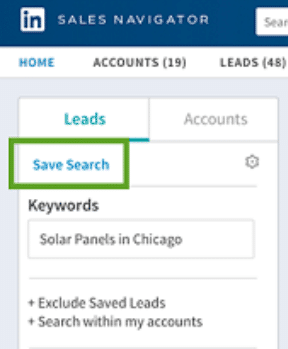 Source: Brain Shark
After taking advantage of its advanced search, you can then save the parameters you used, then go back any time and conveniently run the same search that successfully brought you prospects again.
And again. And again…
Sales Navigator Feed
So you have your standard LinkedIn news feed, where you get updates on your first-degree connections.
With Sales Navigator, you get a second news feed, this one dedicated to all of your saved prospects and leads.
This feature keeps track of your leads and what they are doing, so you can reach out to them at the perfect time in a personalised way.
The Sales Navigator will show and notify you about:
Lead updates about when they change jobs, celebrate work anniversaries, etc.
What your leads are sharing on their network
News about your leads
When a lead recommendation changes a job or shares an update
When a saved lead has viewed your profile and has engaged with your content
And a ton more!

InMail
Source: LinkedIn
Unfortunately, if a person is not in your network, you can't privately message them, which is probably going to be the case with a lot of your potential leads.
One option is to try to connect with them, which, if they don't know you, may not work.
And you could scour the internet for an email, but that will take a decent amount of time and effort.
Luckily, there is a way to contact people not in your network conveniently through LinkedIn, and that's with InMail.
InMail is essentially LInkedIn's version of an email. You can't use it with free accounts, but with Sales Navigator, you can send up to 50 InMails per month, depending on which plan you choose.
The Rest
These are just some of the features you get access to with LinkedIn sales Navigator.
Here is a list of some more of the functions you can use:
See who's viewed your profile
Extended LinkedIn network access
Lead and account recommendations
Custom lists
Territory preferences
Lead and account alerts
Outlook Web integration
Notes and tags
Sales Navigator learning center
Sales Navigator mobile app
All of these features come with the most basic individual plan for Sales Navigator. The team and enterprise plans have some extra features like CRM integrations and license management.
Cost
Unfortunately, everything comes with a price.
LinkedIn Sales Navigator cost is broken down into a few different plans with varying prices and features:
Professional- for individuals
Annual: $779.88 ($64.99 per month)
Monthly: $79.99
Team- for sales teams
Annual: $1,240.00 ($103.33 per month)
Monthly: $134.99
Enterprise plan– for sales organisations
Contact LinkedIn for pricing
The vast number of services Linkedin Saves Nav offers is the main difference when looking at Linkedin Sales Navigator vs Premium. Check out the full breakdown of the services for each plan:
Source: LinkedIn
The Review
Now that we've gone over what LinkedIn Sales Navigator can do for you, it's time for the Linkedin Sales Navigator review!
Honestly, it's a great tool.
It's pretty easy to use, and it will help you find some real high-quality prospects with its search filters, similar prospects button, and other functions. You can create personalized outreach messages and get more potential customers on this sales navigator app.
It can also help with the outreach process by giving you valuable information on your potential leads and access to Inmail.
But it's only worth it if you actively use LinkedIn regularly and are willing to put in the effort to find prospects and turn them into leads. It isn't going to do everything for you.
The tool is also pretty expensive, especially for the individual plan. If you aren't active consistently on LinkedIn, then it probably isn't worth it.
And some of its features, while they do make using the site more convenient, aren't necessary, such as the save leads to function. There is a ton you may not even use too. So it is up to you if you think the price is worth it.
It was created by LinkedIn, though, so even if it is a bit pricey, you can be sure that the quality is excellent and it will work seamlessly with the platform.
So, before giving our official rating, here is a quick Pros and Cons summary.
Pros
Great search function for finding quality leads
The info it provides and Inmail will help with the outreach process
It makes the LinkedIn experience easier and more convenient
Cons
The individual plan is a bit pricey
Not worth it if you aren't using LinkedIn consistently
You may not end up using a lot of its features
Official Pearl Lemon Rating
LinkedIn Sales Navigator is a great tool and can help you find a ton of qualified leads. It is high quality and easy to use, with its only real downside being its price, which could still be worth it depending on how much you use LinkedIn.
So, LinkedIn Sales Navigator's rating is:
 ◯ 4 out of 5 lemons!
Next Time…
Thanks for reading Pearl Lemon's review of LinkedIn Sales Navigator!
Stay tuned for our next LinkedIn Lead Generation Tool Review, where we'll be talking about Crystal.
Until then, go check out some of our other stuff on LinkedIn lead generation, like this blog post: How To Use LinkedIn As A Lead Prospecting Machine.
Or, if you are looking for help on your LinkedIn lead generation, check out how we can be of service and give us a call today!
FAQs
How to use Linkedin Sales Navigator to generate leads?
Use the filters on Linkedin Sales Navigator to identify your target audience. Contacts on Linkedin will appear and the list will get smaller as you become more specific with your filters. The benefits of LinkedIn Sales Navigator is that you can save the search and list of contacts or use an outside tool to save your contacts from LinkedIn.
What is the cost of Linkedin Sales Navigator?
The LinkedIn sales navigator pricing comes in different plans: professional, team, and enterprise. The professional plan for sales navigator Linkedin is $99.99 a month and the Team $149.99 a month. For the enterprise plan, you have to contact Linkedin.
How does Linkedin Sales Navigator work?
Linkedin Sales Navigator allows you to use filters to narrow down leads and prospects. The benefits of LinkedIn sales navigator are that the filters and data allow companies to identify leads within their audience and make better connections. For more benefits check out this Linkedin Sales Navigator review.