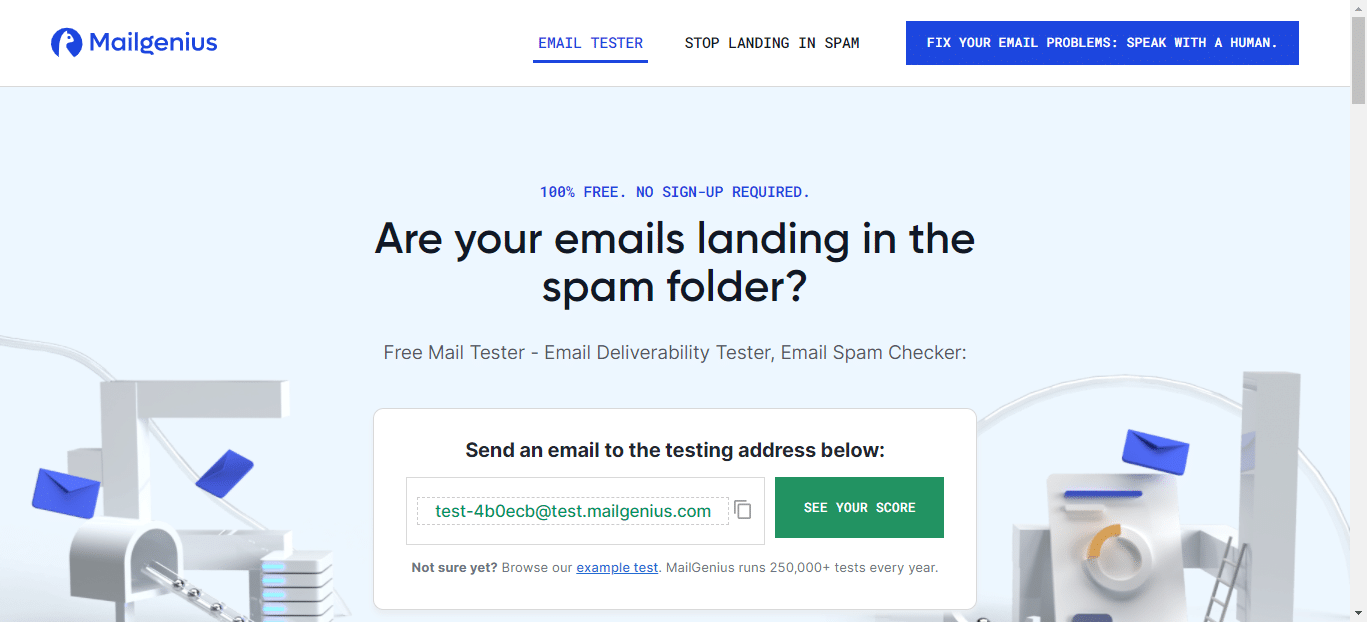 Picture this: You're waiting for an important email to come through. You sit there, wondering what's going on.
It's been almost an hour and your patience is running out. You consider what to do next: emailing the person back to see what they said, waiting another few minutes, refresh the inbox.
But a thought in your mind tells you to check the spam folder! Maybe it could be there!
So you go to the spam folder, and sure enough, your email is there!
We've all faced this problem.
But with MailGenius, you will never have this problem again.
What's MailGenius?
Before I talk about MailGenius, let me share a scary statistic.
Did you know that over 51% of all business emails worldwide never make it to the inbox?
Scary thought, isn't it?
That means that more than half of all your important work emails will be sent to the spam folder.
All those emails about meetings, work assignments, Zoom passwords – they're in your spam folder.
Waiting to be read. 
Now, imagine the opportunities you and your team may have missed out on, the sales you could have brought in, the communication issues that could have been sorted out sooner had you received that email.
With that in mind, let me introduce you to MailGenius.
MailGenius
MailGenius is an email testing tool that stops your emails from getting sent to the "spam" folder in your Inbox.
This tool will provide you with actionable advice that will help your emails reach the inbox. Email deliverability is complex but that's something MailGenius wants to change.
The Knowledge Base tells you everything you need to know about email deliverability. It gives you the definition for terms such as DMARC, DKIM, and Domain Age, then it tells you how those terms will be used in a MailGenius test.

The search bar allows you to look for certain topics, keywords, and more.
MailGenius works with every email provider – Gmail, Klaviyo, Outlook, Mailchimp, Hubspot to name a few.

It's completely free to use – all you have to do is send an email to a test account.
Easy peasy.
What Else Can MailGenius Do?
There's more to MailGenius than just sending an email and hoping that it lands in your prospect's inbox.
So how exactly does MailGenius stop your important emails from landing in the spam folder?
I've broken it down below:
MailGenius prevents outsiders from spoofing your domain via personalized instructions
These personalized instructions will configure your domain appropriately for email
MailGenius will help you find out if your server or domain is on any major blacklists
It determines how good your subject line is – the less spammy, the better!
Ensures your email content will avoid spam filters that will send it straight to the spam folder
Finds out if your email message body is going by HTML best practices (HTML best practices consists of proper document structure, meaningful tabs, no inline styles, etc.)
Finds out if your email contains any broken links
MailGenius finds out if you're following best practices for email authentication (for example, Sender Policy Framework (or SPF – not like the sunscreen!) ensures that your emails get delivered correctly)
Now you know what MailGenius is, which email providers it works with, and how it can help you when it comes to emails.
The next question is how does it work?
How Does It Work?
It's simple to use.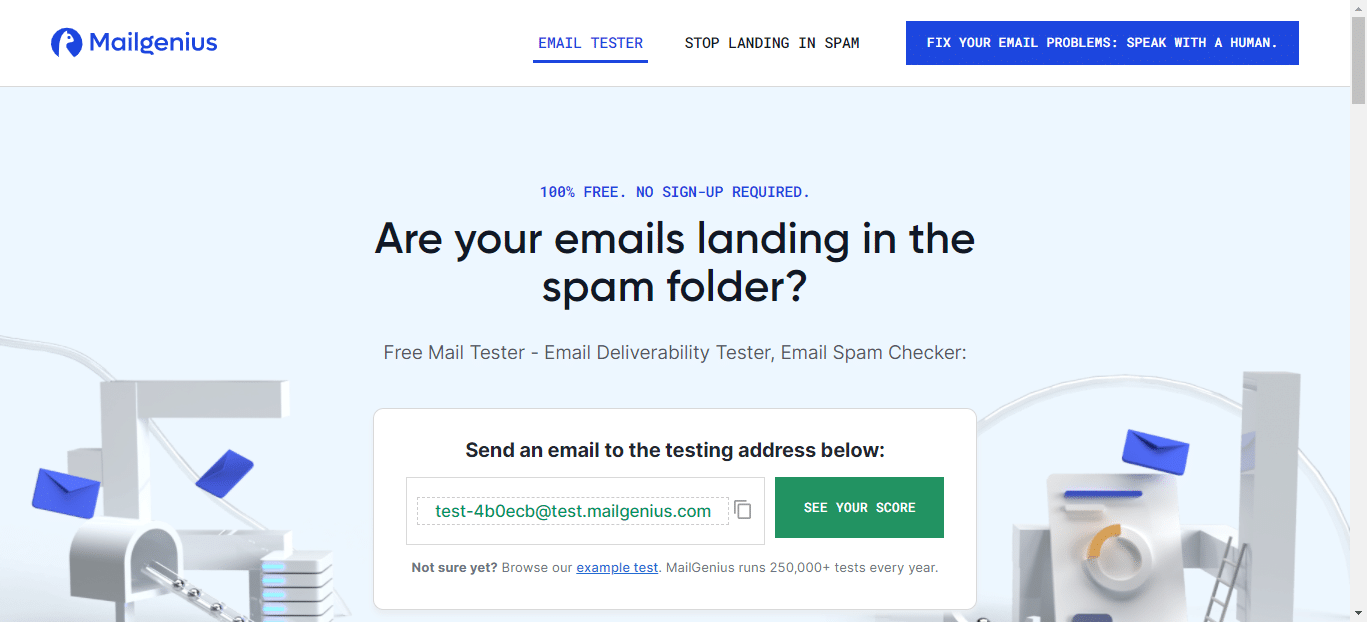 To test out this service, copy the email address in the green font. Then go back to your inbox and send an email to the email address you copied.
Once you've sent an email, click the green button that says "See Your Score". Then you'll be taken to a page like this:
This page gives you a total score out of 100.
The higher the better of course.
There's also information on both the left and right sides of the page to contact an expert, who will advise you on how to stop your emails from falling into the spam folder.
But below, there are also tips on what you could do to improve your score (and to decrease the chances of your emails getting sent to the spam folder.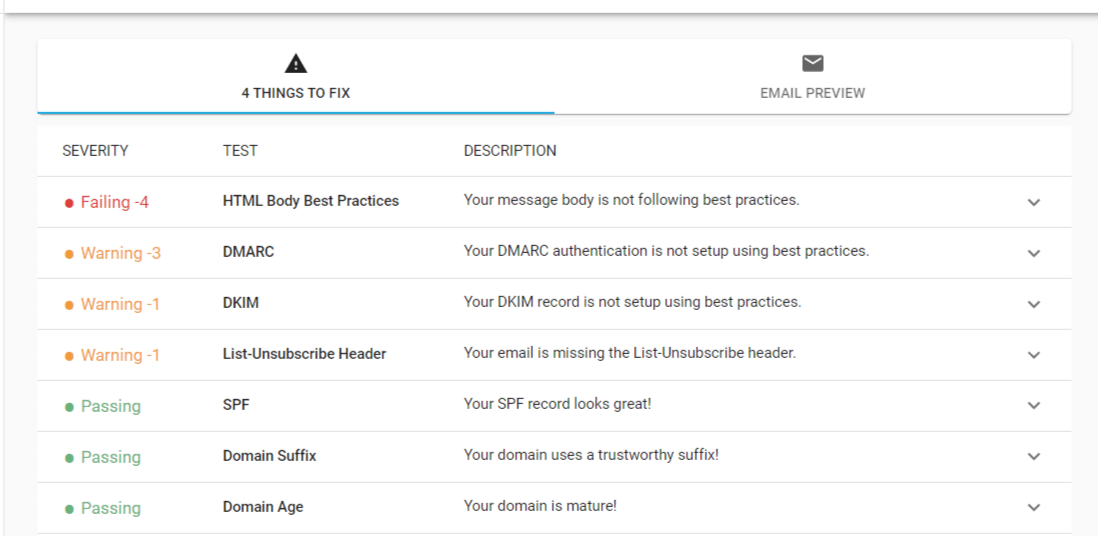 The red tells you what your email is lacking, while the orange warns you about the things your email needs to avoid spam filters. A bit like traffic lights with red for stop, amber for wait, and green for go.
If you click the downward grey arrow in each of these sections, you will find more detail on the colour-coded ratings and why it was rated a certain colour.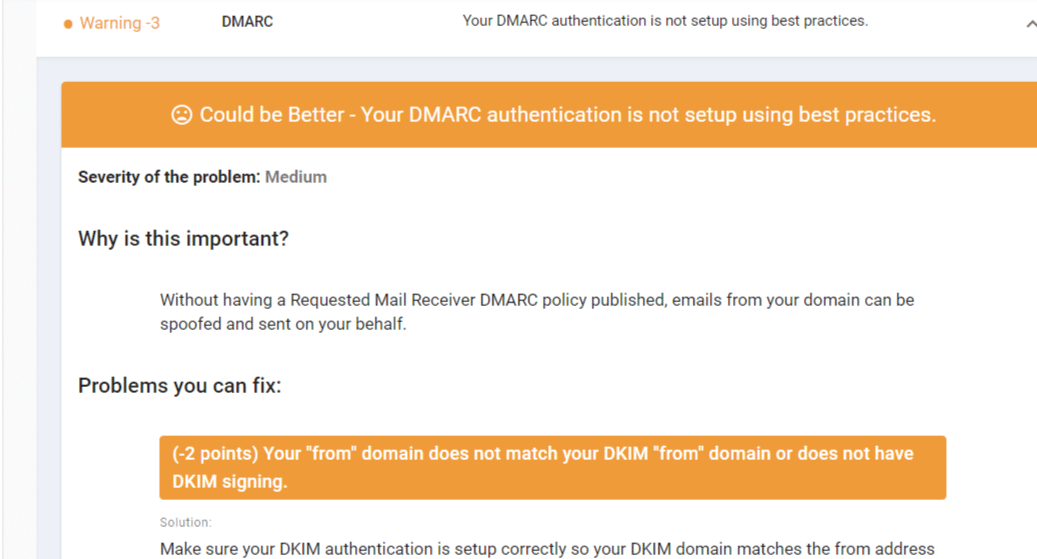 For example, my rating for DMARC authentication is orange – it's not bad, but it could be better. It tells me that if I don't have a Requested Mail Receiver DMARC policy published, any emails from my domain can be sent on my behalf.
But what does that mean?
In layman's terms, emails could be sent without my knowledge or my permission if I don't have a DMARC authentication set up.
It may all sound like Greek to you, but this is just an example of the advice they give you.
Advice that's hidden underneath the grey arrow.

What Else Can I Find On The Score Page?
There's also an icon "Email Preview" you can click on that's located on the right. It will show you something like this: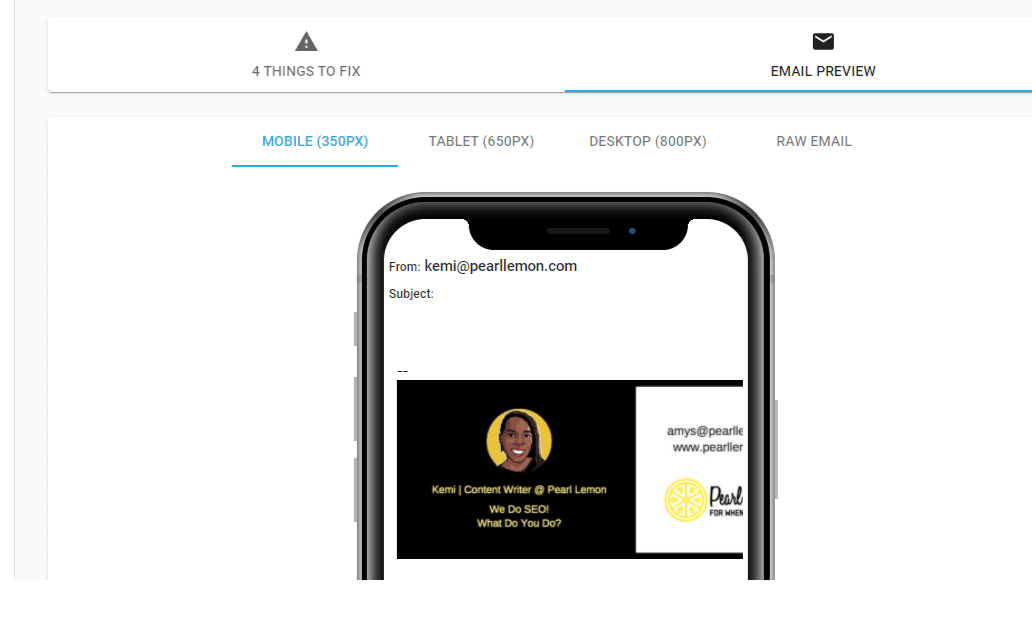 You can view the email you've sent in either mobile, tablet, or desktop format. You can also view a RAW version of your email, with all the coding and whatnot.
Who Is MailGenius For?
MailGenius is useful for the following people:
CEOs
Project Managers
Marketing professionals
Mid-level employees
Pretty much anyone who has an email account!
Pricing And Payment
MailGenius is completely free to use. Email marketing consulting is available on the site, which is also free for clients. MailGenius is a cost-effective way to improve email deliverability!
MailGenius Monitoring
MailGenius also has a subscription offer called MailGenius Monitoring. Over 20 email blacklists and deliverability tests are run daily – if there's a problem, you get an email from the MailGenius team.
You'll also get a weekly domain report emailed to you on a Monday.
The cost depends on how many domains you choose.
1 domain – $99 per year
2 domains – $198 per year
3 domains – $297 per year
4 domains – $396 per year
5 domains – $495 per year
If you want to choose more than 5 domains, contact the team for a custom quote!
No matter which domain you choose, they all come with a 30-day trial, which you can cancel at any time.
Pros and Cons Of Using MailGenius
Let's start with the pros.
Pros:
Easy to use
Works with every email provider
Easy to communicate with consultants via live chat
A definitive guide is available – it tells you all you need to know about email deliverability
You get instant feedback on why your email ends up in the spam folder
The feedback you get is detailed & it outlines where you need to improve
An expert is available to help you enhance your email deliverability
Expert help is free
The whole platform is free to use
Now the cons:
Cons:
The subscription option is not visible – you have to scroll down to the bottom of the page and click "Monitoring"
"Stop landing in spam" header and "fix your email problems" header at the top lead to the same page – perhaps this should be removed
On the Score page, the buttons to speak to an expert are on both the left and the right side of the page – not really a con but it's something to consider
Overall Verdict
If you need a way to prevent emails from landing in the spam folder, then I'd highly recommend MailGenius.
There's no other tool out there that offers feedback, help, and information on email deliverability like MailGenius does.
While using MailGenius, I've listed more pros than cons with the service. It's not perfect, but it gives you instant results that will help you fix your email deliverability.
The overall verdict is: MailGenius scores 90%
It would get a higher score if the subscription option was more visible (instead of users scrolling down to the bottom of the page for the "Monitoring" option, it could be featured at the top of the page instead) and if some of the page links were sorted out.
MailGenius has received glowing reviews from professionals who are satisfied with the service.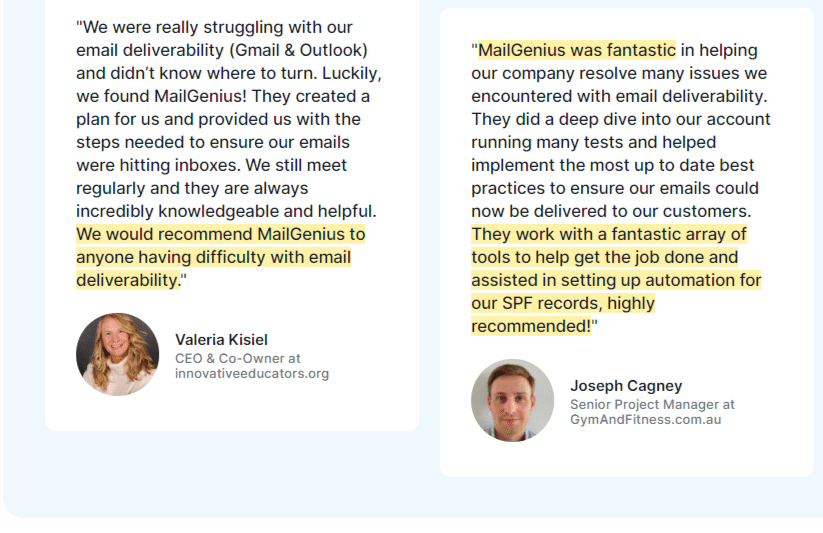 Source: mailgenius.com
Alternatively, you could use the following tools. They also specialize in email deliverability, although not as extensively as MailGenius does:
If you want to use MailGenius yourself, click here.