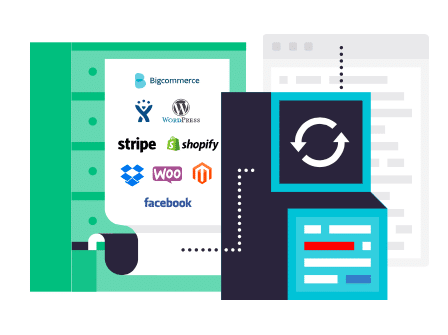 Source: mailigen.com
What is Mailigen?
Mailigen is an email marketing tool that enables users to create effective email campaigns and automate this process.
Users can also create, send and automate newsletters using Mailigen in an easy and efficient way.
Mailigen utilizes behaviour-based automation series for email marketing campaigns. This way, you can capture the attention of your prospects with more ease without them feeling like they're being contacted by bots.
Here's what you get with Mailigen:
Advanced web sign-ups
Dynamic email content addresses
Powerful API and E-commerce integrations
Humanized email technology
Mailigen offers email marketing services to many different industries.
These industries include:
Travel agencies
Retail stores
Financial service providers
Online media platforms
Real estate and property sourcing companies
Educational institutions
Marketing agencies
Regardless of your industry, you can get email marketing support tailored to your industry's needs.
Let's further analyze what Mailigen has to offer to determine whether it could be a great asset for your company's lead generation efforts.
Analysis of Mailigen Features
Mailigen consists of four main features that ensure you have all the tools you need to promote your products and services.
Here are some of the available features:
Subscriber Lists
Campaigns
Automations
Surveys

Subscriber Lists
On the subscriber list dashboard, you have several options to grow your list.
You can:
Create new subscriber lists
Create new segments
Develop sign-up forms
Use a global suppression list
Your subscriber list dashboard looks something like this: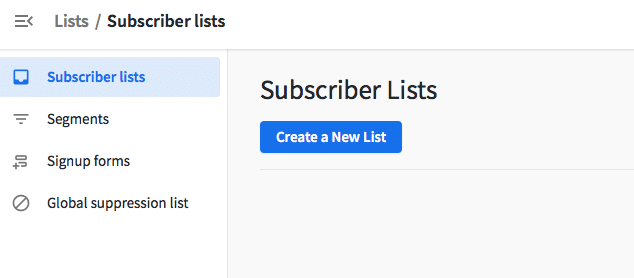 Here, you can easily switch between the different tools. Let's start with creating a new subscriber list.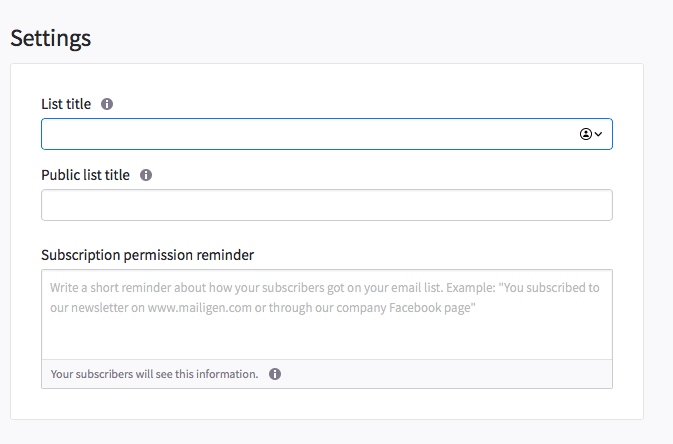 To set up a new subscriber list, you simply add the title that you want the list to be identified as. You can then write a subscription permission reminder for yourself if necessary.
Once it's created, it will display on your dashboard like this:

This is the place that all your subscriber lists will be displayed. You can keep creating new ones and monitoring the number of subscribers you get.
This dashboard makes it easy for you to track and organize all your subscriber lists.
You can also create segments that will appear on the segments tab like this:

When this is done, you can create sign up forms for your subscribers to use when they are registering for the first time.

On the left-hand side of the dashboard, you can edit and add all the information you want to appear on the sign-up forms.
On the right-hand side of the dashboard, you get a preview of what the final sign-up form will look like.
This makes it easy to write and edit at the same time because you can see the way your changes look and make all the adjustments you need.
You can also change the type of call-to-action button you use and the language of the sign-up form if needed.
Campaigns
On your campaign dashboard, you can create several types of outreach campaigns.
These are your options:
Email campaigns
SMS campaigns
Email campaign templates
Email campaign reports
SMS reports
Not only do you get the chance to create your own campaigns, but you also get access to detailed reports about your campaign performance.
When you decide to create a new email campaign from scratch, you can choose between regular campaigns or A/B split campaigns.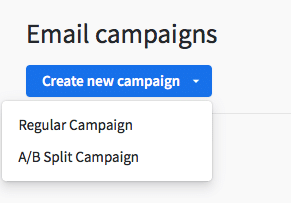 Your first step is to input the campaign details with the email address you'll be using, the campaign title and the main message of your campaign.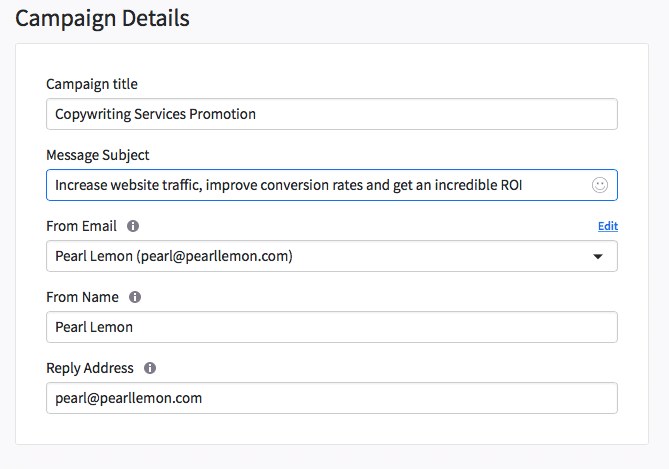 You then have the option to enable:
Google Analytics tracking
HTML clicks tracking
Plain text clicks tracking
Embedded images
HTML email opens tracking
You can also share your email campaign on social media platforms like Twitter and LinkedIn to increase sales engagement.
When you're done drafting your email campaign, it will be stored on your dashboard like this:
If you are the type to prefer using email templates over writing them from scratch, then Mailigen has just the thing for you!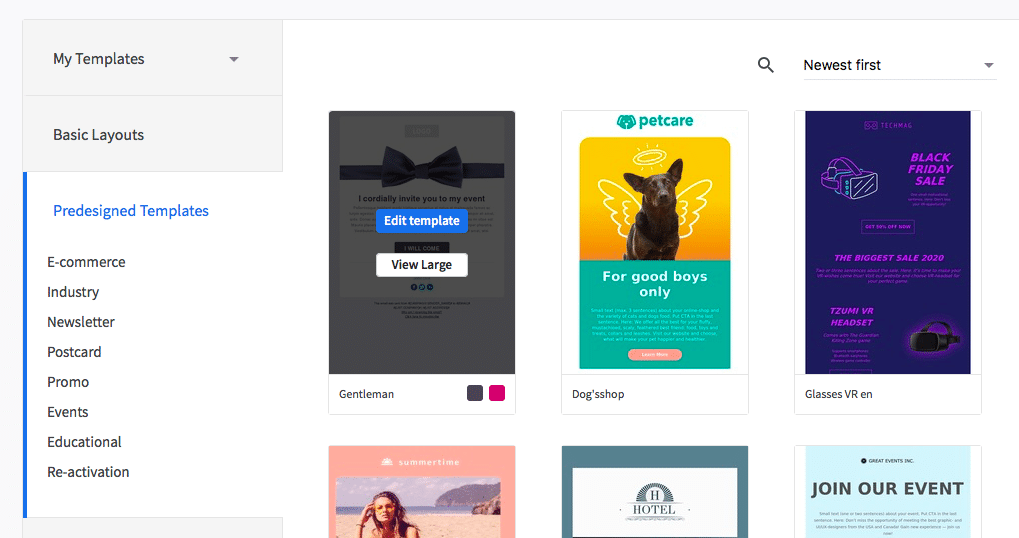 Here's an example template:
The templates look very aesthetically pleasing, they already include images and proper structures.
The problem is, the copy isn't written for you, you'll have to do that all from scratch. Thankfully, the process of editing a template is very easy using Mailigen.
The template editor looks like this:

You can edit the images, text, and even add as many new blocks and sections as you need.
You can also preview your email on multiple devices.
Here is a preview of the mobile version: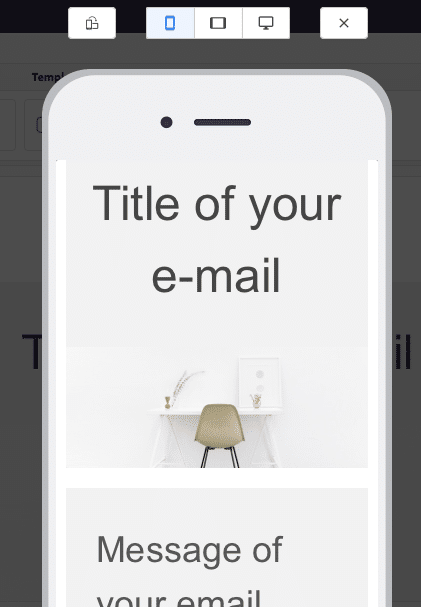 Here is a preview of the desktop version: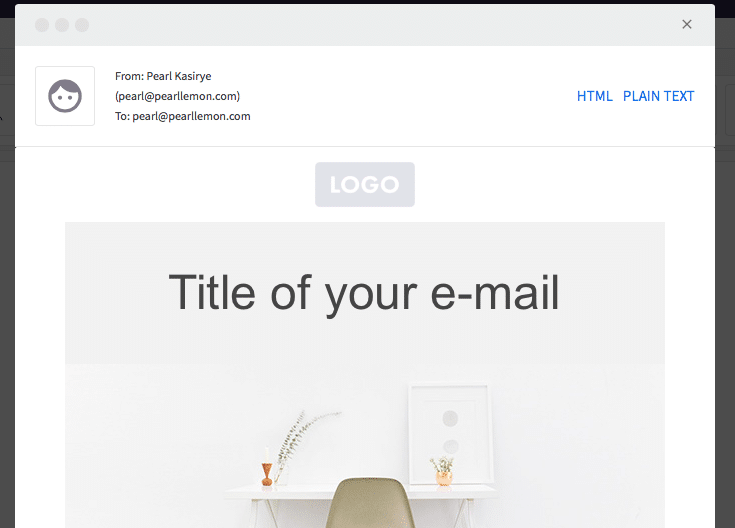 Once you've completed the editing process, your template will be saved on the template dashboard.
It looks something like this: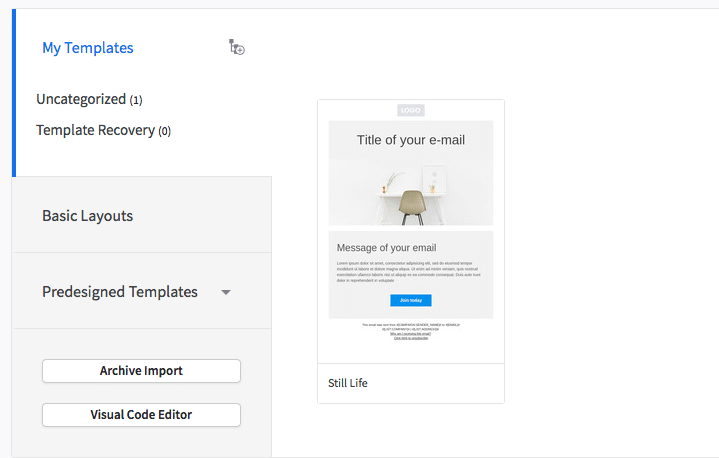 Here, you can see different types of templates that you've edited, basic layouts and other predesigned templates.
When it comes to SMS campaigns, you go through the same process as email campaigns. It's very easy to set up an SMS campaign.

All you need to do is input all the campaign details and write the message text. Everything else is auto-generated for you.
Once it's complete, it will be stored on the SMS template dashboard in the same way that your other email campaigns are.
This means that you can keep all your SMS campaigns neatly organized in one place and also view their performance reports with ease and efficiency.
Automations
When it comes to creating automations, you have the option to write them from scratch or choose from a wide variety of automation templates.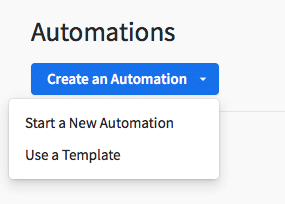 When you choose to create new automation from scratch, you are given even more options.

You can decide on which specific triggers you want to use for your automations.
Your trigger options are:
List action
Specific date occurrences
Campaign actions
Completed automations
Here's how it works, if you choose the list action trigger, you can specify the actions like this:
You choose when to start the automation.
You can also specify which lists that contact is related to.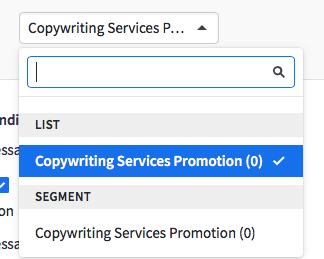 This makes the automation even more specific.
But wait, there's more!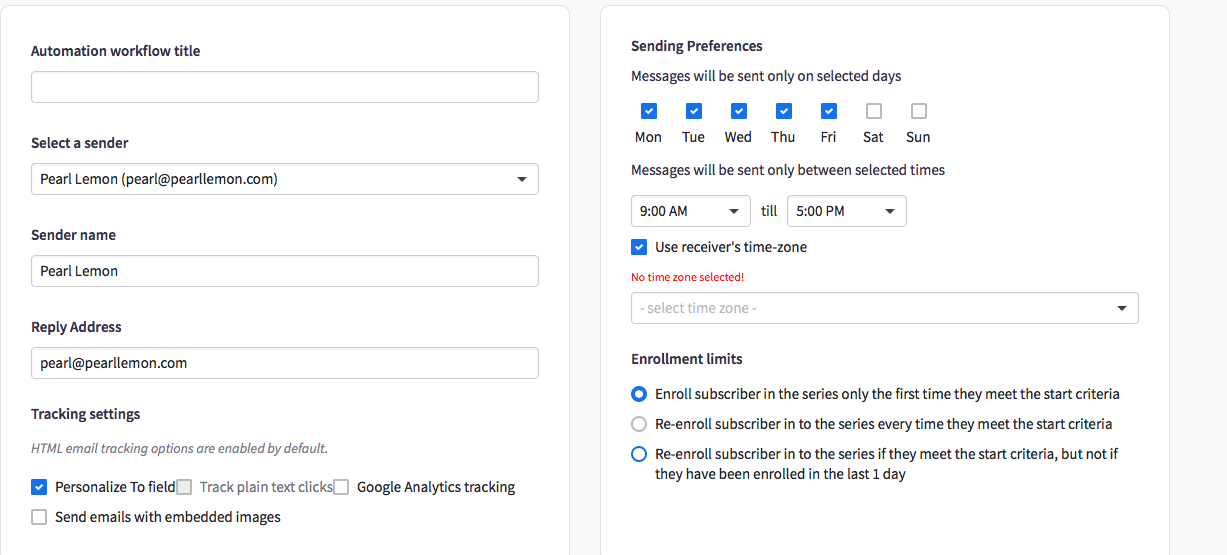 You can also add more details about the tracking settings you want the automation to use.
You have the option to make sending preferences that specify when users can receive notifications.
In addition to all this, you can add a specific message that prospects will receive from your automations.
The process is very easy to follow and it's incredibly detailed to ensure that it produces the results you desire.
Mailigen: Pricing and Payment Plans
Mailigen payment plans are divided into three categories based on the number of subscribers you aim to have.
For 2,500 subscribers, the prices look like this:

For 50,000 subscribers, the prices look like this:

You'll just have to determine the number of subscribers you'll be aiming for and that will determine which payment plan you choose to subscribe for.
All the payment plans offer these additional features:
Unlimited email sending
Unlimited account users
1 GB of storage space
Unlimited sender emails
Behaviour-based automation series
Free email template gallery
Campaign A/B split testing
Responsive drag 7 drop email editor
SMS marketing
Customer support available via phone, chat, and email
There is a 30-day free trial offer for new users who want to test the functionalities of Mailigen before officially subscribing.
If you want to learn more about these payment options, you can visit this page.
Mailigen: Pros and Cons
Here are the Pros of using Mailigen: 
Generous 30-day free trial available
Reasonable payment plans based on subscriber volume
Behaviour-based automation series
Effective email campaign builder
Wide variety of email templates
Unlimited account users
SMS marketing options
Here are the Cons of using Mailigen:
Not the best tool to use for detailed analytical reports on marketing campaigns
Final Verdict
Mailigen is an excellent email marketing tool, there's not much to say about this tool that is negative. The pros outweigh the cons and the pricing is affordable.
The final verdict is: Mailigen scores 90%.
If you want other alternatives, you can try using OutreachBin or Prospect.io. 
But if you want to use this tool, then you can sign up for a Mailigen account here.