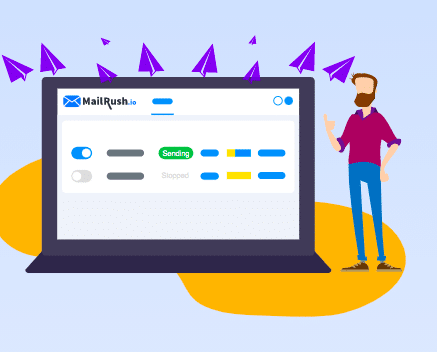 Source: mailrush.io
What is MailRush.io?
Are you looking for a cold email tool that tracks campaign performance and validates emails for you?
Then MailRush.io should be on your radar.
But let's not ahead of ourselves. Lots of lead generation tools claim to be something that they're not.
MailRush.io offers users: 
Email warming
Performance tracking indicators
Prospect finding and email validation
Email follow-ups
Prospecting tools
Cold email tools
This tool is designed for lead generation specialists and sales teams that manage many cold email marketing campaigns.
If you're in this field and you're looking for a tool that can make the process of building and launching campaigns easier, then keep reading.
We're about to find out what MailRush.io is really made of and make a final verdict about whether it's worth your money.
Interested? Then, keep reading!
Analysis of MailRush.io Features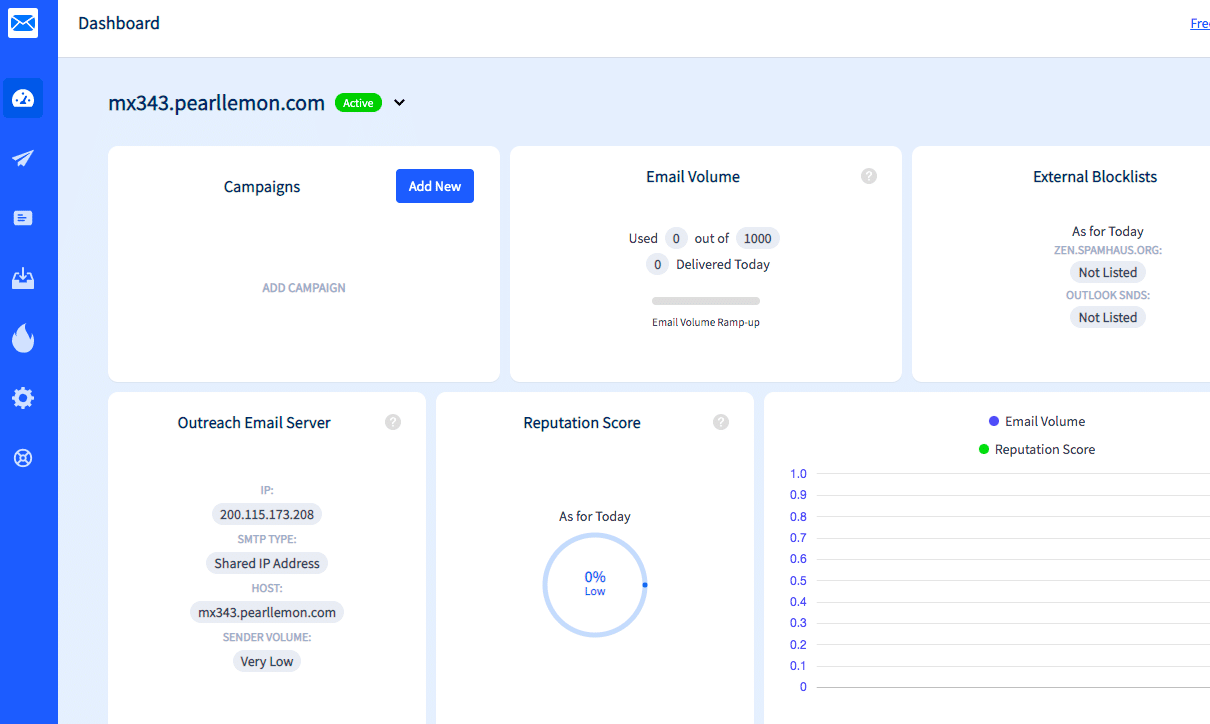 On your main dashboard, all the data from your campaigns will be clearly visible for your reference.
Here, you will find information about:

Campaign performance
Outreach email server
Email volume
Reputation scores
External blacklists
On the left-hand corner, you'll have access to other subsections that are used in the development of your campaigns. There are about five dashboards in total.
These are the other dashboards: 
Campaigns
Templates
Email inbox
Email warming
When you switch from one to the other, you're able to handle different aspects of your campaign development.
Campaigns
There are three main stages in campaign development. First, you have to include the relevant information about your campaign name and details.
Second, you upload your prospects' contact information or input the information manually.
Lastly, you work on an email template that you'll to officially launch your campaign.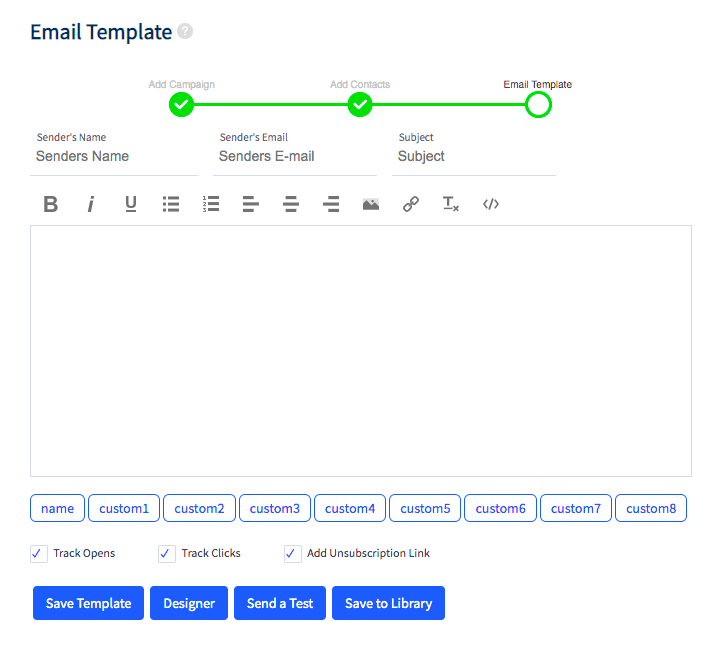 MailRush.io offers users a "template assistant" that guides users through the process of building an email template from scratch.
While you're typing your email copy, your template assistant will notify you when certain elements need to be improved. 
This way, you are editing and optimizing your email templates even before launching your campaign. This saves time in the future and also ensures that your templates are strong and ready to be used in your campaigns.
The template assistant is also an invaluable tool for those who are just starting out in this field.
If you are new to writing email copy, then it's helpful for this AI tool to guide you through the process so that you know what to do better the next time.
When you start writing your email copy, you can choose to add an unsubscription link for prospects that no longer wish to receive emails from you.
You also have the option to ensure that every email you send is tracked. MailRush.io can track how many emails are opened, and how many links get clicks.
This can be valuable data for you to develop evens stronger campaigns in the future.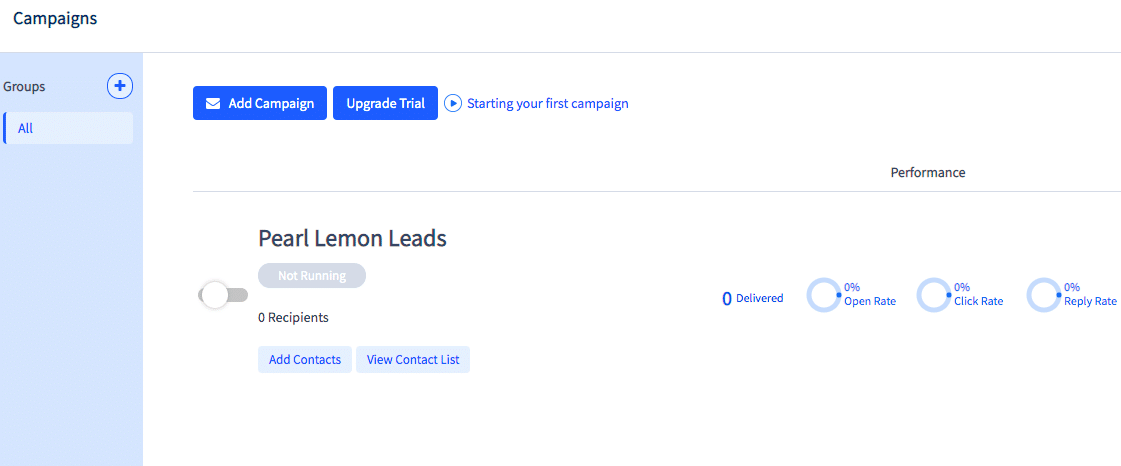 Once you've designed a campaign and saved your email template, it shows up on your campaign dashboard.
When you create other campaigns, they all show up in the same place to make it easy for you to compare the performance of each campaign.
On the right-hand side of your dashboard, you get data on how emails are delivered, open rates, click rates, and reply rates as well.
Templates
MailRush.io users get access to several email templates. All the templates are stored in the template library available on the template dashboard.
These templates can be modified according to the individual needs of each campaign.

In order to click on a template, you can't just click on the title and access it. This is a bit of an inconvenience because it should be easier to access.
When you want to modify or view a template, you have to click on the button in the right-hand corner.

Here, you can choose to modify or delete the templates of your choice.
If you choose to modify a template, here is what you get: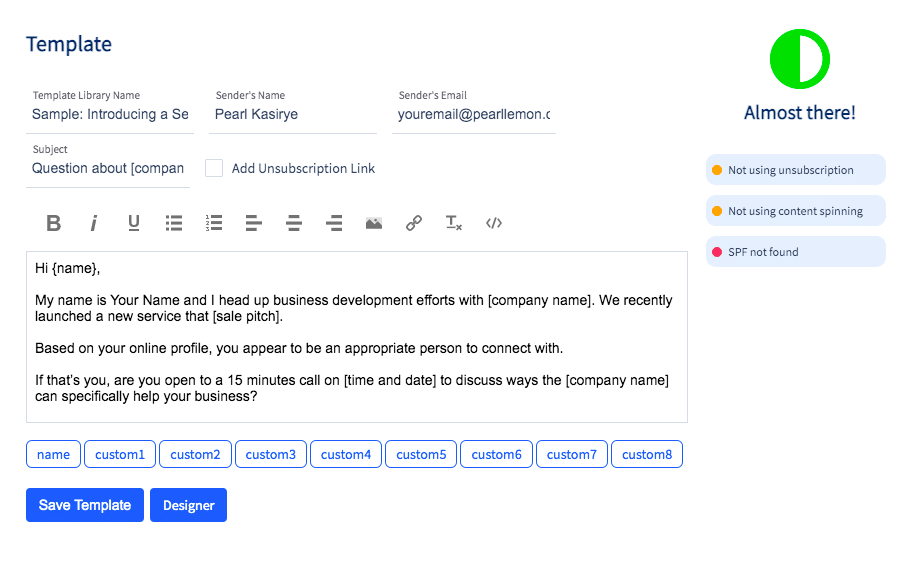 The email copy is already pre-written, all you have to do is modify it so that it matches the needs of the campaign you are launching.
As usual, the template assistant is on the right-hand side of the dashboard supporting you through the whole process.
There aren't many templates to choose from, unfortunately. But you can modify each template and save new ones as you see fit.
This way, you'll always have something to start with instead of creating campaigns from scratch.
Email Inbox

In your MailRush.io inbox, you'll get information about all the replies, bounces, and sent messages. 
This makes it easy for you to see and monitor campaign activity and engagement.
All the replies will be available in your inbox dashboard, and you'll be able to see the ones that bounced as well.
The main thing you need to do is connect your email provider to your MailRush.io account and you won't have any major issues getting updated responses to your account.
Email Warm-Up
MailRush.io helps users improve their email deliverability by building their sender reputation. 
This is done by sending hundreds of daily emails to many recipients and when the emails are received, there is engagement to ensure that the cycle is complete.
These kinds of emails get categorized as 'non-spam and they will get opened and receive replies. This is all done with a payment plan system.
Here are the payment plans for email warm-up services:
For $30/month, users can send 20 emails per day
For $75/month, users can send 50 emails per day
For $150/month, users can send 100 emails per day
These prices are separate from the general payment plans for a MailRush.io account.
MailRush.io: Pricing and Payment Plans
Users can sign up for a 14-day free trial to test the functionality of MailRush.io features before choosing a payment plan.
There are three main payment plans to choose from, here's an overview of each of your options.
For $35/month, the Starter Payment Plan offers:
10,000 monthly emails
1,000 daily sending limit
1 active email automation
SMTP with shared IP
Instant activation
Unlimited campaigns
Unlimited contacts
Send with your domain name
Zapier integration
Email volume ramp-up
For $50/month, the Pro Payment Plan offers:
50,000 monthly emails
1,500 daily sending limit
3 active email automations
SMTP with shared IP
Instant activation
Unlimited campaigns
Unlimited contacts
Send with your domain name
Zapier integration
Email volume ramp-up
For $100/month, the Premium Payment Plan offers:
100,000 monthly sending limit
3,000 daily sending limit
5 active email automations
SMTP with dedicated IP
Email volume ramp-up
Unlimited campaigns
Unlimited contacts
Send with your domain name
Automated email follow-ups
Automated drip sequences
Sender's reputation control
Zapier integration
Each plan offers an annual payment option in case that's what you prefer to subscribe to.
If you want to learn more about MailRush.io pricing and payment plans, you can do so here. 
MailRush.io: Pros and Cons
Here are the pros of using MailRush.io:
Very user friendly
Useful template assistant
14-day free trial available
Sender reputation feature
Email warm-up services
Affordable payment plans
Here are the cons of using MailRush.io:

Few email templates
Campaign analytics are not detailed
Not ideal for team collaboration
Final Verdict
MailRush.io is not the best lead generation tool on the market. It's a good option if you're interested in sender reputation management, or in guided email copywriting.
Other than that, I wouldn't highly recommend it.
If you want other alternatives, then you can use tools like OutreachBin or Prospect.io to build stronger campaigns.
The final verdict is: MailRush.io scores 85%.
If you're interested in this tool, you can sign up for MailRush.io here.