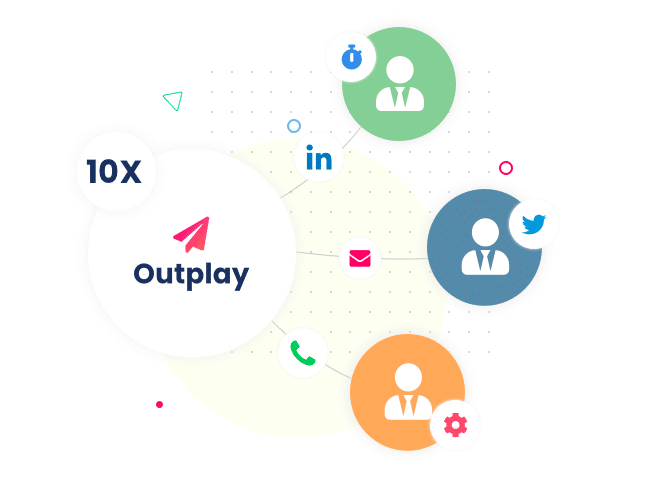 Source: outplayhq.com
What is Outplay?
Outplay is a sales engagement platform designed to help users book more meetings.
This lead generation tool makes it possible to increase sales engagement and the overall success of your cold email outreach campaigns.
Outplay uses smart sale sequences to help users create more opportunities in their sales process.
Here are the things that Outplay can do for you:

Use smart sale sequences to improve your outreach campaigns
Have personalized conversations with prospects using multiple channels
Increase revenue growth through detailed analytics and insights
Outplay's main aim is to drastically increase your sales. This tool has specific features for you to achieve this goal.
Let's analyze those features and see whether they can be useful in improving your sales strategies.
Analysis of Outplay Features
Your Outplay dashboard is a place where you can monitor your team activities, tasks and get a live feed of upcoming events.

This dashboard makes it possible for large sales teams to keep track of each other's progress all in one place. 
Team members can collaborate together and manage the same campaigns with ease.
Your dashboard's live feed makes it easy for all team members to stay up-to-date with upcoming tasks or activities.
It's also a place where you can see real-time updates about your campaign. When a prospect opens an email, responds to it, or bounces, it will be shown in your live feed.
This information is available all in one dashboard and makes it easy to stay on track of everything at once.
Outplay was designed to ensure that sales team can function as efficiently as possible with one platform.
These features are already hinting at the fact that this may be your one-stop-shop for sales engagement tasks.
Tasks
If you want to focus solely on the tasks that were created for your team, you can see everything you need on the task dashboard.
This is the place where you can collaborate with other team members in creating and monitoring tasks.
Each task is saved with a due date with built-in notifications to inform you of upcoming and urgent tasks.
It is also an excellent feature to ensure that you have all your sales calls and meetings booked in one place.
Instead of having a separate tool for scheduling and task organization, Outplay makes it possible to do all of that in one platform.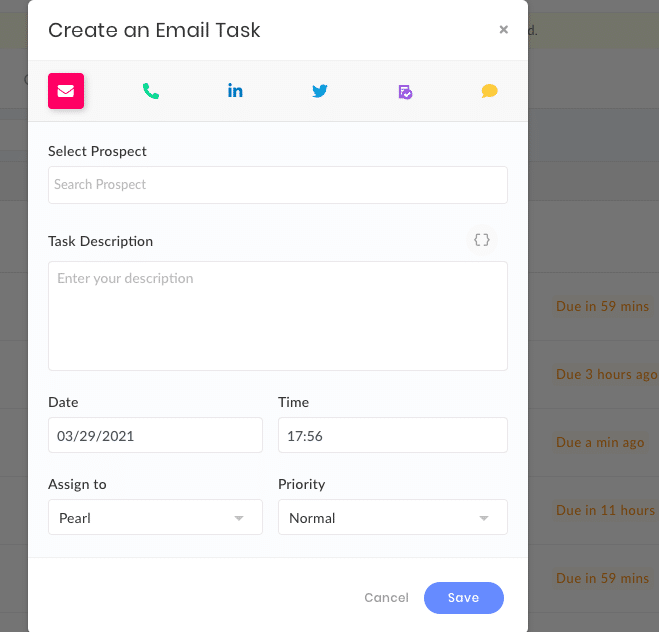 In order to create an email task, you choose a prospect's name and enter a short description of the task itself.

The top tab allows you to choose the type of tasks you want to set up. It can be an email task or a call task, etc.
You can assign your tasks to specific team members, in this case, the task is assigned to me.
When team members log in, they can filter tasks according to who they're assigned to. They can also switch tabs to see the upcoming tasks, the most urgent tasks, and the ones that have been recently completed.
Also, when you assign tasks and schedule a date and time, you can also specify how much of a priority the task is.
This way, all your tasks will be organized according to priority level, and team members.
As an organizational enthusiast, I find this feature very exciting!
Sequences
One of the cool things about Outplay is that users can create sequences for multiple channels.
These are the types of sequences that you can create:

Email sequences
LinkedIn sequences
Call sequences
Twitter sequences
SMS sequences
For this review, we'll focus on the email sequences, because that is what the majority of outreach campaigns use.
When you are ready to add your first email step to your sequence, you get to choose between two approaches.
You could either emails that are triggered automatically by the system, or you could manually create tasks to deliver your emails.
This depends on the type of strategy you use in your campaigns, it doesn't make a massive difference.
Users have the option to add templates to their email sequence instead of writing email copy from scratch.
Unfortunately, Outplay doesn't offer pre-written email templates for you to choose from.
What you have to do is write your own email copy and save them as templates for future use. That's the only way you can benefit from the template feature.
Once you're done with all the steps in your email sequence, your sequence dashboard will look like this:

This is where you will see all the steps, prospects, emails, and statistics about your outreach campaigns.
Each email step shows the number of delivered emails. You also get statistics on the open, click and reply rates for all your steps.
This can be incredibly useful for you to see which step is gaining the most engagement so that you can plan future campaigns better.
Prospects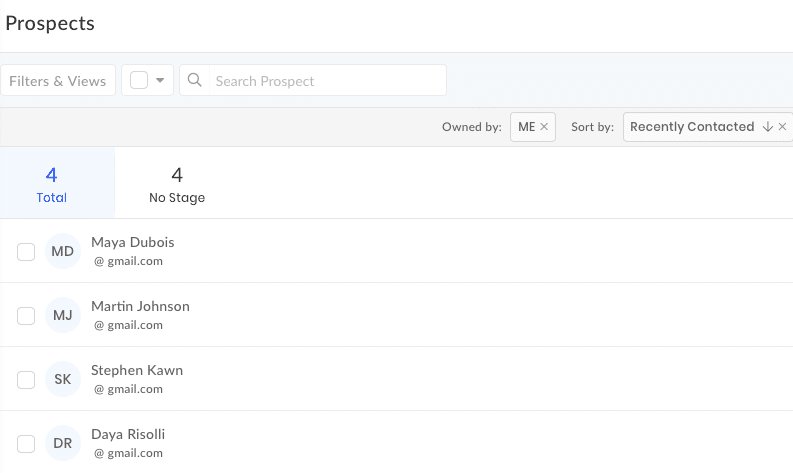 You can upload your prospect contact information or you can add them manually.
All your prospects will be neatly organized in the prospect dashboard where you'll be able to monitor their activity.

On the right-hand side of the dashboard, you can see which team member added them and whether or not they've been contacted.
Even when you add new prospects, you can specify which account you want them to be associated with.
You can also specify their time zone, and use other options to classify them.
Outplay makes it possible to create and access this kind of information with great ease.
Accounts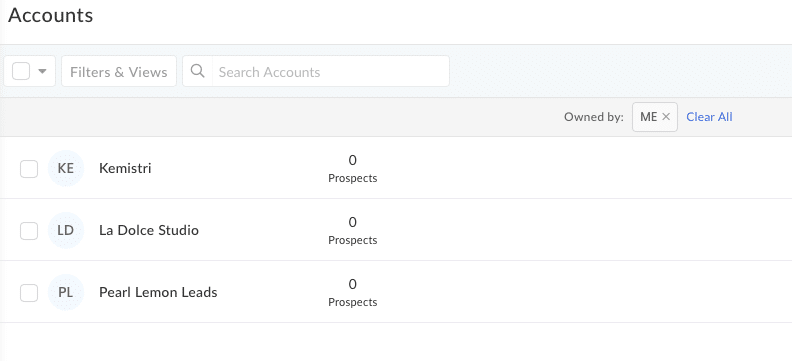 Another really useful feature is the account dashboard that enables you to open separate accounts for every campaign you manage.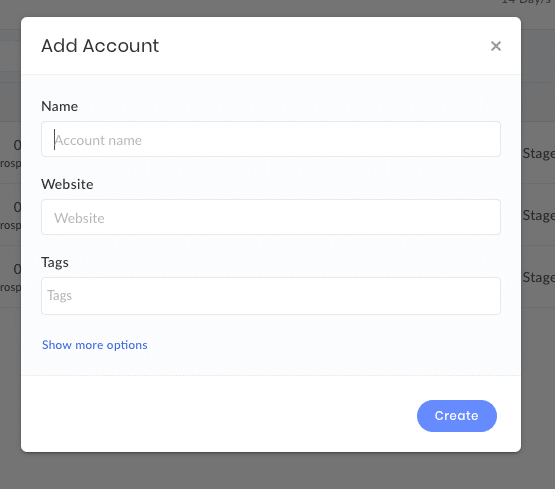 When you want to add a new account, you simply add the name, website URL, and tags.
All the accounts you set up are shown on the account dashboard and all team members can access them.
When you click on an account, you get detailed analytics and reports about its campaign performance.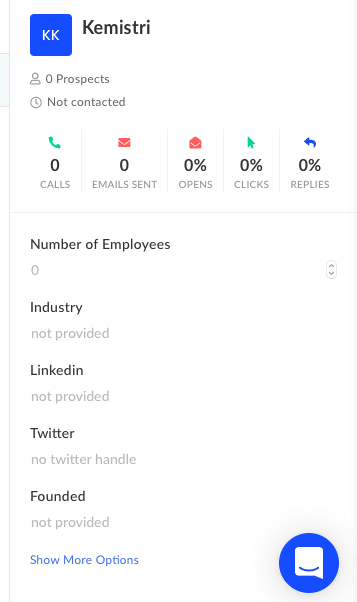 This account is not yet active, but when it eventually becomes active, it will be easy to see how well its outreach campaign is performing.
This is all incredibly useful for managing multiple campaigns with a large sales team.
Outplay: Pricing and Payment Plans
Outplay offers you the option to sign up for a 14-day free trial to use all its features before registering for a paid plan.
There is one main payment plan for people who need an account with less than 25 users.
This payment plan costs $75/month with all features included. It's billed annually and it enables multiple users to access the account. But remember it's limited to less than 25 users per account.
The other option is to contact the Outplay team for a price quote if you are interested in having an account with more than 25 users.
If you want to learn more about Outplay pricing, you can read more about it here. 
Outplay: Pros and Cons
Here are the Pros of using Outplay:

14-day free trial available
Very user friendly
Up to 25 users can use one account
Great for sales teams
Keeps sales teams organized
Enables users to create campaigns for multiple channels
Here are the Cons of using Outplay:

Pricing is not straightforward for larger sales teams
No email templates available
Final Verdict
As you can see, the pros of using Outplay outweigh the cons.
This is enough for me to confidently say that this sales engagement platform actually does what it promises.
The final verdict is: Outplay scores 95%.
If you are interested in this tool, you can register for Outplay here.