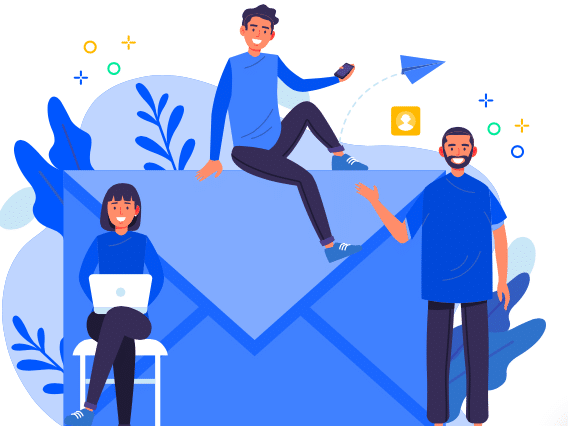 Source: smartreach.io
What is SmartReach.io?
SmartReach.io is on the long list of lead generation tools designed to make email marketing campaigns more effective.
Users can find all the features they need for email outreach, campaign monitoring, and email tracking. 
This tool enables users to automate the process of developing email outreach campaigns. This is extremely useful because, without automation, that process can be painstakingly slow and complicated.
Here is what SmartReach.io helps users to:
Find and add new prospects easily
Automate email outreach
Automate workflows with your own tools
Improve campaigns with detailed reporting
Collaborate with your sales team
On top of all this, SmartReach.io is supposed to be incredibly easy to use, so let's find out for ourselves!
Analysis of SmartReach.io Features
Getting Started
When you set up your account, you have to specify whether you want to send emails as a company, or as a representative for your clients.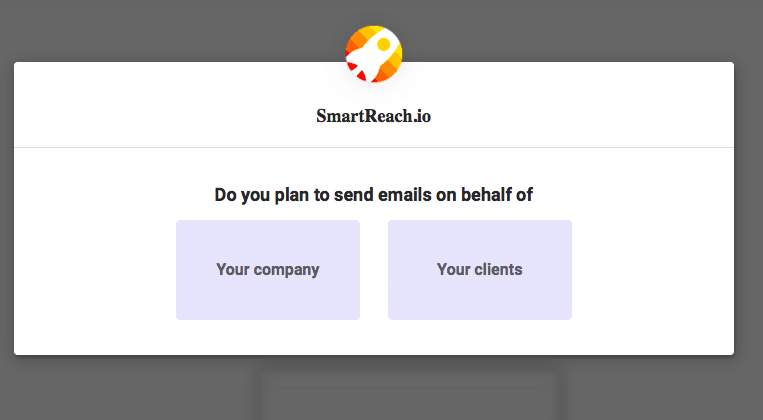 I chose the company option because I want to create email outreach on behalf of Pearl Lemon.
You also have to specify the size of your company to give SmartReach.io a clearer analysis of who you are and what your needs could be.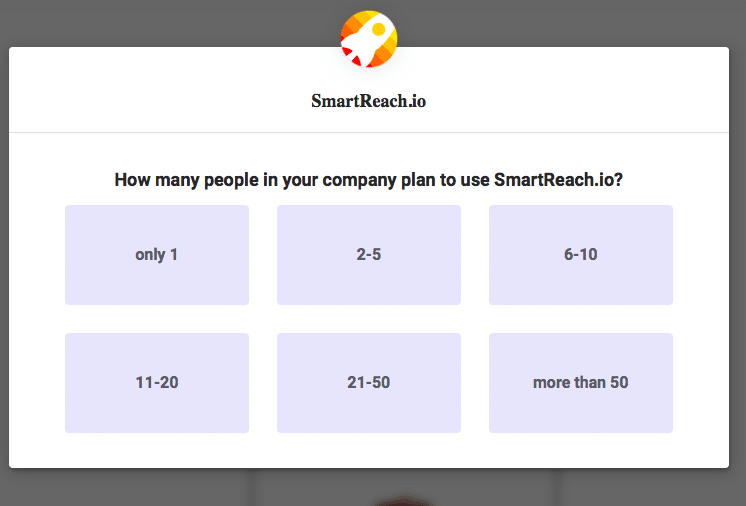 You also get the opportunity to specify what you intend to use SmartReach.io for.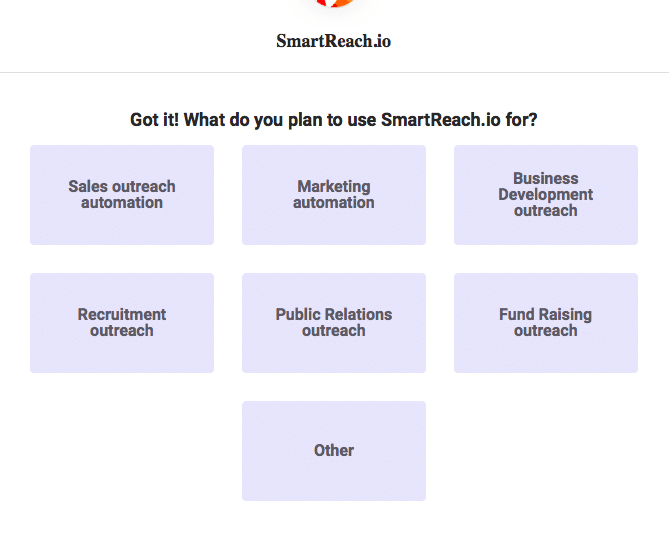 You can also integrate different types of CRMs. Not everyone uses CRMs, but in case you do, these are the ones that you can connect to:
Hubspot
Pipedrive
Salesforce
Zoho

Building Campaigns: Email Copy
This is what your campaign builder dashboard looks like:

Here, you can create and monitor all the campaigns you create.
SmartReach.io supports several email providers including:
GSuite API
Office 365
Outlook Exchange
Mailgun
SendGrid
SMTP/IMAP
You can select different accounts for sending emails and for receiving replies.
This is also the place where you can choose the specific email provider you intend to use for your email campaigns.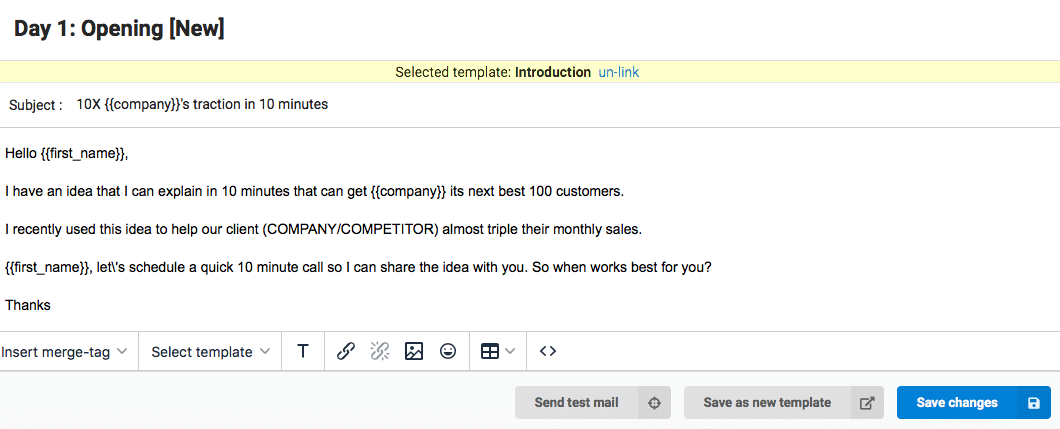 This is what the email creator looks like. It's pretty easy to navigate. On the bottom left, you can insert tags and templates depending on your needs.
The best part about this is that you don't have to write your email copy from scratch. If you get stuck, you can simply insert one of their templates.
You just edit the templates to suit your specific needs.
These are the available templates:
Outbound – Services (Digital Marketing)
Outbound -Services (Sales)
Recruiting
General
Follow-Ups
Inbound Sales
Outbound Sales
Sales
PR and Link-Building
Each of these templates has an introduction and at least four follow-up emails for you to edit to suit your sales goals.
Once you've found the perfect template for your campaign, you can save it for future use as well.
This is a powerful way to automate the email copywriting process because you save so much time by using templates.
Gone are the days where you stare at a blank screen with no hope of getting inspiration!
Once you've created all the sequences of your email outreach, you can preview them here.

You can continue to add as many steps to your email marketing campaign.
Most people stick to 3-4 steps, while others like to go all out and exceed 5 steps.
Whatever you prefer, you can adjust your email campaign with ease.
If you want to monitor all the templates you or your team members have created, you can do so on the template dashboard.
It looks like this: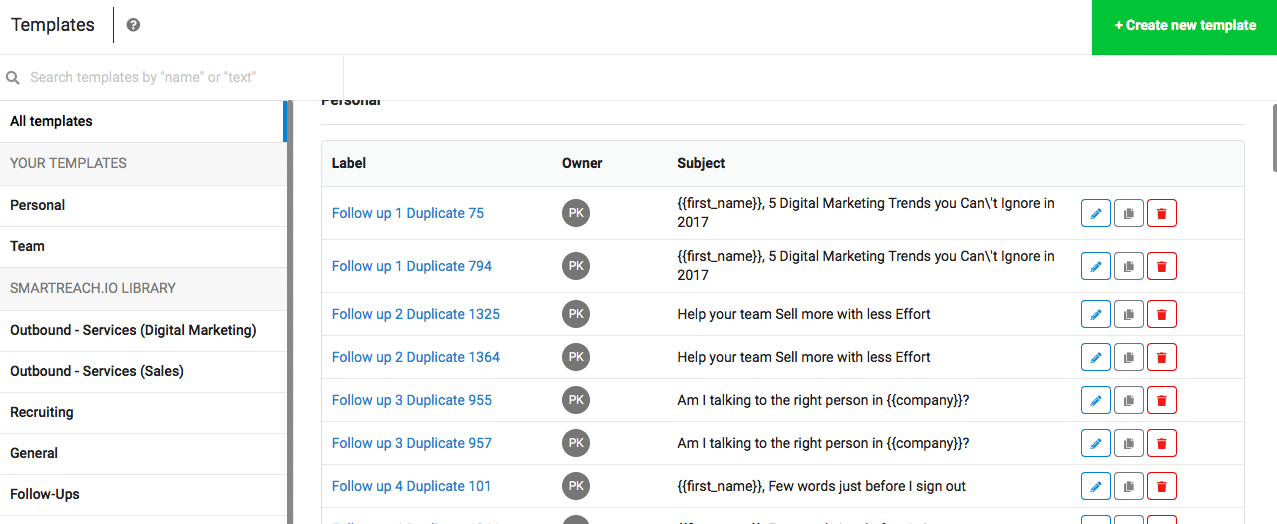 Here you can see which templates are available. They are organized according to several categories that make this dashboard easy to navigate.
You can also search for templates that are industry-specific or topic-specific. This really makes life easier for you!

Building Campaigns: Prospects
It's very easy to sync the contact information of your prospects into your campaign.
This is an important step because it's essential that you don't send emails to duplicate email addresses.
You can sync your prospects' email addresses using your CRM. If you do not use a CRM, then you can still do this by downloading the contact information in a CSV file.
SmartReach.io also enables users to use their integrations to find email addresses and connect that information directly to their campaign.
Though you can automate this process, manually inputting prospect information is also an option. It really depends on your preferred strategy.
What's unique about SmartReach.io is that when you add new prospects to your sales funnel, you can add detailed information as well. 
Other details you can add are:

Job title
Company name
City
State
Phone number
LinkedIn URL
Country
Timezone
This makes it possible to have a more comprehensive list instead of the usual prospect list. People usually have information about the name and email addresses of their prospects. It's rare that they have more detailed information.

All prospect information is summarized in this dashboard and every verified email address gets a 'checkmark. This makes it very easy to build a sales funnel and monitor all the prospects being contacted.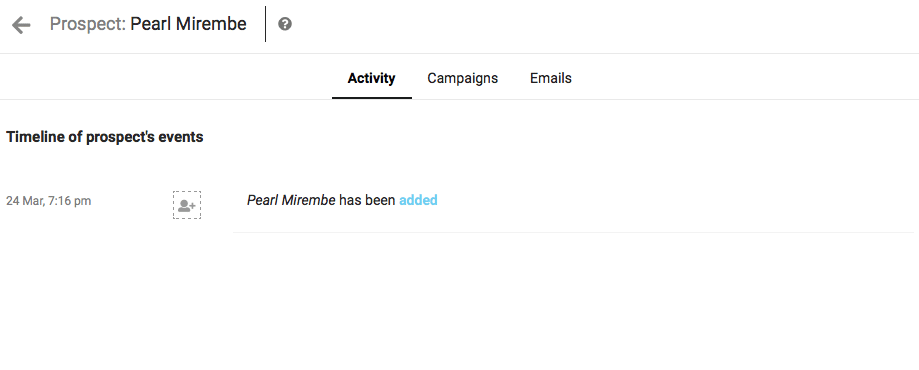 Once you click on a prospect's name, you are led to a separate dashboard. This is where you get an overview of the emails and campaigns that the prospect has been a part of.
You even get information on the date and time that prospect was added to the sales funnel.
Once your sales funnel is filled, and email campaigns are officially launched, the results are organized in your inbox.
All prospect responses will be color-coded and categorized according to several factors.
These categories are:

Interested/not interested
Converted
Not now
Auto reply
Delivery failure
Do not contact
Uncategorized
Unavailable/out of office
Monitoring Campaigns: Analytical Reports

These analytical reports are incredibly useful for sales teams to monitor their email marketing campaigns.
Users get detailed information about:

Bounce rates
Total number of prospects
Total number of emails sent
Open rates
Click rates
Unsubscribed statistics
Reply rates
All this information is instrumental in planning future campaigns and improving current ones.
The team leader dashboard enables sales teams to monitor which team members are producing the best or worst results on their campaigns. 
Since SmartReach.io allows users to have multiple team members on one account, this makes team collaboration much easier.
SmartReach.io: Pricing and Payment Plans
All users have the opportunity to sign up for a 14-day free trial. This is a good free trial because you don't have to input credit card information in order to register.
You simply register with your email address and you get access to all SmartReach.io features for 14 days.
Once that trial is over and you've decided to consider a payment option, you'll have three types to choose from.
The Standard Payment Plan:

Costs $24/month ($24 per additional user)
Contact 1,000 prospects per month
1 email sending account ($24 per additional account)
Unlimited number of campaigns
Unlimited number of follow-ups
Email and Chat support
Workflow automation
Zapier automation
Global and campaign level reports
The Pro Payment Plan:

Costs $39/month ($39 per additional user)
Contact 2,000 prospects per month
1 email sending account ($39 per additional account)
All of the Standard plan features
A/B testing
Timezone detection
Pre-send email verification
Email throttling and human-like sending
Email tracking
The Ultimate Payment Plan:

Costs $59/month ($59 per additional user)
No limit to contacting prospects per month
1 email sending account ($59 per additional account)
All of the Standard and Pro features
50,000 API requests per month
Live on-call and screen share support
Live onboarding session
2-factor authentication
Downloadable reports
If you're interested in learning more about SmartReach.io pricing, you can do so here.
SmartReach.io: Pros and Cons
Here are the pros of using SmartReach.io:

Very user friendly
Detailed analytical reports
There is a Large variety of email templates
Prospect monitoring
Email automation
Here are the cons of using SmartReach.io:

Every additional user pays the full price
Monthly fee doubles with every new team member
Final Verdict
If you want to work with a large sales team without being charged extra, I wouldn't recommend SmartReach.io. You'll end up paying double the price for each additional member. 
On the other hand, you'll get to monitor each team member's progress, each prospect's activity, and all campaigns.
SmartReach.io is a powerful lead generation tool for people who are serious about email outreach.
The final verdict: SmartReach.io scores 90%.
If you're interested in other alternatives, consider using OutreachBin or read my review on Prospect.io instead.
But if you're interested in this tool, then you can sign up for SmartReach.io here.