In this edition of Pearl Lemon Lead's LinkedIn Lead Generation Tool Review Series (quite a mouthful, we know), we're going to be talking about a different form of lead generation than we have been.
In our previous reviews, we showed you tools that will help with outbound lead generation, the type most often associated with LinkedIn.
Outbound lead generation is the process of acquiring leads through directly reaching out to prospects, regardless of whether or not they have shown interest in your business or know who you are.
The outbound lead generation LinkedIn tools we have talked about are:
LinkedIn Sales Navigator – which helps with finding people to reach out to
We-Connect – a tool for automating your outreach
Crystal – used for analysing people's profiles to help you with outreach
But today, we are going to discuss and review a tool for inbound lead generation: SocialPilot.
In this blog, we'll show you exactly how to use SocialPilot for inbound lead generation, then give our full and honest review of the tool so you can determine if it's right for you.
Source: SocialPilot
HOW SOCIALPILOT HELPS WITH INBOUND LEAD GENERATION
Inbound lead generation is when you attract people to your site through various strategies, channels, and campaigns.
Source: Randall Reilly
So instead of reaching out to people, you are allowing them to naturally discover you and develop an interest in your business, making it easier to convert them into a customer.
There is a lot that goes into inbound lead generation. For more, check out our Beginner's Guide To Generating Leads The Inbound Way.
But one of the primary ways to attract inbound leads is through content marketing. This is when you create content – whether it be a blog, video, podcast, or something else – that people can discover, find value in, and which brings them to your site.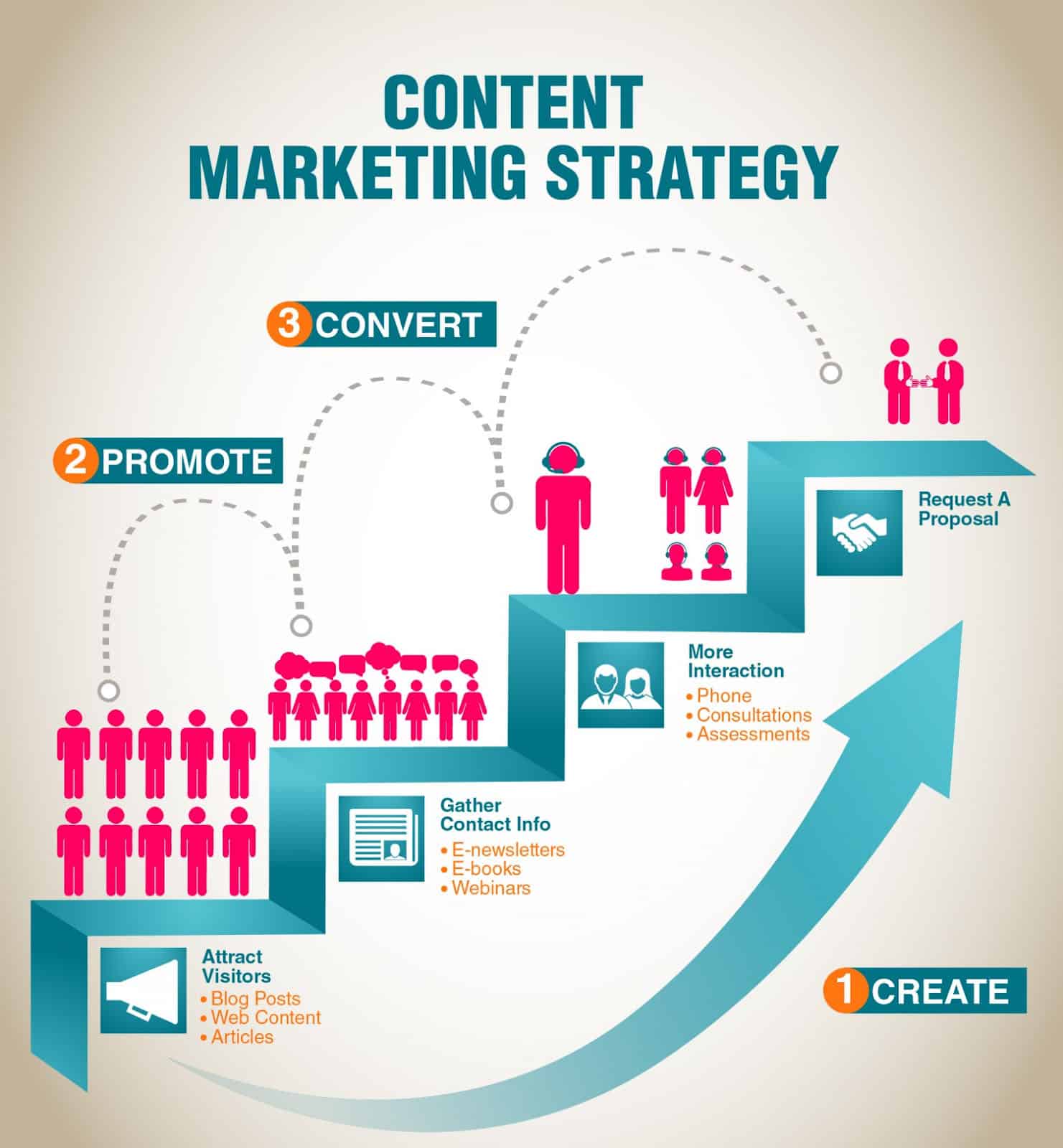 Source: Neil Patel
When you release content, you want to put it up on as many channels as you can to increase its audience lead generation potential.
LinkedIn is an especially effective place to share your content, because, in addition to expanding your audience, you are doing so on a platform that:
Tells you who has viewed and interacted with your content
Gives you a means to contact your audience
Gives you viewers you already have an established relationship with
Encourages the growth of business partnerships and relationships
The thing is, you have to share content on your LinkedIn consistently. Otherwise, your content won't get enough exposure to have its intended impact.
It often takes several impressions before someone will remember your company name, likely more before they are ready to become a customer.
But sharing your content every time you publish something takes more mental energy than you may realise, as it can be easy to forget to write up a post every day.
You also have to time your posts right to hit those high LinkedIn traffic times and make sure you aren't posting too close together to feel like you are spamming.
What if that's at 8 pm at night? Do you really want to be thinking about LinkedIn then? Of course not. That's "put up your feet with a glass of wine" time.
Life would be SO much easier if you could just write up seven days worth of posts at once and then forget about LinkedIn for the rest of the week, wouldn't it?
Fortunately, that's exactly what SocialPilot does.
SocialPilot is an automation tool that is used to schedule and release content and posts on several platforms, including LinkedIn. It is not a browser extension so you won't even need to download anything!
This can allow you to run a more efficient content marketing campaign on LinkedIn with far less effort – freeing up more of your mental energy to work on whatever else needs your attention.
Here is how it works.

HOW TO USE SOCIALPILOT
After signing up for SocialPilot, you'll start by connecting your LinkedIn and/or other social media accounts.
To do this, you'll click on "accounts" and then "create account" from the main dashboard.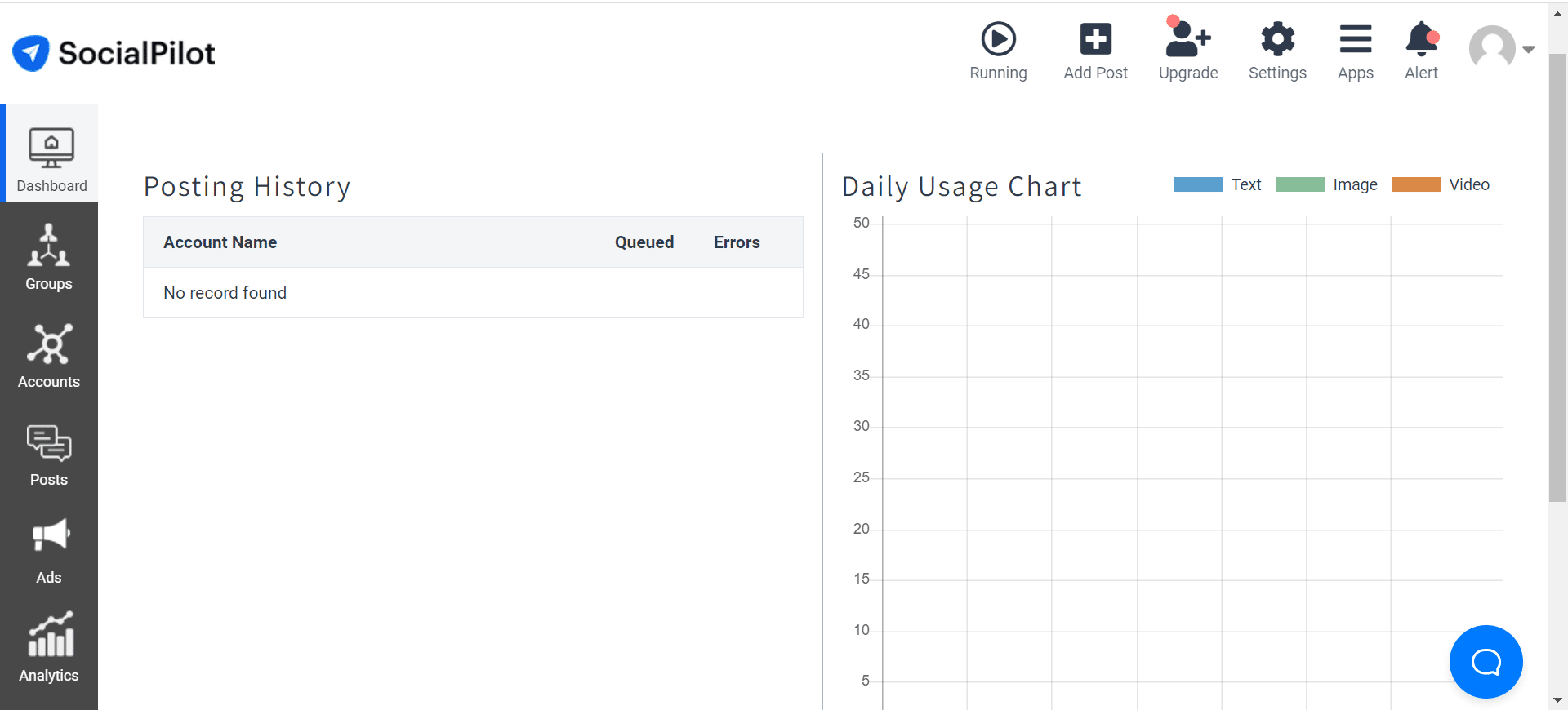 (Main Dashboard)
(To connect account)
After selecting "Connect Account," you can connect your LinkedIn account, or select multiple social media accounts, including:
Facebook
Twitter
Instagram
Pinterest
Google My Business
TikTok
Tumblr
VK
Simply pick one and log in using the credentials you normally use for your account.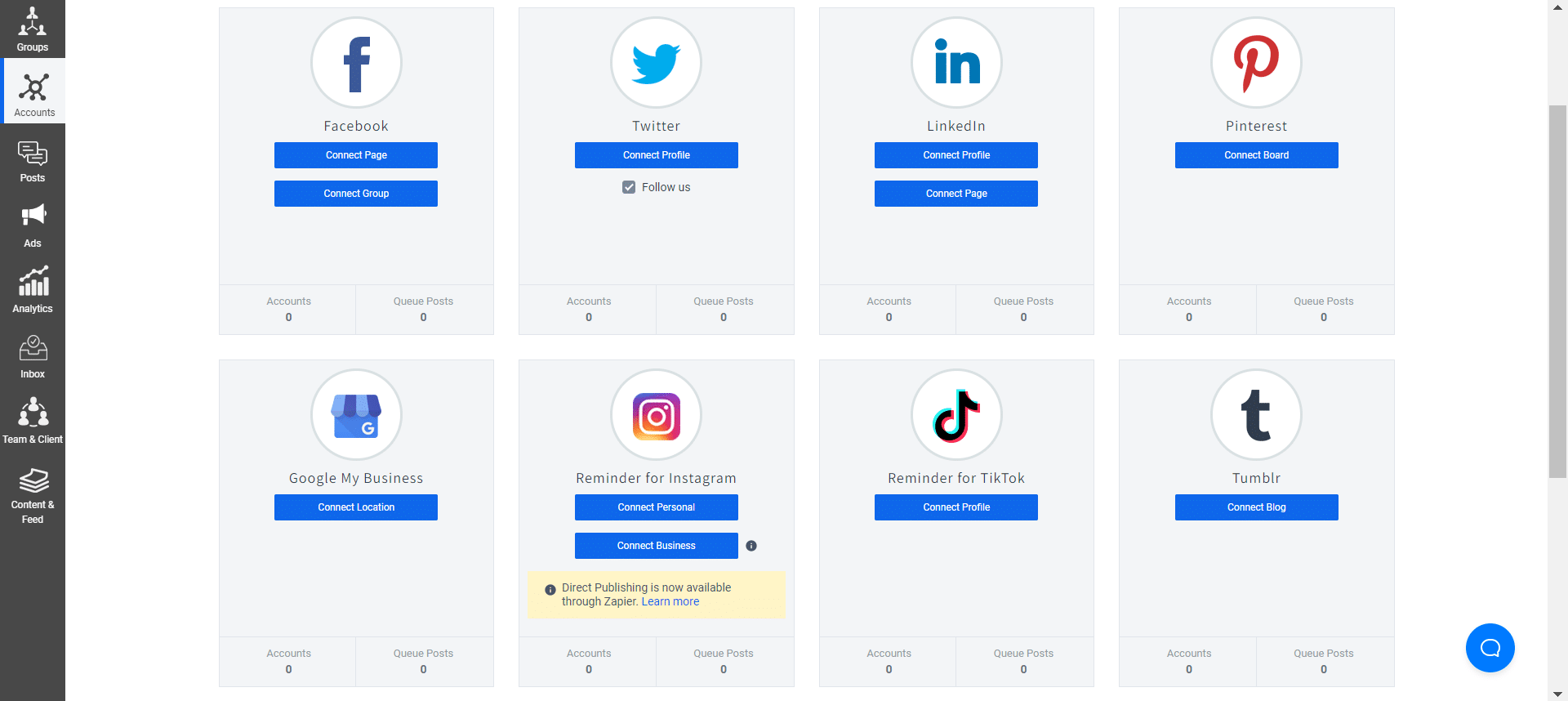 (Accounts page on SocialPilot)
Next, you'll create a posting schedule for your selected account and then draft up a list of posts.
This is because SocialPilot has a queue system that they use for social media management, meaning that it will automatically release posts from a list that you have already written and according to times you have pre-selected.
For example, if you scheduled a post to be released on your LinkedIn account and Facebook page every Friday at 3 pm, once that time rolls around, SocialPilot will take the post at the top of your queue and publish it. This scheduling tool is great for social media marketing as you can create content for the future and always be trendy and have a consistent social media presence.
To create a posting schedule, go to "Accounts," then "Manage Accounts," and then select from the list of accounts you've linked to which one you want to make a schedule for.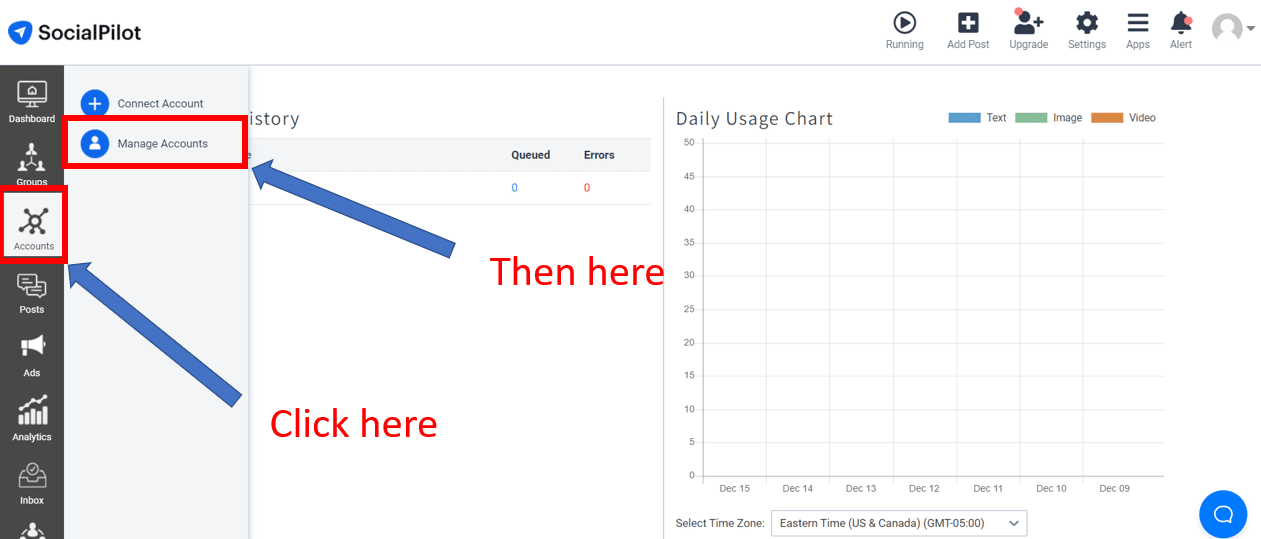 (To manage account)
(Select Account)
Once you select an account, you'll be brought to your scheduling calendar:
Here, you can add times you want posts to be automatically published.
To do this, you select a day and time here:

You can also delete times by hitting the "x" next to the time.
Next, you'll need to create a list of posts for your queue.
To do this, click on "Posts" on the sidebar then "Create Posts."
You'll then be taken to a screen where you can create your posts!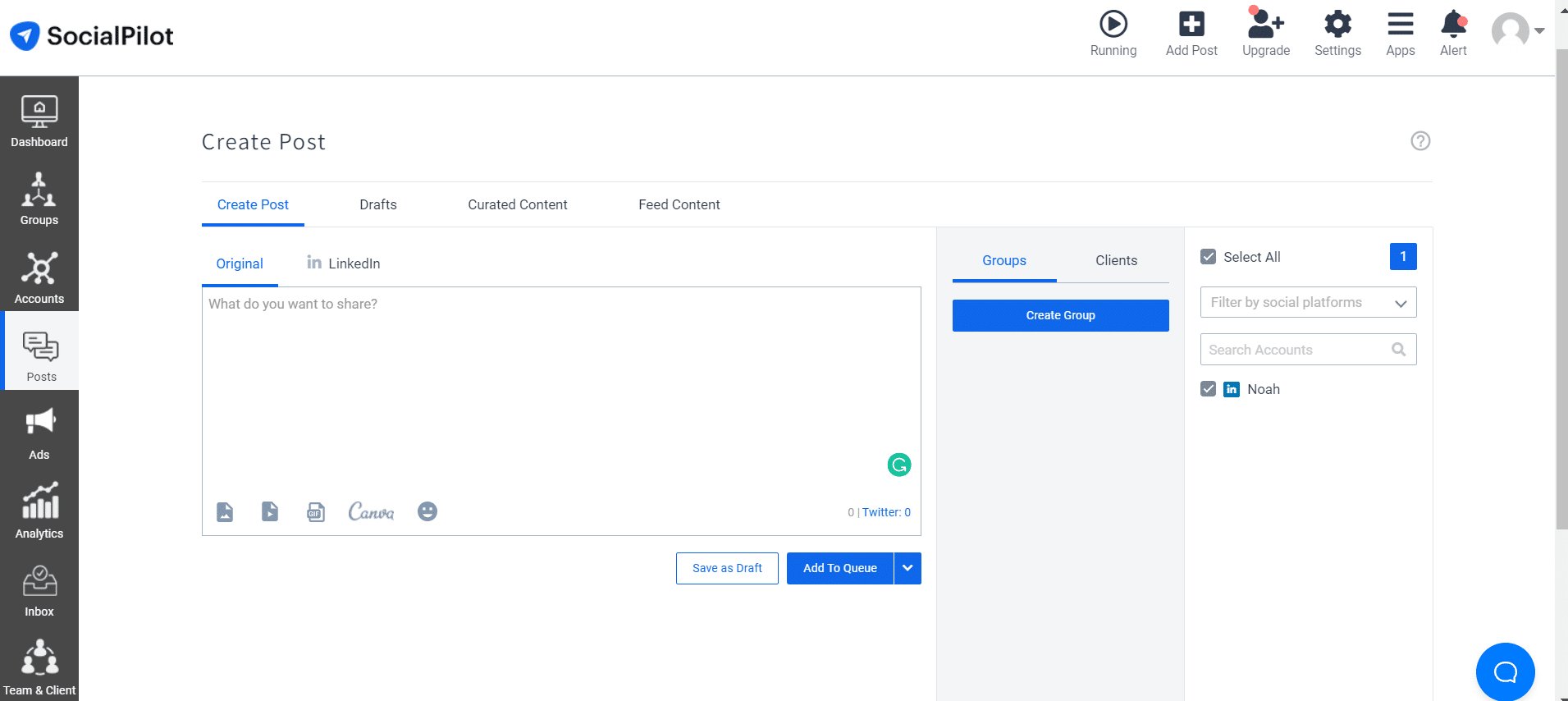 Here you can:
Write the text of your post
Include images, GIFS, or videos
Link to the content you have created
After you're done writing the perfect post, you'll select what account it will be shared to, then add it to your queue!
Or you can select to:
Share now
Share next
Schedule post
Repeat post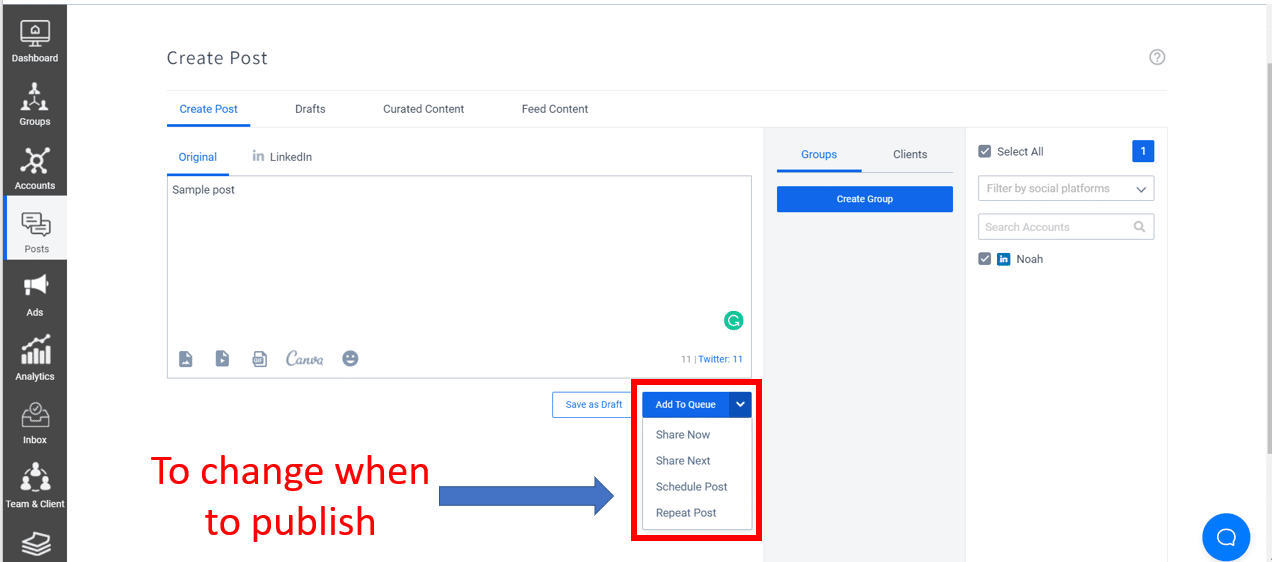 Write up as many posts as you want, then you're done! You have created a scheduled post!
Now, once the day of the week and times you've selected roll around, a post from your queue will automatically publish!
And you can and create new posts for your queue at any time. This bulk scheduling feature is amazing for creating a full social media calendar in advance for many different social media platforms.
If you want to manage your queue, click on "Posts" then "Manage Posts." It will bring you to your queue where you can change the order or delete posts.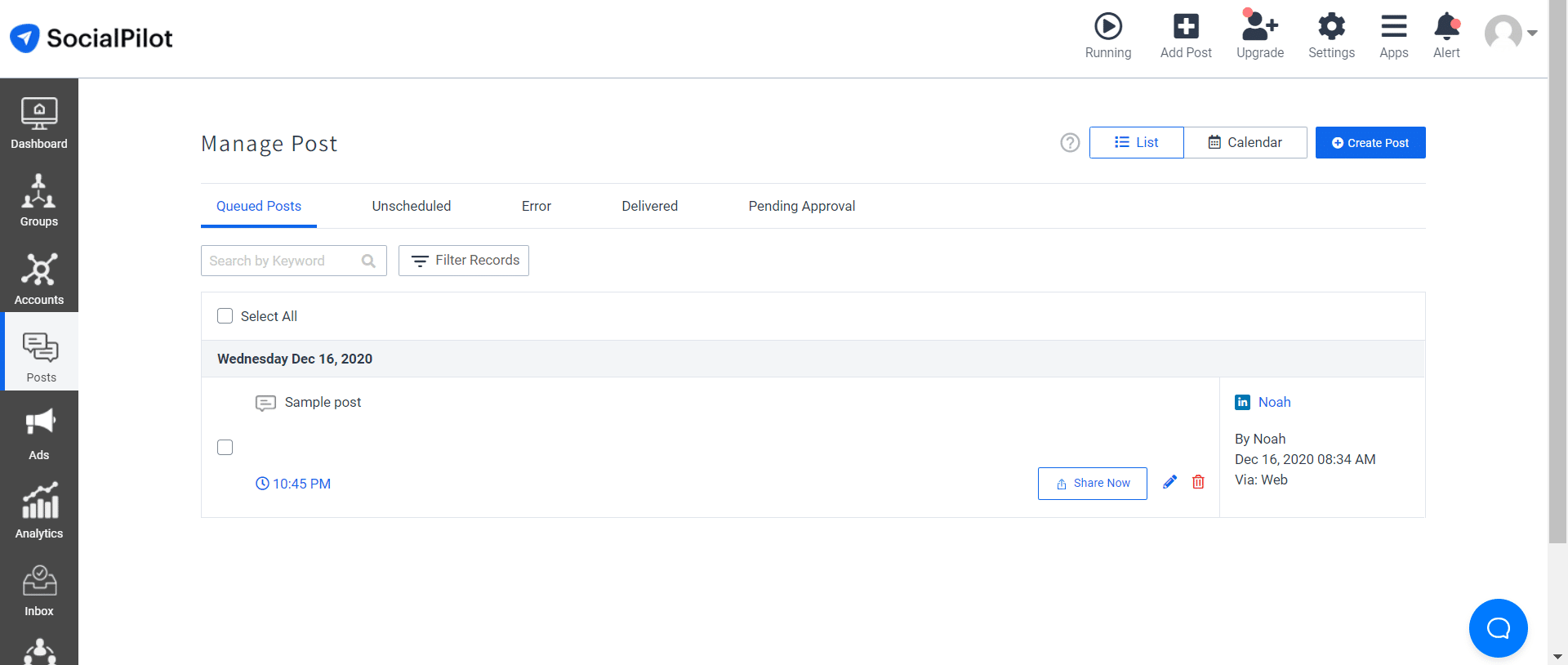 (Manage your posts here)
OTHER FEATURES
SocialPilot's main function is to automate your social media posting and content sharing as described above.
But it does have a few other features worth mentioning.
Bulk Scheduling On SocialPilot
You can go through and create each individual post like described, or you can "Bulk Schedule" with SocialPilot.
You can do this by creating a spreadsheet with posts, links to content, and dates you want them published, then uploading it as a CSV file.
To see a sample CSV file, go to "Bulk Schedule" under "Posts" then click on "Download a sample CSV."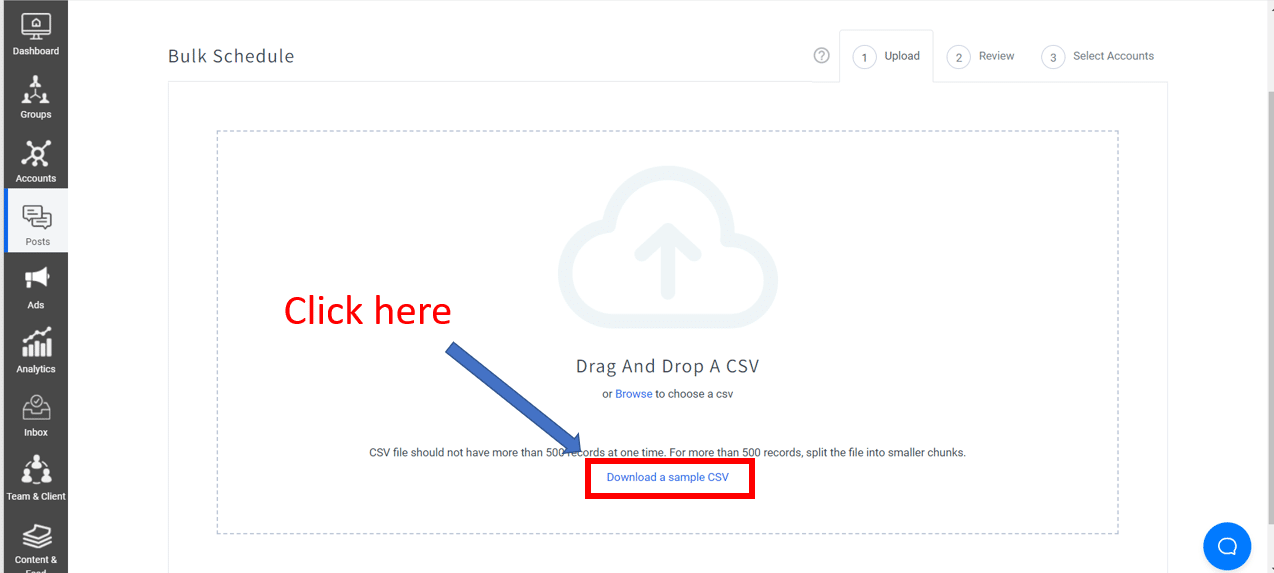 RSS File
Want to put in even less effort than uploading a CSV file?
Then just upload your RSS feed.
An RSS feed is a way for apps, computers, and users to access updates of a website.
So by giving the RSS feed of your blog to SocialPilot, the tool will get updates every time you release a new blog or article and automatically create a social media post connecting to it.
You don't have to do a thing!
Facebook Ad accounts
You can also connect and automate your Facebook ad accounts with SocialPilot.
SocialPilot will help you target the right market with filters such as:
You'll also have complete control over your Facebook ad campaigns' budget and duration and can get updated metrics to analyse how your ads are doing.
Analytics
SocialPilot will provide you with a ton of analytics on your social media accounts and posts, allowing you to analyse and then optimise your social media.
You'll be able to see:
User engagement
Stats such as "most likes"
When the best time of day is to post
Demographics of people who like and comment
Trending hashtags
Impressions
And so much more.
For each account, SocialPilot will even give you a detailed PDF analytics report.
SOCIALPILOT PRICING
Here are SocialPilot's pricing plans (prices converted from US dollars to Pounds):
14-day free trial (no credit card required for their free trial)
Professional (25 social media accounts)- £18.81 per month
Small team (50 social media accounts)- £31.35 per month
Agency (100 social media accounts)- £62.69 per month
Enterprise – custom plan
THE REVIEW
All in all, SocialPilot is a fantastic tool.
First, it does exactly what it promises to do- to automate your content release schedule on LinkedIn- which is the mark of any great product.
It is also super easy to use. You can become an expert in content curation, bulk up your social media with scheduled posts, and create more exposure for your social profile on various social media channels.
Right after sign up, it walks you through on-screen, step by step, how to use the tool, saving you the time and frustration of trying to figure it out on your own or finding the right YouTube tutorial.
And its process is pretty simple, so after this run down, you're all set to start scheduling and releasing content on your LinkedIn. There's no complicated process you have to ingrain in your memory. Using this tool everyone can become social media professionals in no time!
Honestly, you can have a content distribution campaign running within 20 minutes after sign up, which is really impressive for a LinkedIn tool.
The fact that you can customise your campaign – from individualising posts to picking the time and day of the week content is released – is incredible.
This leaves you with options to streamline your campaign by using templates and keeping the same times every week. Or, you could take a little extra time to personalise the campaign each week by selecting different times and creating posts from scratch.
Something that shouldn't be overlooked is the program's cloud-based nature, meaning it is run through the internet, not software downloaded onto your computer.
This allows you to set up a campaign and let it run without having to keep your computer open. It has the added benefit of saving you storage as well.
Now, we've been talking about SocialPilot for LinkedIn this whole time – as this is a LinkedIn lead generation blog – but, you can also curate and schedule posts for just about every other social media platform you can think of.
Just like it is for LinkedIn, connecting your accounts and scheduling posts for these other platforms is super intuitive and easy to do.
And with room to connect up to 100 social media accounts (depending on which plan you select), you'll be able to easily cover your brand across all of your platforms and manage client accounts.
The only downside to SocialPilot is there isn't a great plan for an individual.
The plans are all geared towards agencies/businesses/teams.
Which on the one hand is great, because one price can cover multiple people and accounts. But if you're looking for an automation tool for just your accounts to expand a personal brand, this tool could potentially be a bit pricey at £18.81 a month.
But if you're dedicated to finding a more efficient way to spread your content across platforms, then the price could also be worth it. That much is up to you.
SOCIALPILOT RATING
5 out of 5 lemons!
A stellar rating for SocialPilot! The tool does exactly what it advertises – a content sharing and social media automation tool – which sets it up for a great rating.
But its easy-to-use and intuitive nature, along with its analytic features help give this tool a full 5 lemon rating.
FOR MORE
For more go check out our blog at Pearl Lemon Leads!
There, you'll find more LinkedIn tool reviews, such as this one on Crystal, as well as other great articles on lead generation.
You can also check out our Pearl Lemon Official YouTube page to see a video review of SocialPilot where I recorded myself using the tool for the first time so you can get honest reactions in real-time.
While you're there, you can watch some of our other great videos!
And as always, stay tuned for more LinkedIn tool reviews!