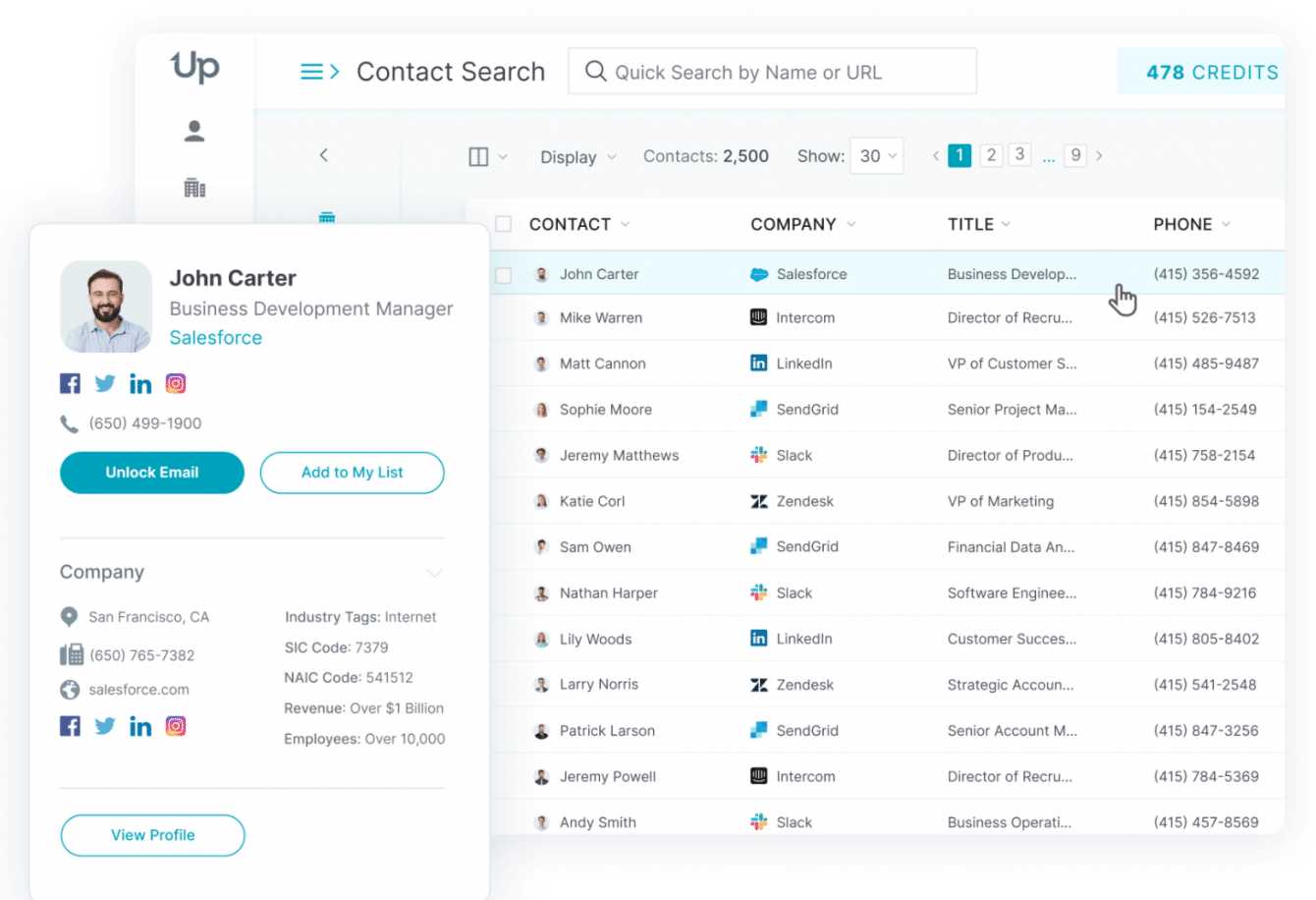 Source: Uplead
What is Uplead?
Uplead is a B2B prospecting tool to improve your contact with qualifiable leads. 
This tool is designed to help companies uncover the right leads and get the most critical information. Uplead verifies data in real-time to save you time on who to contact.
It is already time-consuming to contact people through cold calling, emailing, and messaging – but to spend time gathering the contact information takes away your time from doing outreach.
Save time by getting verified information fast and obtaining high-quality leads.
This review will go over the products and features that Uplead can offer and take a quick look at the pricing plans.
Uplead vs data scraping tools
Uplead is a level up from data scraping tools. Data scraping tools are often known for scraping data such as contact information, statistics, etc. You can choose what data you are looking for and which platform you want to scrap the data from.
Data scraping tools are popular because many companies will use these tools to get contact information for prospecting.
Uplead is different and takes data to the next level. Uplead already has all the data for you directly in their system. There is no need to wait for Uplead to process or gather information because you can get it within seconds.
All you have to do is filter the types of prospects you are looking for, and you have all the information.
There is no need to work across multiple platforms. Instead, you can find everything in one place.
If you are on Linkedin and come across a contact, you can use Uplead's chrome extension to gather information. Aside from that, Uplead has all the information for you.
Analysis of Uplead features
Uplead offers the following products:
Prospector

My lists

Data Enrichment

Chrome Extension

API

Email Finder & Verification

Technographics
Prospector: Contact & Company Search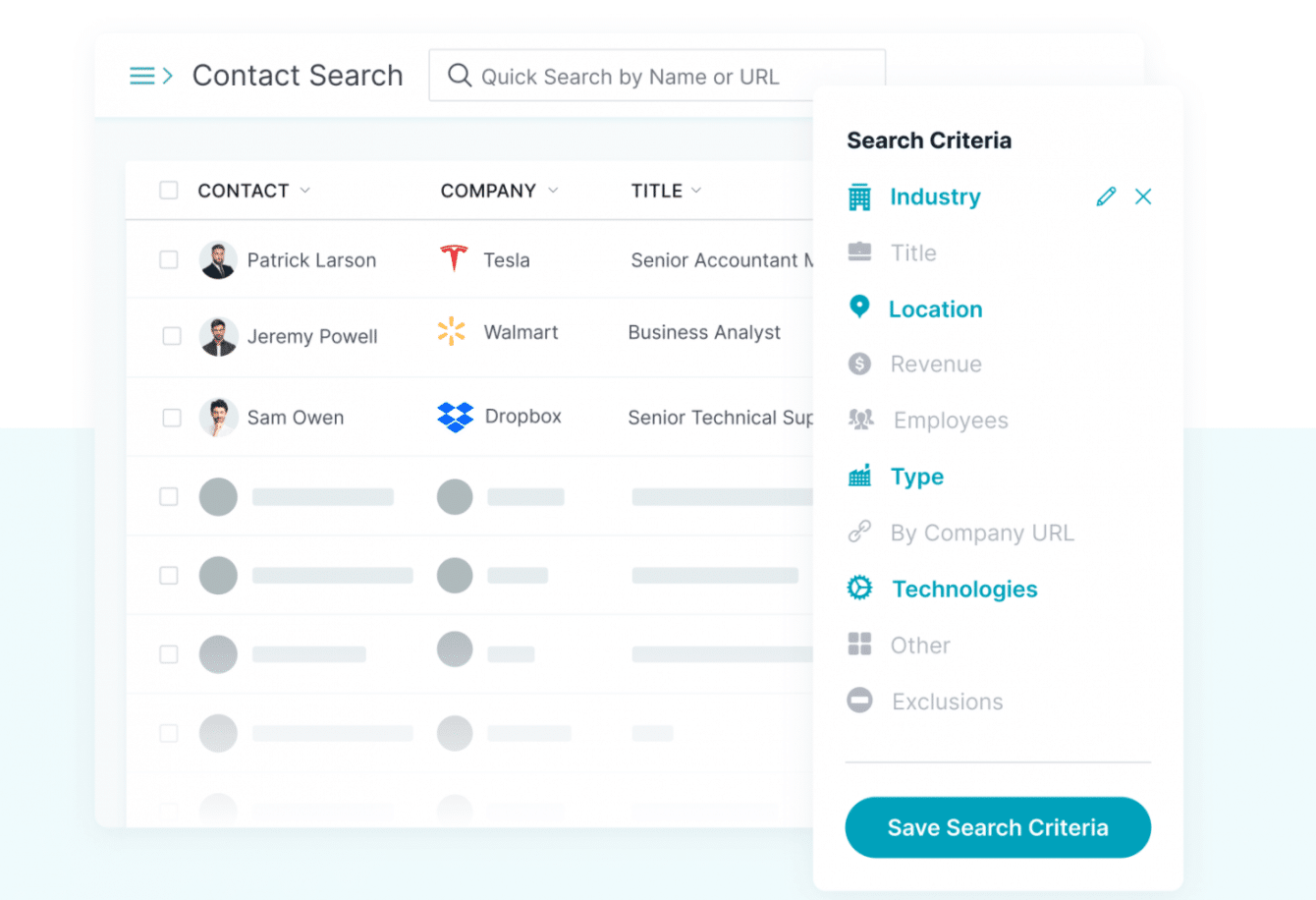 Source: Uplead
Uplead offers the highest accuracy for B2B contacts. Essentially they will do their best to find the correct email for your leads.
This tool covers 54 million + contacts and covering 200+ countries. With this feature specifically, they offer a 95% accuracy guarantee.
Two main features make up the prospecting product which is: contact and company search. Users can search for an individual contact or company or utilise the search criteria.
The search criteria allow the user to filter information and build their prospecting list. The search criteria includes the following.
Industry
Title
Location
Revenue
Employee
Type
By Company URL
Technologies
Other
Exclusions
A user can use the search criteria to look at the prospecting database. From there, a list of contacts will appear with the name, company, location, etc. To reveal a phone number, email, or export that will use up one credit.
For more information about the contact, the user can click on the contact's name and a detailed information box. The same can be done for the company. More information on contacts can include experience, revenue, employees, etc. 
To find more information out about a company, just click the company name. You will view the technologies they use, news information, and recent posts on social media. 

My lists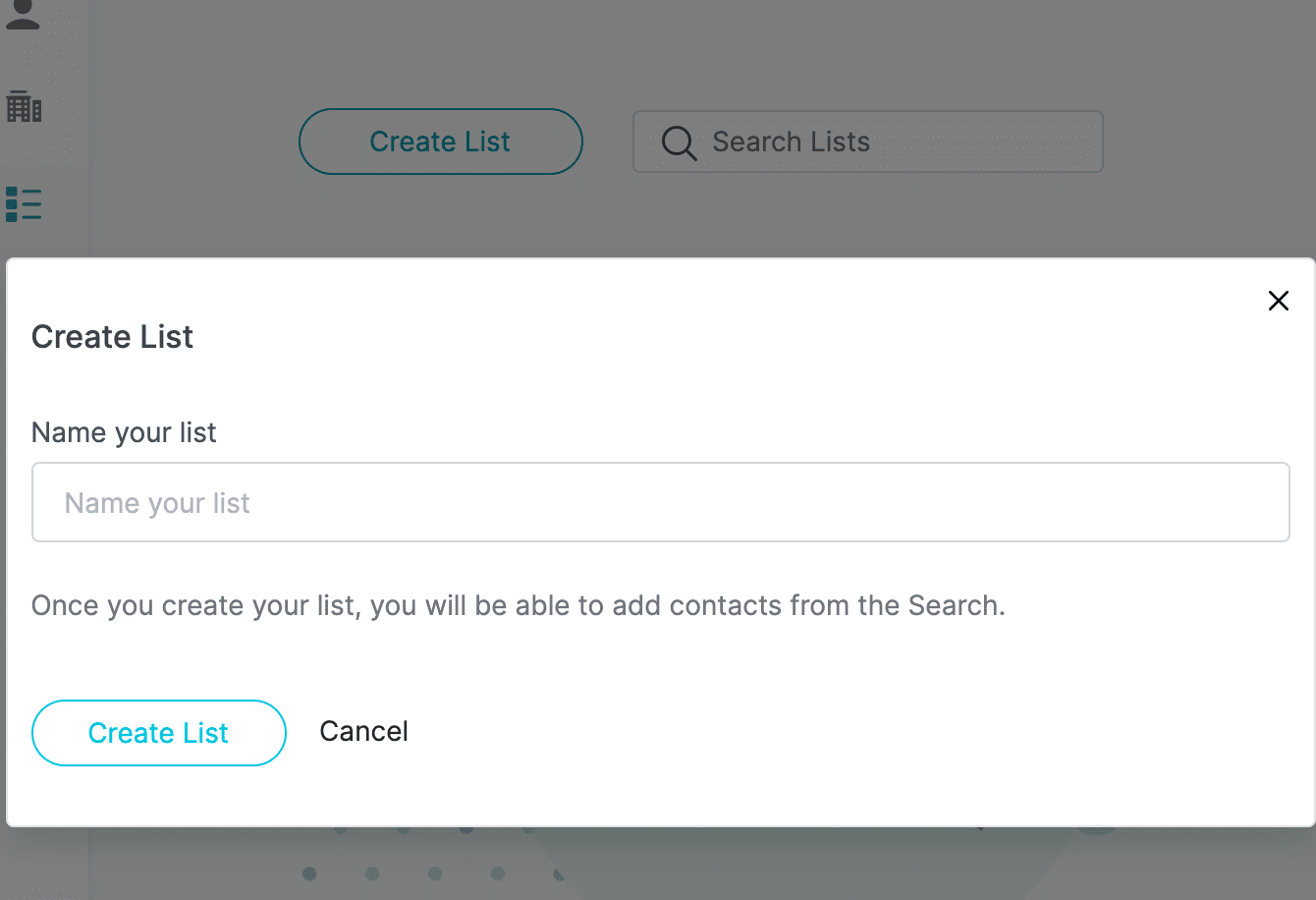 Source: Uplead
While you are using the company or contact search, you can choose to save certain information to your lists.
A user can make multiple lists based on their preferences. An example can be a list for a specific company or industry.
There is no waiting or processing you just simply go through the filters to find the leads you want and you build your list. 
You can also import current prospects information, but I would recommend using the enrichment feature beforehand.
Data Enrichment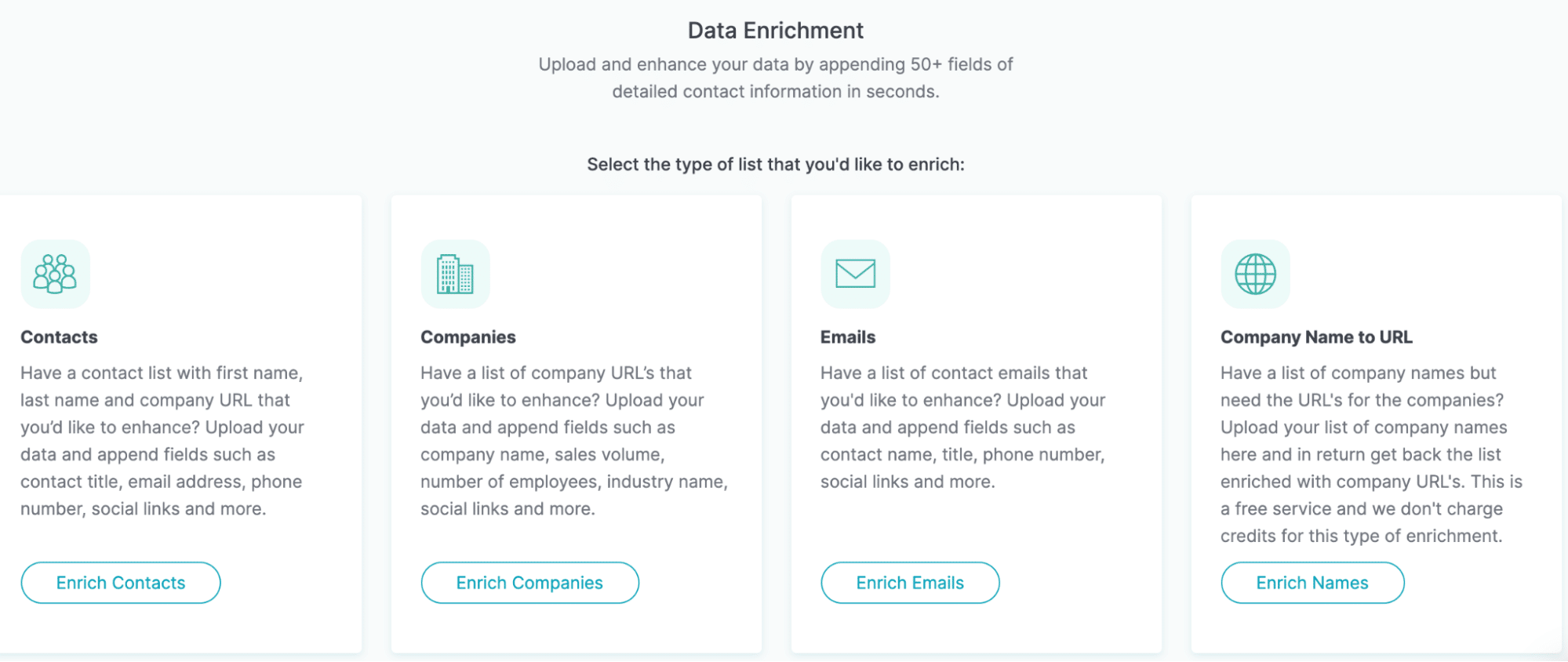 Source: Uplead
The data enrichment section is a way to upload and enhance your data with detailed contact information. You can enrich your contacts, companies, emails, and the company name to URL.
All you need to do is upload data, and Uplead will find more information.
Enrich contacts will append fields such as,
Contact title
Email address
Phone number
Social links, and more.
Enrich companies will append fields such as,
Company name
Sales volume
Number of employees
Industry name
Social Links, and more.
Enrich emails will append fields such as,
Contact name
Title
Phone number
Social links, and more.
Chrome Extension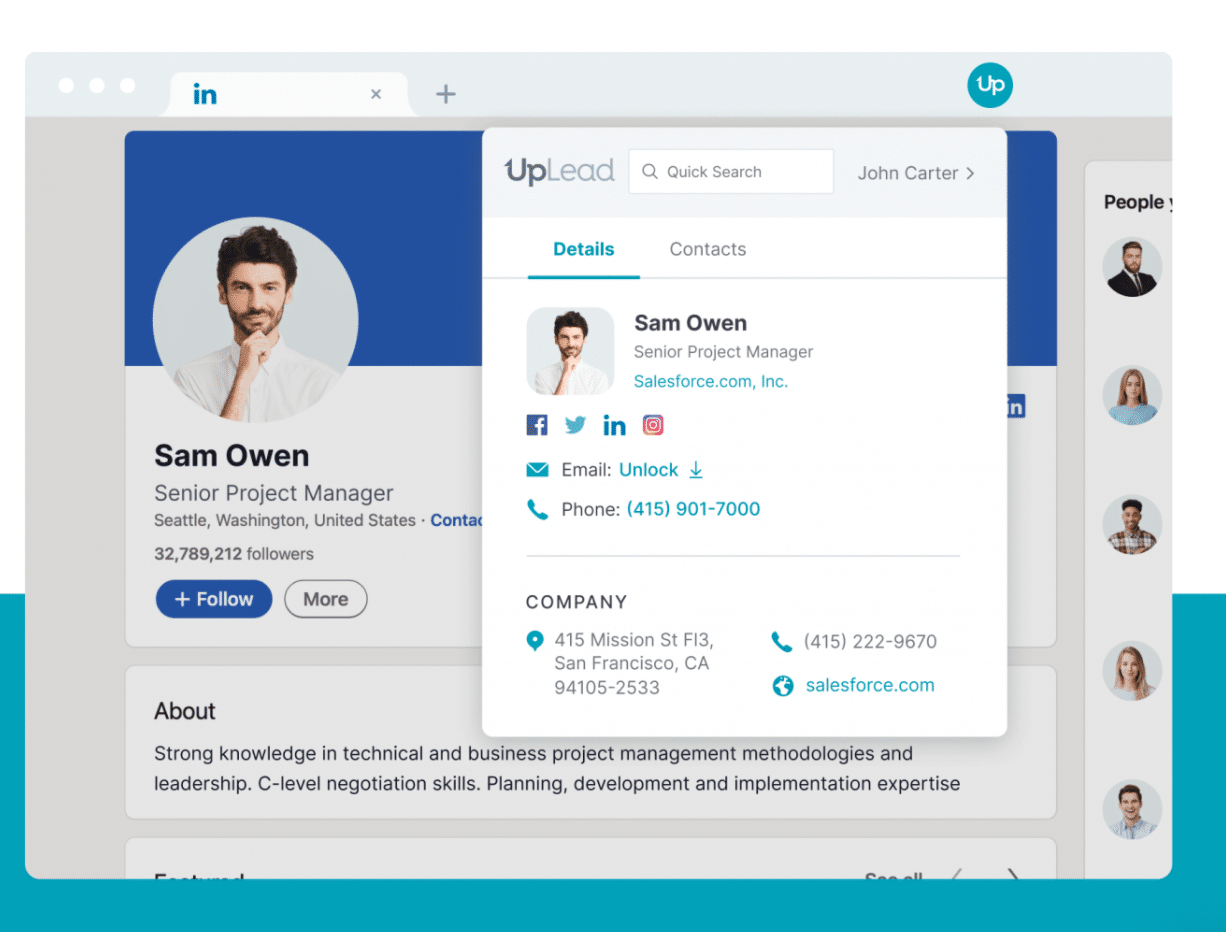 Source: Uplead
The chrome extension allows you to grab leads straight from your browser!
Users can unlock leads' information from their LinkedIn profile. Users can unlock a prospects' email address and phone numbers straight from LinkedIn. 
It is just one click to find sales information for prospects and companies. For companies, a user can grab data like their location, revenue, size, and technologies.
With the CRM integration, users can simply click to directly send leads to their CRM or download a CSV file.
The chrome extension makes browsing for leads fast and easy.
API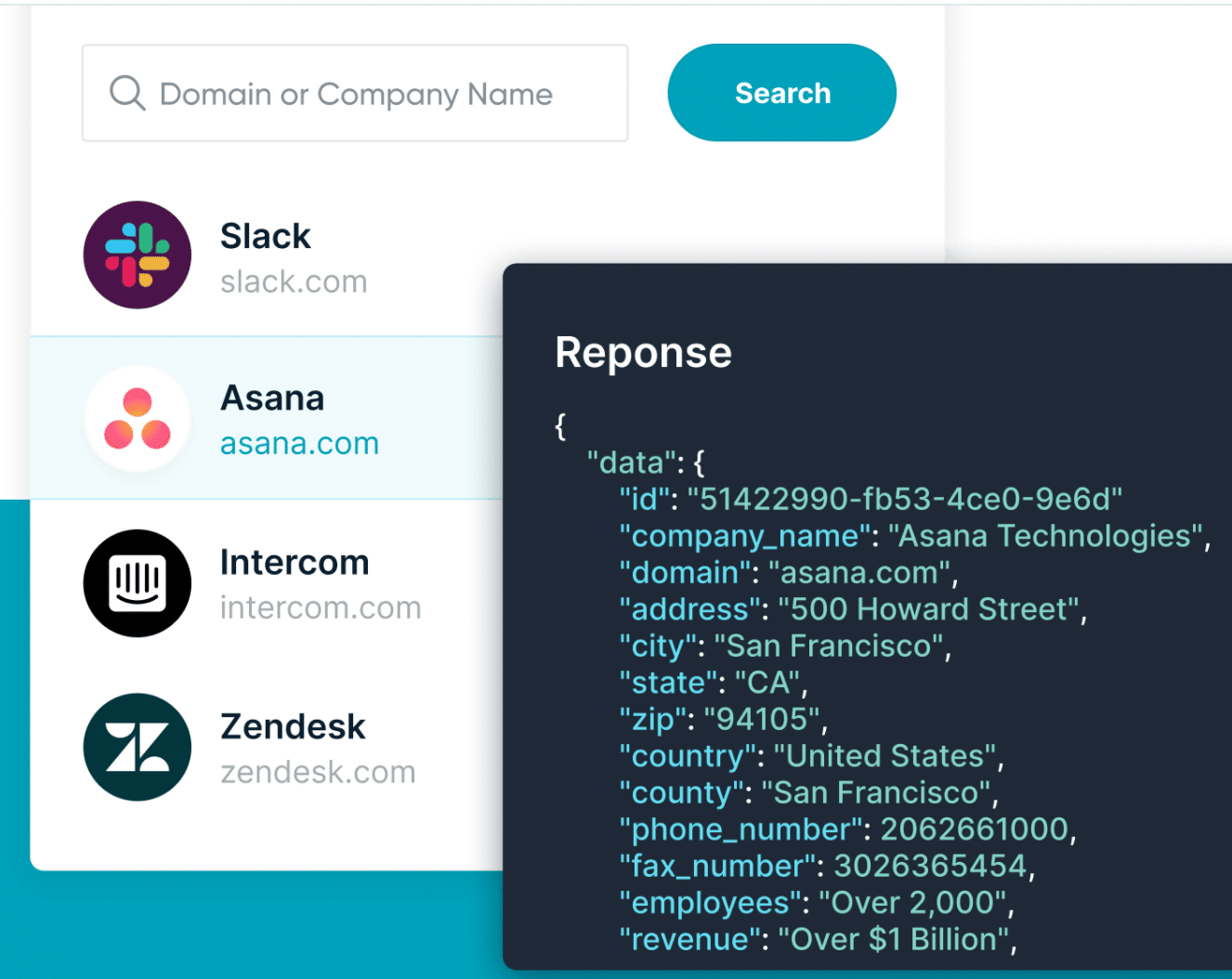 Source: Uplead
By using Uplead's API, a user can have access to the following features.
Company Enrichment
Combined API
Prospector API
Person Enrichment
Users can use company enrichment by using a domain name or company name to find detailed data. 
With person enrichment, you can look for a person by using their email or domain + name. This step will gather critical data intelligence such as name, email, phone number, and LinkedIn profile. 
Lastly, there is a combined API and a prospector API. 
The combined API can get both the personal and company information and sync the business data in just one step. 
As for the prospector API, you can find contacts associated with a specific company, job title, etc. 
Email Verification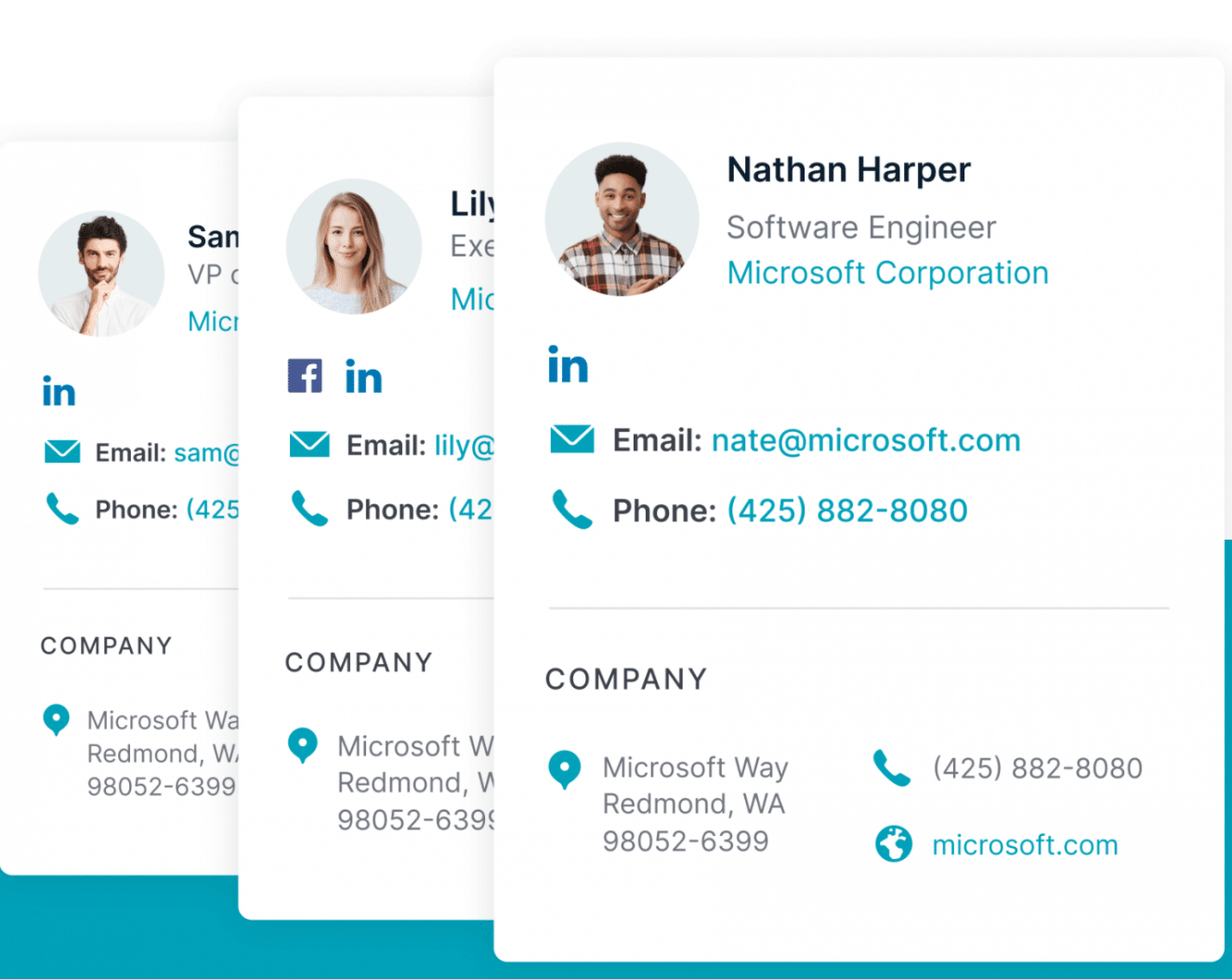 Source: Uplead
The moment a user clicks to get an email, Uplead will verify it for you in real-time!
There is a 95% accuracy guarantee for valid emails. If the email is invalid, it won't be displayed, and you are not charged for it.
Once you identify emails, you can select "Download valid only" or "Download Valid + Accept All". This option allows you to have total control of what you download or not download.
During the download process, every email is verified.
Finally, you have the bulk email verification. This option allows you to verify thousands of emails in just seconds. You can get all your emails verified from your lists before you start any outreach.

Email Finder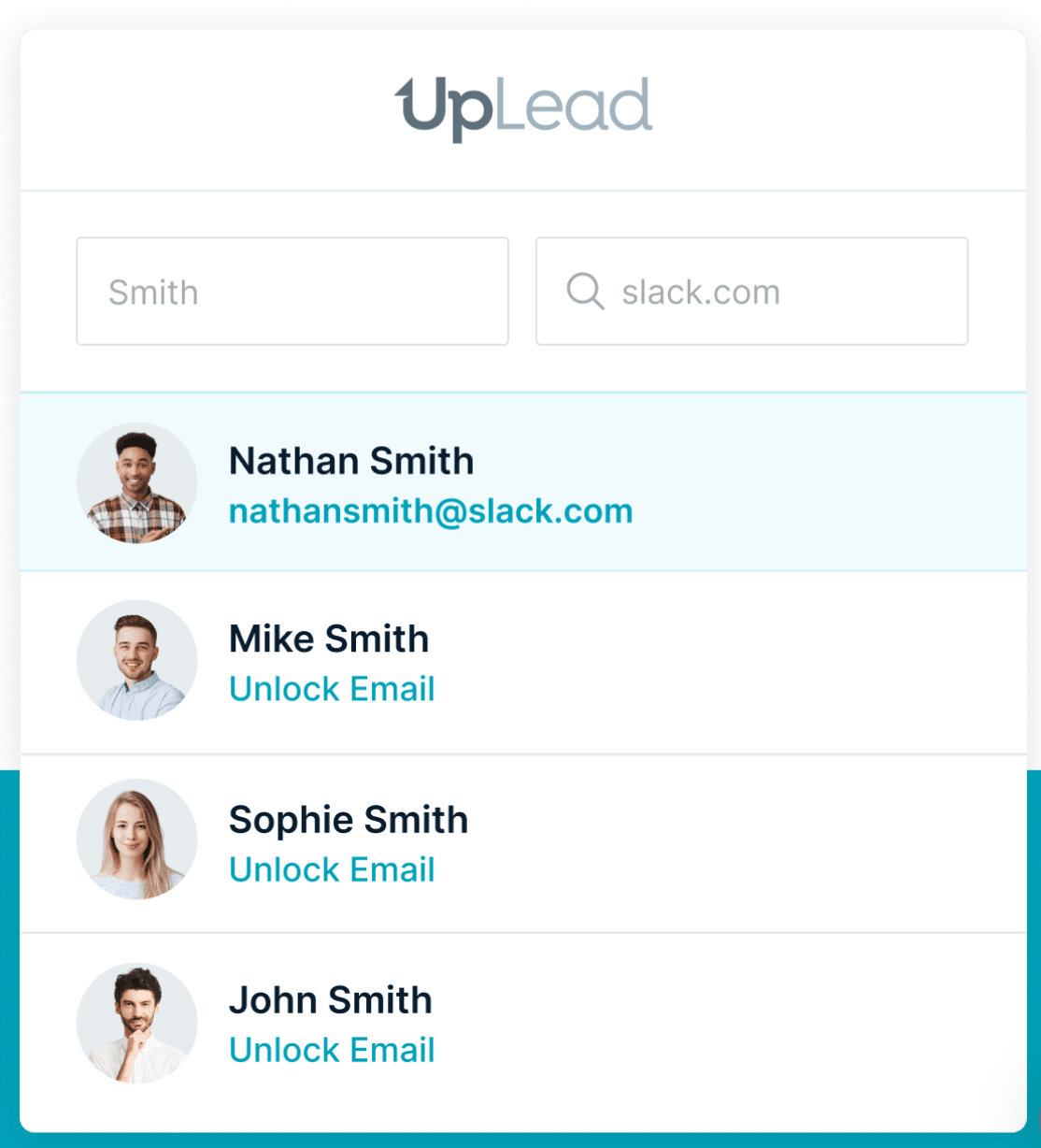 Source: Uplead
Find your top prospects' emails with the email finder feature. It takes up to one credit to uncover an email that will automatically be verified.
Only valid emails will be charged one credit.
Search for a contact name, company name, or URL to get a valid email in just seconds. 
Technographics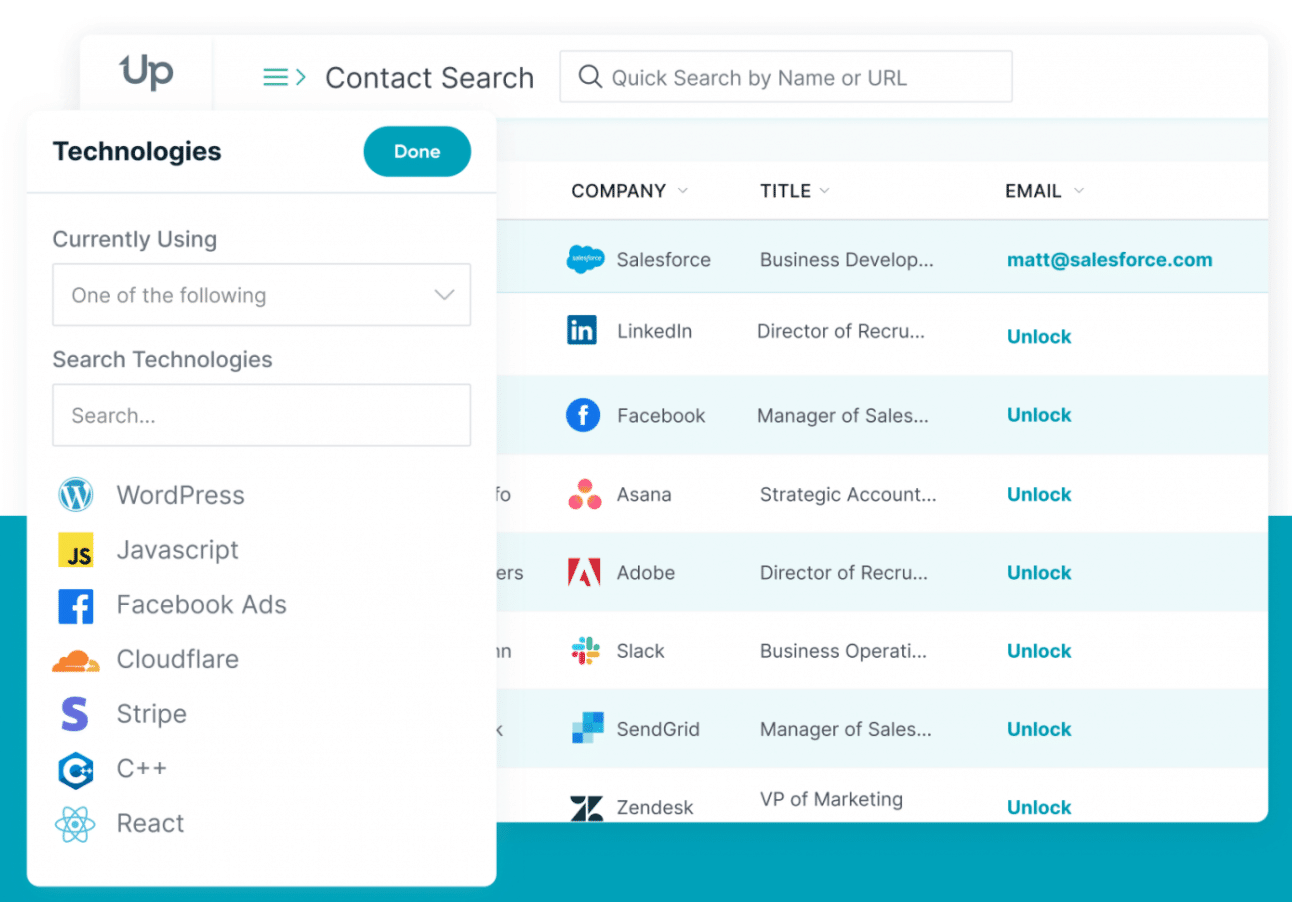 Source: Uplead
Users can search by technology to view companies using competitive or complementary technologies. Gather this information and turn them into sales.
The in-browser technographics can help you target companies that buy what you sell. Uplead helps users find prospects by using 16,000+ technology data points.
Uplead: Pricing and Payment Plans
For $0 a month, the Free trial offers: 
5 credits
Single User
Verified Emails and Phone Numbers
Mobile Direct Dials
Data Enhancement
Competitor Intelligence
Technographics
CRM Integration Chrome Extension
No Contract
For $99 a month, the essentials plan offers:
170 monthly credits
Single User
Verified Emails and Phone numbers
Mobile Direct Dials
Company News
Chrome Extension
CRM Integration
No contract
For $199 a month, the plus plan offers:
400 monthly credits
Single user account
Data enrichment
Company news alerts
Advanced search filters
Suppression list uploads
Technographics
Enrichment API
Email Pattern intel
No contract
For $399 a month, the professional plan offers:
1000 monthly credits
Team Account – up to 5 users*
Sales Triggers (Coming Soon)
All search filters
Full API access
Prospector Pro API
Competitor Intelligence
No contract
What is a credit?
With uplead, you can download or export a contact which will cost you one credit. A credit can also be used to reveal a contact's email address or mobile number.
If you unlock the number and email for the same contact, only one total credit is charged. One credit equals one contact. 
Final Thoughts
Uplead takes prospecting to the next level! The benefits of this tool include less time gathering prospects and more time spent on outreach.
Uplead not only helps you save time but gives all necessary information during the process with a 95% accuracy rate.