Communication professionals and public relations managers need to reach out to hundreds of journalists and influencers. This comes with the territory.
There are lots of public relations software out there to choose from to make this process faster and more efficient.
Today, we'll review Vuelio, a platform that connects communication professionals and public relations managers to journalists and influencers.
Many public relations software do this already, so let's find out what makes Vuelio different from the rest of the software options out there.
What is Vuelio?
This public relations software offers PR managers a comprehensive media database to access for their campaigns.
It also has a large UK influencer network that could be invaluable for agencies that need to utilize influencer marketing strategies.
Vuelio is not just a media database for PR professionals to use; it also provides opportunities for contributors and influencers to benefit from its use.
This particular software gives PR professionals an opportunity to analyze journalists to pitch to based on their profiles. All the journalists who sign up here are willing to receive pitches for PR purposes.
The software categorizes journalists according to their relevance to the field they are interested in. With each profile, there is information about their interests so that you can pitch them with confidence.
Not only that, but you can monitor the PR campaigns that you release using their software. You get information about the effectiveness of your campaigns, and you can accurately measure the social media impact as well.
So far, this is just an overview of the things that Vuelio has to offer.
Do you think it's right for you? Let's dive a little deeper into the specific features of this public relations software.
Key Features of Vuelio
Vuelio offers many products and services, including media monitoring, news distribution, political and media databases, and media analyses.
This is a wide range of options for PR professionals with specific needs that relate to this.
Here, we'll analyze the three main features that are offered to give you a better idea of what to expect from this software.
Media Database & Monitoring
At this point, I've probably mentioned the phrase "media database" 5-10 times!
That's because it's a central component of this software and is what draws people to use this software in the first place.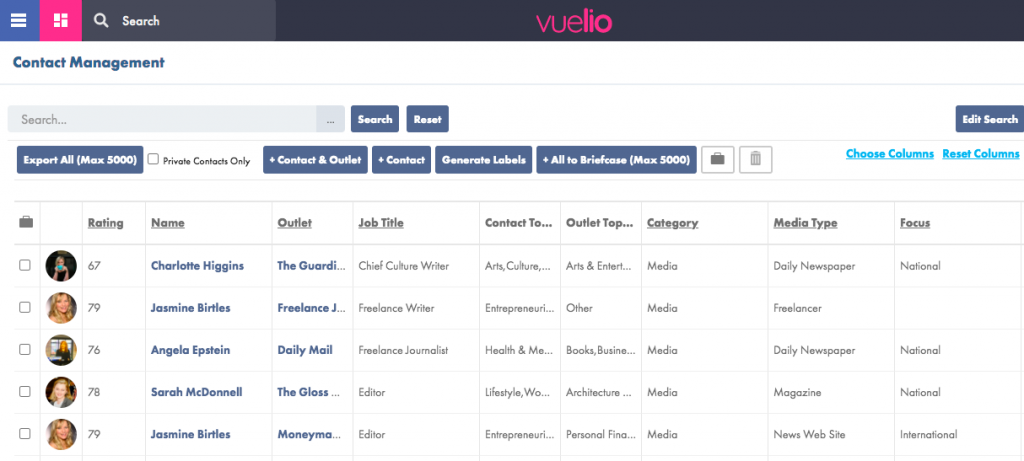 This media database grants PR professionals access to more than 1 million influencers, media outlets, journalists, broadcasters, and bloggers. In this database, you don't just get the names of these professionals, but you get detailed information about them as well.
The database is designed to make the process easier and as informative as possible so that PR professionals can choose the right people to reach out to.
You get the person's contact name on the media database, their favorite subjects to be pitched to, their interests, and pitching preferences.
If you've worked in PR and have had to scour the internet looking for the right people to pitch, you'd understand why this feature is so important. It takes the extra hours of research out of the way.
It also means that you have a higher chance of getting the media mentions you need because you'll be reaching out to the right people for your specific niche.
The best part is, all that information is in one place. You can organize these contacts according to specific categories to make it easier to find them.
The media database also offers a blogger outreach tool that gives you access to many digital influencers. This includes vloggers and other social media influencers.
On top of all this access to great contacts, you can plan and prepare media placements on Vuelio ahead of time. You are able to see upcoming stories and publication features to add to your communications calendar.
This way, you can plan your PR campaigns earlier, all without leaving the media database. This can be very crucial in planning successful PR campaigns. 
The last feature of this media database allows PR professionals to analyze and report their media relations activities. You can manage your external and internal communications and keep track of the upcoming deadlines for reporting and media campaigns.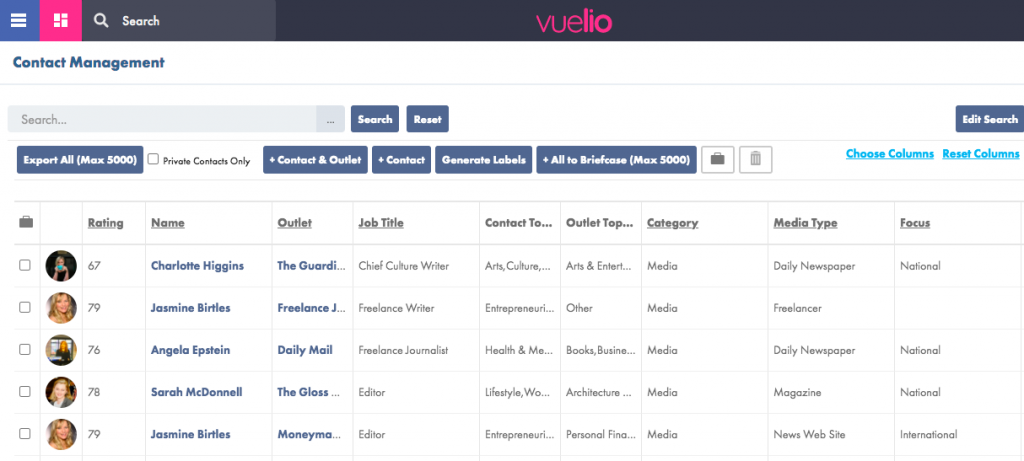 The media relations management tool can be shared with PR teams so that tasks and campaigns can be shared. Pretty neat, right?
Political Database & Monitoring
Unlike the media database, the political database focuses on public affairs in the UK. Here, you can monitor what goes on in the UK parliament, with the political stakeholders and even special advisers.
All this information is neatly organized for you, so you don't have to research it yourself.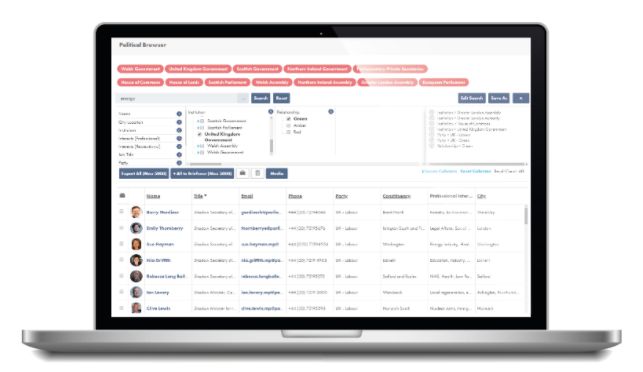 Vuelio does the political monitoring for you and delivers the information in a tailored format.
This is a great time saver and makes it easier to use the information as needed.
We're in a time where more and more political officials use social media to express their opinions about important topics. Vuelio analyzes this political content from Twitter and delivers it to you for your reference.
These political reports are crucial for communication professionals who want to analyze and visualize stakeholder trends and insights. You get access to exportable graphs, charts and data instead of spending hours researching for yourself.
Another feature available in the political database is a large database of political contacts. This directory gives you the opportunity to reach political figures!
You don't even have to leave the database to do it. Vuelio has an in-built email tracking system that helps you analyze your email outreach.
It also helps you boost your engagement along with giving you feedback in real-time. Looks like your one-stop-shop to clarity!
News Distribution
This feature enables communication and PR professionals to create, schedule, and send press releases for their campaigns.
You are able to customize and publish press releases directly to your online newsroom, social media accounts, and other outlets.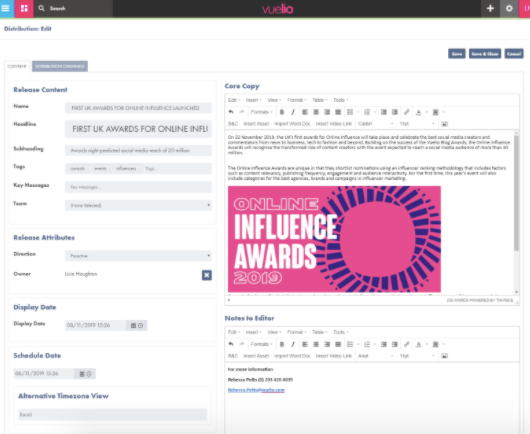 Once published, you get detailed analyses that help you track your results so that you can learn more about how your campaign is performing. You'll have analysis tools at your disposal to get real-time results of user engagement insights as well.
With this, you can analyze how journalists and influencers react to your campaigns and press releases in real-time. You get to also track who opens or clicks on your campaigns.
The media analysis within this feature alone is very useful to give you the insights you need to take your PR strategies to the next level!
Payment Plans
As you can see, Vuelio has a lot to offer! Now, let's find out what the pricing looks like and what kind of payment options are available for new users.
When you go to their website to get pricing information for yourself, you'll be required to register and sign up with an email address.
This means that you can't find the payment plans available on their website. You have to negotiate with them via email, and the payment plans will be tailored to your individual/company needs.
Just so you know…Vuelio is expensive.
It's just disappointing that the website is not clear about that. You have to be really determined to sign up and hunt them down via email.
Pros of using Vuelio
If you've read this far, then I'm pretty sure you can agree that Vuelio sells itself!
It's a powerful tool for PR teams to use for their campaigns, outreach programs, and general analyses.
The media and political databases also provide unique opportunities for communication professionals to reach the right people.
You get to find the perfect people, create and publish press releases, and analyze your campaigns' success in real-time.
All of this can be done right here! That's the best part.
Cons of using Vuelio
Even with all its useful features and highly-detailed databases, Vuelio isn't easy to navigate.
In fact, if you are not tech-savvy, or if you don't have a lot of experience using different types of software, you might not like Vuelio very much.
You'll probably have to do a lot of trial and error plus a few training here and there to understand how to use it well.
If you have a lot of experience with experimenting with different types of software like this, then you should be fine. It's just that not many PR professionals have the time or energy for such a learning curve.
It really depends on you, though!
Final Verdict
Vuelio a great opportunity for PR and communication professionals to find the journalists, influencers and politicians they need for their campaigns.
The media and political databases come with monitoring features that allow you to track the progress and success of your pitches and campaigns.
This means that not only do you find the right people to reach out to, but you know what they want based on their profiles, and you get to track how well your campaigns are received.
This insight is crucial for PR teams to continue to improve their strategies. However, one thing to remember is that the majority of people listed here are on Twitter, so those without Twitter accounts may not be on the media and political databases.
Also, keep in mind that it is not the most user-friendly platform for PR professionals. You could try out Pitchengine or Qwoted as well.
However, if you're really interested in using this platform and you're okay with the learning curve, Vuelio might be a great fit for you!
The final verdict is: Vuelio scores 80%