Source: We-Connect
We have done many overviews of various tools here at Pearl Lemon Leads. This week it is time for a We-Connect review!
LinkedIn is a gold mine of prospects just waiting to become leads. However, the aspect that makes it so easy to find prospects can also make the lead generation process so overwhelming: there are so many people to reach out to!
That's countless emails, messages, InMail, sales pitching, and follow-ups. You don't want to shrink your list too much because you could be missing out on customers, but you simply don't have the time to contact each prospect individually.
That's where LinkedIn automation tools come in.
LinkedIn automation tools help automate certain LinkedIn processes, allowing you to get more done in less time. These processes include LinkedIn marketing, LinkedIn lead generation, LinkedIn growth and more.
At Pearl Lemon Leads, we're reviewing some of the best LinkedIn lead generation tools, and in this edition, we break down We-Connect.
WHAT IS WE-CONNECT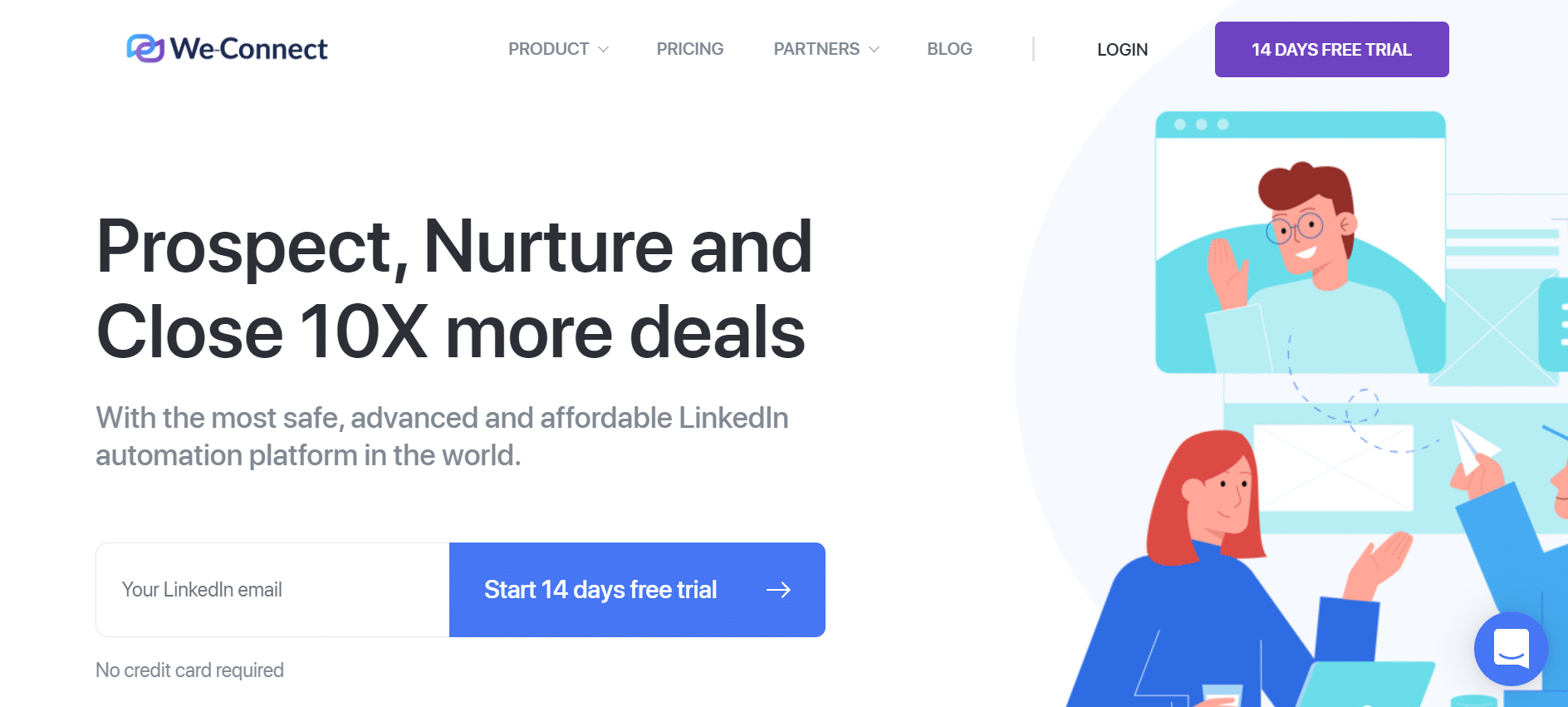 Source: We-Connect
We-Connect is a Cloud-based LinkedIn automation software.
Cloud-based refers to anything stored and run through the internet rather than your computer.
Since We-Connect is cloud-based software, it is run through the internet, and you don't have to download an application onto your computer. And LinkedIn automation refers to processes on LinkedIn that are run automatically.
We-Connect helps specifically automate the outreach process on LinkedIn, meaning it can contact hundreds to thousands of people on LinkedIn for you.
This is useful with outbound lead generation or the process of stimulating interest in your business by directly contacting people.
By automating your outreach process, you will be able to reach out to more people (which means more leads) with much less work on your end, allowing you to spend that time elsewhere. You can quickly grow your LinkedIn network without doing much and continue focusing on your lead generation efforts elsewhere.
Let's review how We-Connect can help with your LinkedIn outreach for lead generation.
HOW TO USE WE-CONNECT
When using We-Connect, you start the lead generation process how you normally would: On LinkedIn.
Go to LinkedIn and conduct a search using keywords to find your target prospects, whether you are looking to hire, sell a product or service, or create a professional relationship.
We-Connect is also compatible with LinkedIn Sales Navigator. If you have it, you should definitely use it and all of its advanced filters to narrow your search to more quality leads (for more on LinkedIn Sales Navigator, check out our review!).
Then, simply copy and paste the URL of the search results page into We-Connect:
(Search on LinkedIn)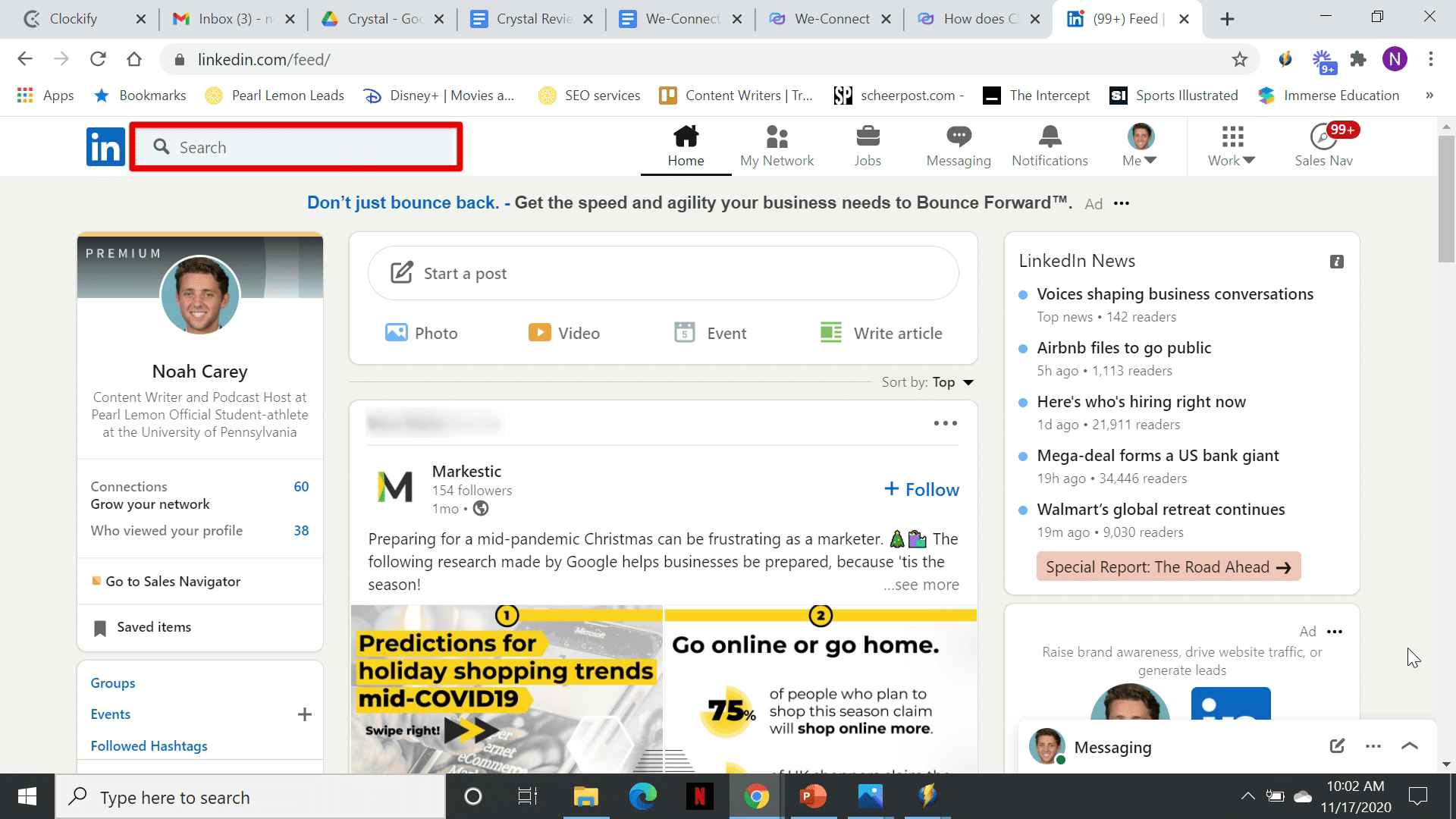 (Use a keyword to find your target prospects)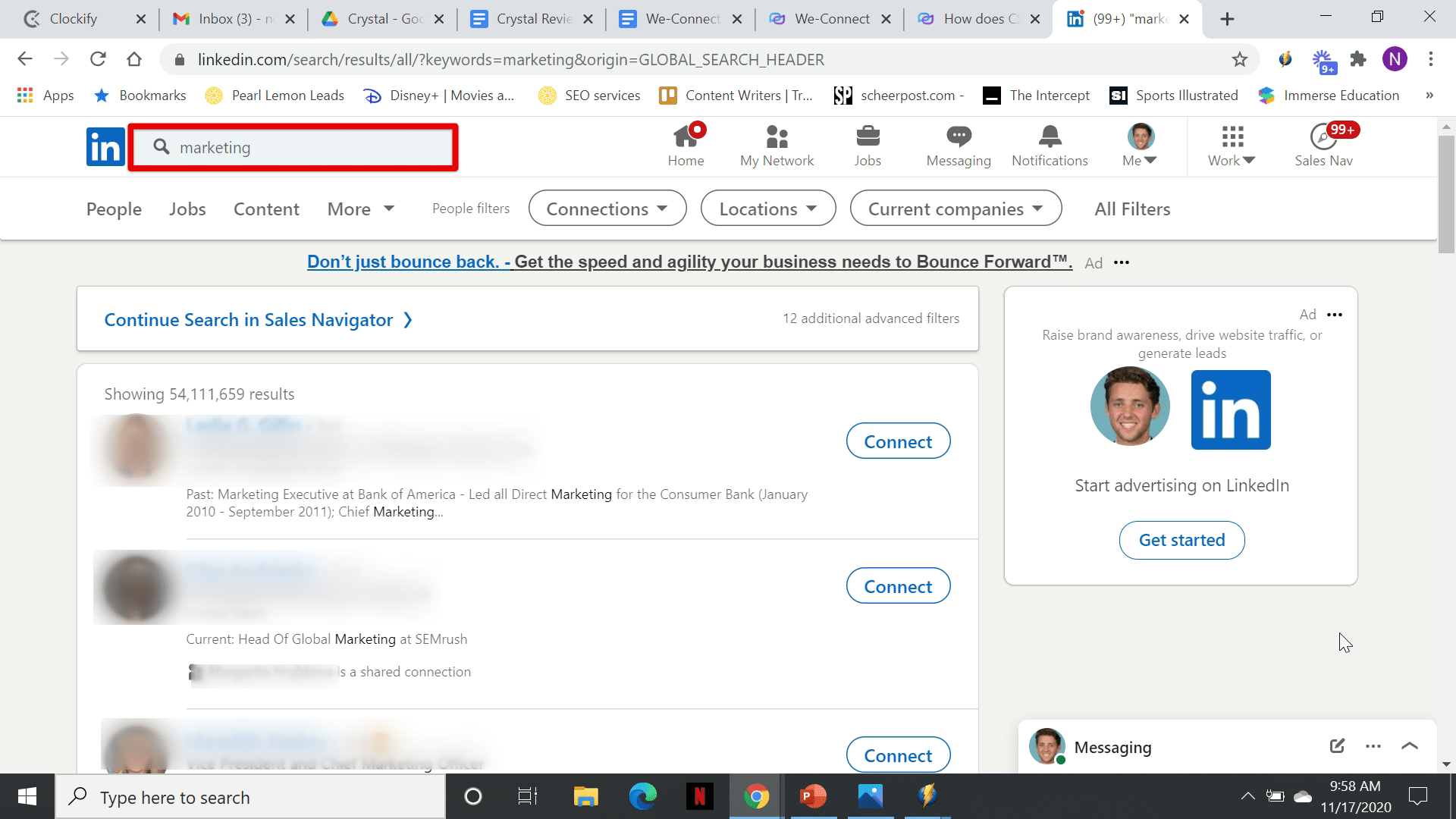 (Copy the URL of the search results page)
(paste the URL into We-Connect)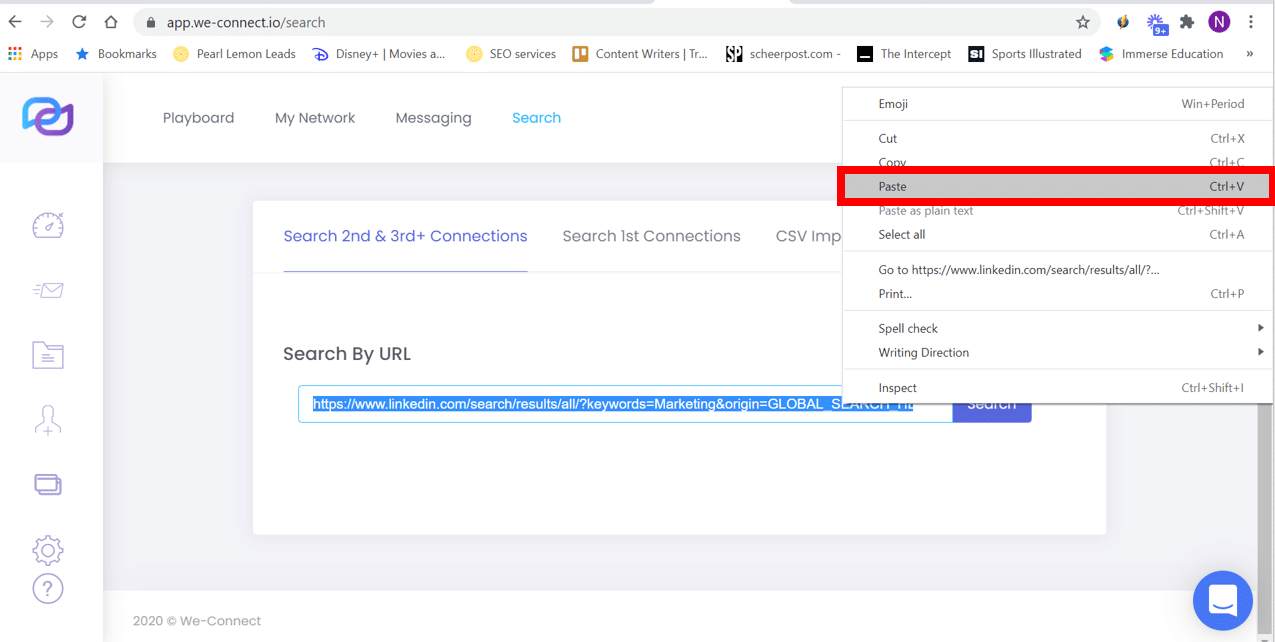 From there, We-Connect goes through the search results and compiles a list of your 2nd and 3rd-degree connections or 1st-degree connections, depending on which option you choose.
You can also import a CVS file into We-Connect with a list of URLs to LinkedIn profiles you've already gathered. Here is a blog from We-Connect with a more in-depth explanation of the CVS import feature.
After you paste the search URL, make sure to name and save your list. That way, you can go back to it in the "Saved Lists" section and re-use it any time: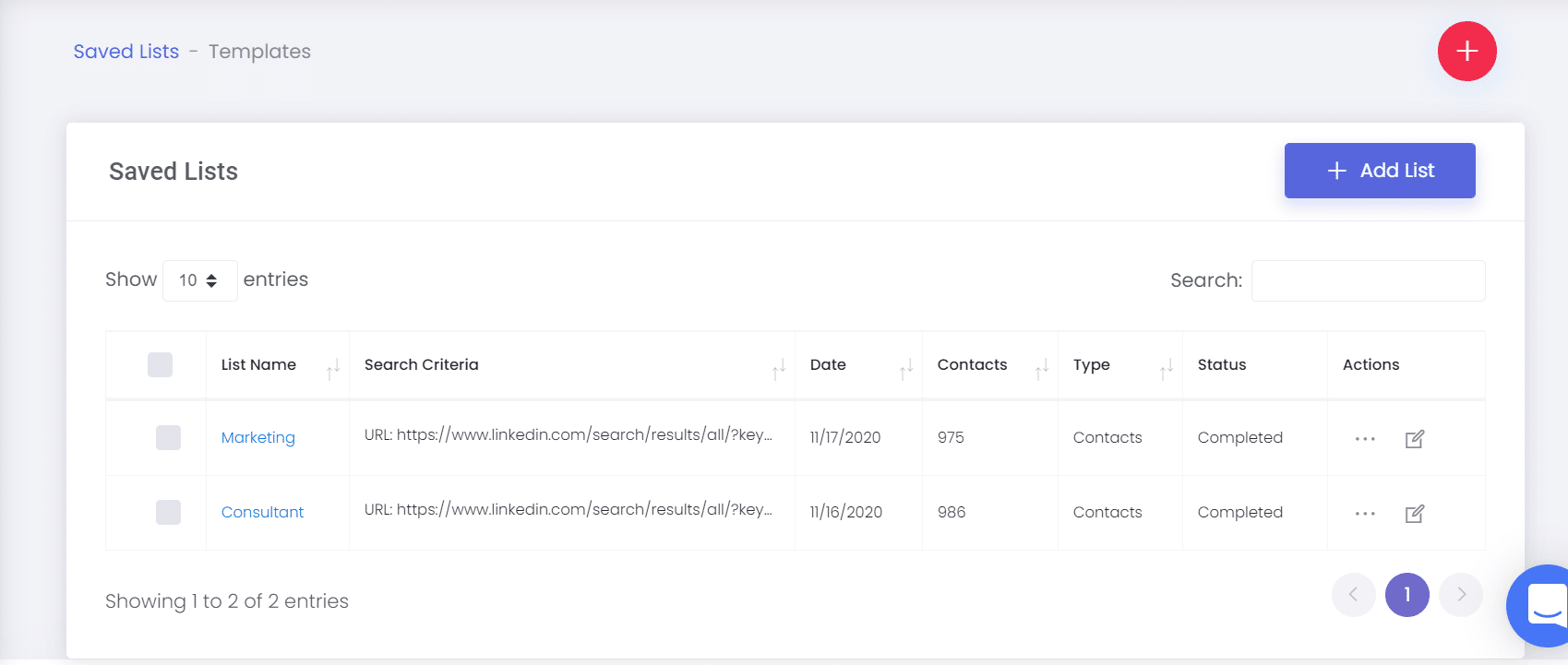 Once you have your list saved, there are a few things you can do with it:
Go through the list manually
Create a campaign with We-Connect
Download list to Microsoft Excel
I hope this We-Connect review is useful so far in explaining the functionality of this tool!

Go Through We-Connect List Manually
The first option, go through your list manually, is pretty self-explanatory.
We-Connect gives you the name, profile picture, job, and the company of every person on the list. And depending on how public a person's LinkedIn account is, you can also see:
Location
School
Previous jobs
Number of connections
Email
A link to their LinkedIn profile
Now, we wouldn't recommend manually examining and reaching out to every person on the list. That would take way too much time and energy.
If you want to send more personalized messages to a handful of people or just get an idea of the people you are contacting, then having this information readily accessible is very beneficial.
Create A LinkedIn Outreach Campaign With We-Connect
We-Connect's primary function is to create automated outreach on LinkedIn.
Essentially what this means is We-Connect will send messages to or connect with mass amounts of people on its own.
All you have to do is set up the campaign, and We-Connect does the rest.
To do this, hit the "create new campaign" button: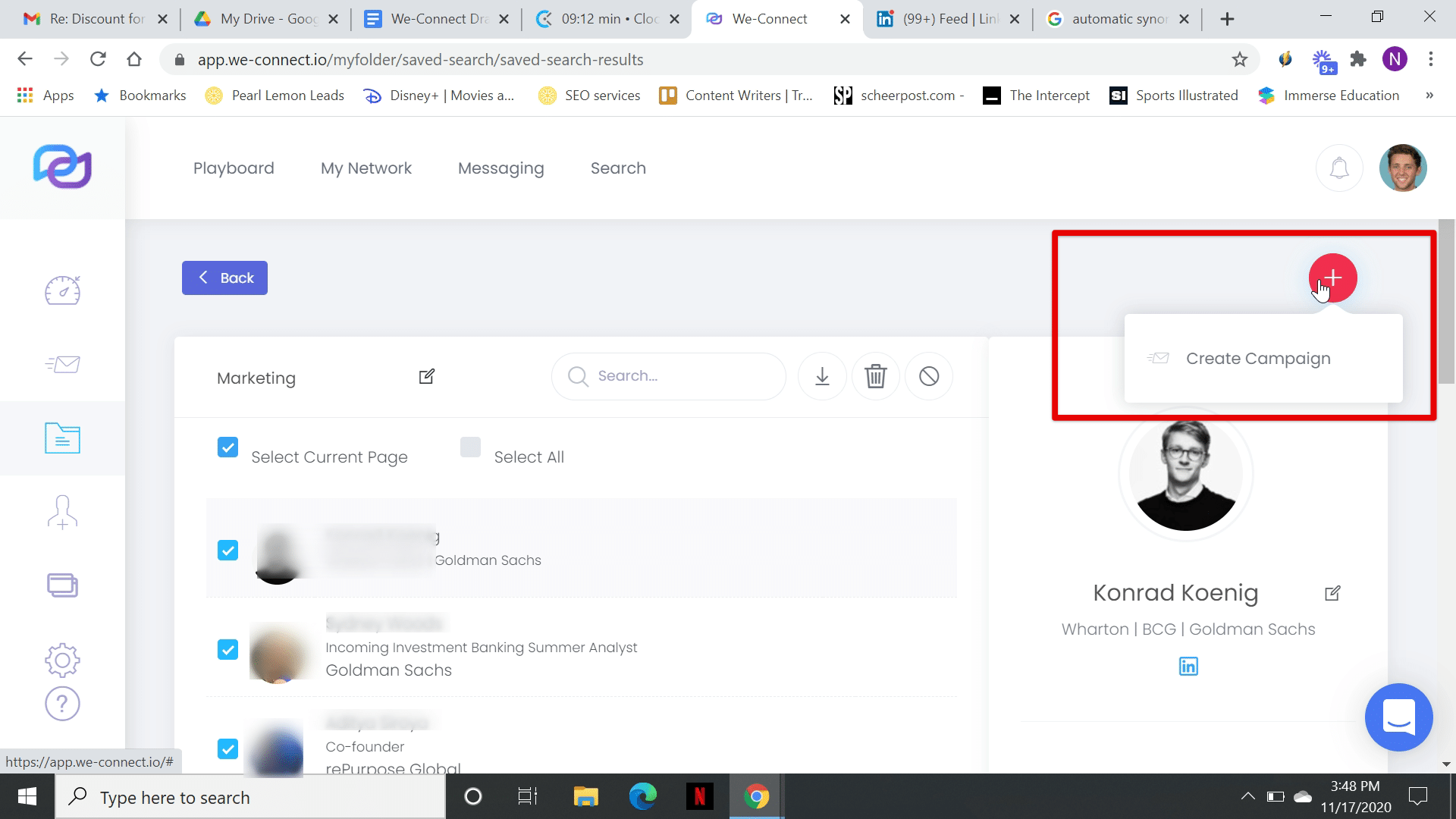 You are then given five options for potential campaigns to run:
Message 1st connections
Invite new connections
Endorse contacts
Auto follow up
Visit profiles
Pick an option and a list to use for the campaign. After that, write out a message that will be sent to the contacts (if applicable), and launch your campaign!
You can even schedule the campaign to run at a later date if you want.
It's so simple and effortless and will take you less than 15 minutes from the initial sign-up to running your first campaign. 20 tops.
And pretty soon, you'll have tons of prospects you can now convert into leads.
Download List To Microsoft Excel
After a list of prospects is created on We-Connect, you can download it onto your computer as a Microsoft Excel spreadsheet.
The spreadsheet will have the prospects name in the first column, followed by several more columns with contact information, including:
LinkedIn profile URL
Title
Company
Education
Location
Address
Industry
Website
Twitter
Email
Phone number
Number of connections
Tags
Why would you want an Excel spreadsheet with this information?
Because it will help with your Email automation.
Email automation tools, such as Mailshake, often use excel spreadsheets.
How it works is you write out an email template with blanks for contact info and personalized messages, and a tool like Mailshake then takes the information on a spreadsheet and automatically uses it to fill in the blanks on your template.
So while We-Connect won't conduct email automation for you, it will make the process that much quicker by saving you the time of creating a spreadsheet from scratch.
To export your list onto an excel spreadsheet, hit the download button at the top of your list:

WE-CONNECT'S OTHER FEATURES
Of course in this We-Connect review, we want to check what other features this platform offers. We-Connect's main function is its automated outreach, but it has a few other features that are worth noting, including:
Dashboard
My network Quickview
Messaging
We-Connect Dashboard Review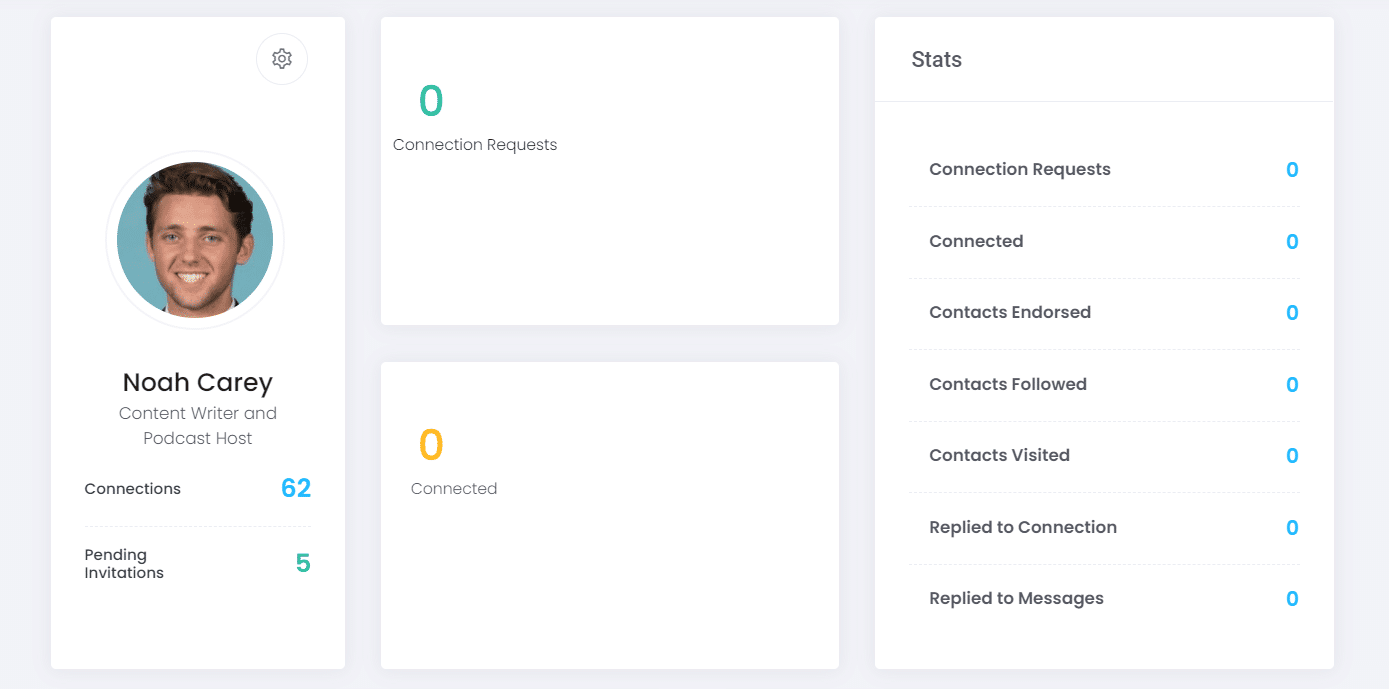 The dashboard on We-Connect is an overview of your LinkedIn profile with easily accessible statistics.
It's all stuff you can find on your LinkedIn account, except it is all organized for you in one convenient location.
You won't have to go digging around to see if someone has accepted your connection yet or who has viewed your profile.
Here is all of the data you can see on your We-Connect dashboard:
Connections
Pending invitations and who you sent them to
Connection requests (from other people)
Endorsed contacts
Contacts followed
Visited contacts
Replied to contact
Replied to messages
Recent activities timeline
Who has viewed your profile
People you may know
My Network
My network shows you a list of all of your first-degree LinkedIn connections.
You can obviously see this on LinkedIn, but We-Connect shows you more information on your connections without having to go to their profile, such as location, experience, email, and phone number.
You can also add tags on people (like job field, company, education, etc.) to organize contacts for easy searches later, as well as attach notes to their profiles.
And, of course, you have the ability to create an automated LinkedIn outreach campaign right from your list of first-degree connections. You can either select all or go through and individually select who you want to contact.

Messaging

Lastly, you can message people right from We-Connect that will sync with your LinkedIn messaging. You can send a personalized message quickly.
There isn't a huge difference between We-Connect's messaging and LinkedIn's, except that on We-Connect:
You can search through messages using tags.
You can create notes about specific connections you are messaging
The message screen is a lot less cluttered than LinkedIn's
The last thing we have to talk about before getting into the review is cost.
We-Connect has two different pricing plan options:
Pay as you go: $49 (£36.81) per month per user
Annual: $490 (£368.10) per user billed annual- comes out to $40.83 (£30.67) per month
WE-CONNECT REVIEW
Alright, time for the summary of our We-Connect review!
To put it simply, We-Connect is a great tool!
It's really easy and intuitive to use. You'll be able to have a campaign up and running within 20 minutes of hitting the sign up button.
On top of that, it's also very effortless.
Some automation tools involve many setting up and require a decent amount of work to acquire enough people to reach out to. With We-Connect, a simple search on LinkedIn is all it takes.
And the ability to write a customised message is a significant upside, as it can go a long way in engaging your target audience and capturing their interest.
Brilliant tool?
Of course, with any automation tool, there is the drawback that you won't be able to individualise every message, but that is part of the trade-off with using We-Connect to increase efficiency and save time.
What is really cool, though, is that you can take advantage of notes and tags to personalise your messages, at least a little.
You can add tags on people for things like where they work, what school they go to or a common interest, and then create a campaign sending a more personalised message to all of the people under a particular tag.
For example, suppose you want to reach out to people who went to the same university as you did. In that case, you can add a tag to all of the alumni from your connections, and then send a message to everyone with that tag saying something like: "Hey, as a fellow alumnus of _____ university…"
With this, you can take advantage of the efficiency We-Connect provides while still sending messages that feel more personal.
In addition to its LinkedIn automation, there are a few other small things about We-Connect that add to its value:
It has built-in safety limits to prevent your account from being flagged by LinkedIn
The cloud-based nature allows you to shut down your computer while campaigns run in the background
Its dashboard and messaging display information in a less overwhelming and aesthetically pleasing way than LinkedIn
Now with all of this in mind, here is our official rating!
WE-CONNECT REVIEW OFFICIAL RATING
 5 out of 5 lemons!
We-Connect is a superb all-around tool. It's easy to use, does exactly what it promises to do, plus a little bit more.
We-Connect won't do everything for you, and as a result, you'll need to put some effort in on your end. However, it will make your life significantly easier and will be an incredibly valuable addition to your lead generation process.
CONCLUSION
Still unsure about We-Connect? Then go to the We-Connect website right now, where you can get a 14-day free trial!
For two weeks, you'll get access to all of its features with no cost and no commitment, so you can see for yourself if We-Connect is the LinkedIn lead generation tool for you. You won't even need to put in your credit card information!
You can also go to our YouTube channel to watch our video review of We-Connect to see how it works. On the channel, you'll also find videos of other LinkedIn tools that can help with other aspects of the lead generation process, like LinkedIn Sales Navigator.
And, of course, there is our blog on Pearl Lemon Leads, where you will find more tool reviews, as well as blogs and guides on all things lead generation.
And be sure to come back for our next LinkedIn lead generation tool review!