About Zoho Campaigns
Zoho Campaign brings back the simple UI design with easy navigation, simple tasks, and the ability for any skill level to use this platform.
Zoho wanted to create an interface that everyone could be comfortable using, could be navigated with ease, and had excellent features people wanted in a high-quality platform, for an affordable cost.
This service offers a wide variety of features that can benefit many types of marketers, businesses, and entrepreneurs.
WHO WOULD BENEFIT FROM ZOHO?
Many different businesses and agencies can benefit from using a platform like Zoho. The initial cost to use Zoho is absolutely free. You can add credits to your account to send to a larger contact list – but if you are small, no need to worry about that and you can make use of the Zoho CRM software as soon as you get it.
I believe that many small business owners, entrepreneurs, and individuals who need to market themselves (such as: Uber and Lyft drivers, babysitters, etc.) could really see how this platform can make an impact on your clients and improve your marketing campaign through the mass emails and dynamic content that you can send.
You can buy subscriptions for a higher amount of subscribers, but the free plan is good for up to 200 contacts. The plans start at $5.
USING ZOHO CAMPAIGNS
When you first get on Zoho, you might think you've taken a trip back in time. The dingy yellow background with grey and white feature areas – it's not at all appealing to the eyes. But the automated workflows more than make up for it.
What it does do is provide easy navigation and a simple layout so you can find what you need. It also provides the tools you need to get the job done! You can reach your target audience quickly and after/during a campaign, you can check the progress of it using their analytics.
Some of the things you can do with Zoho are:
Add your contacts
Create and send multiple campaigns
Run A/B Split Tests
and much more.
Some of the features are only available to people who pay for the site, but the basic package is great if you don't have a large audience.
Add Your Contacts
Adding in your contacts to the Zoho platform will make your life a lot easier when creating campaigns. If you don't import your contacts, you will have to do it in the middle of creating your campaign, which takes a lot of time away from focusing on building and sending your email.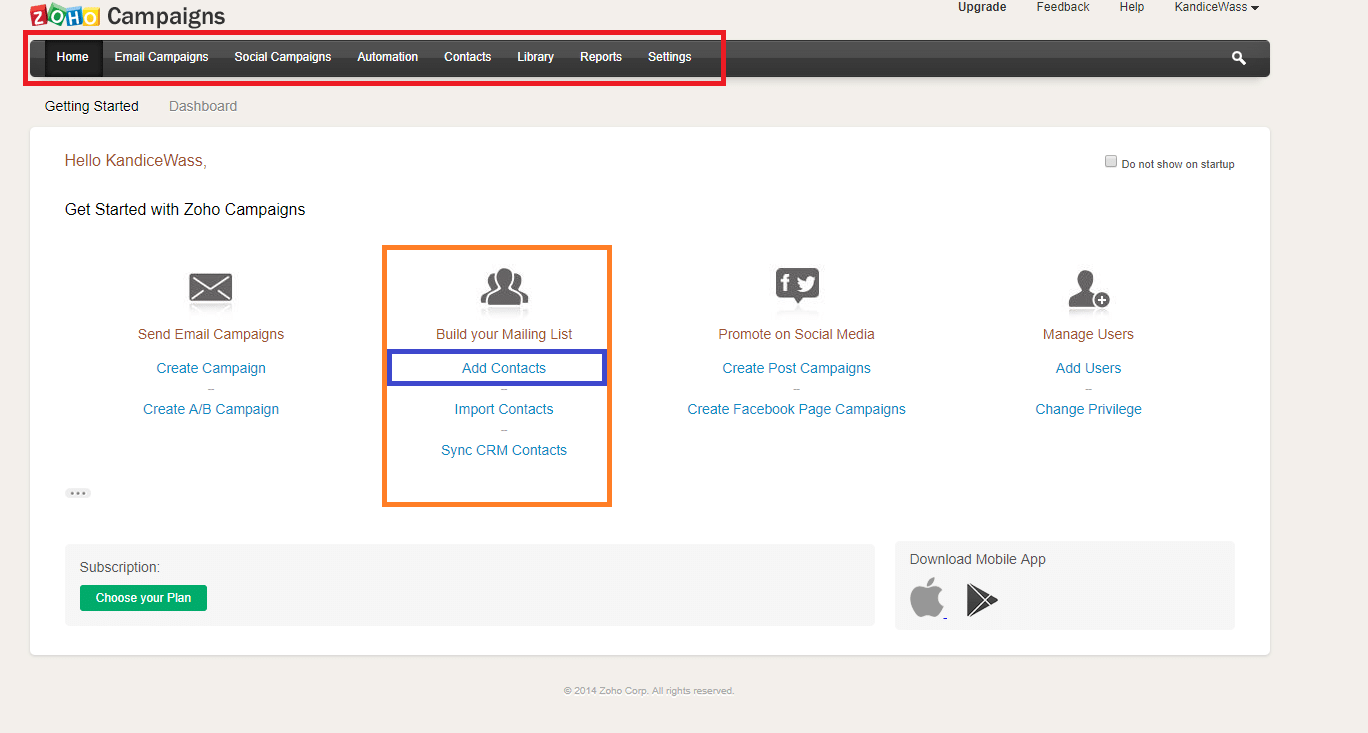 From the dashboard, select the add contacts button under build your mailing list.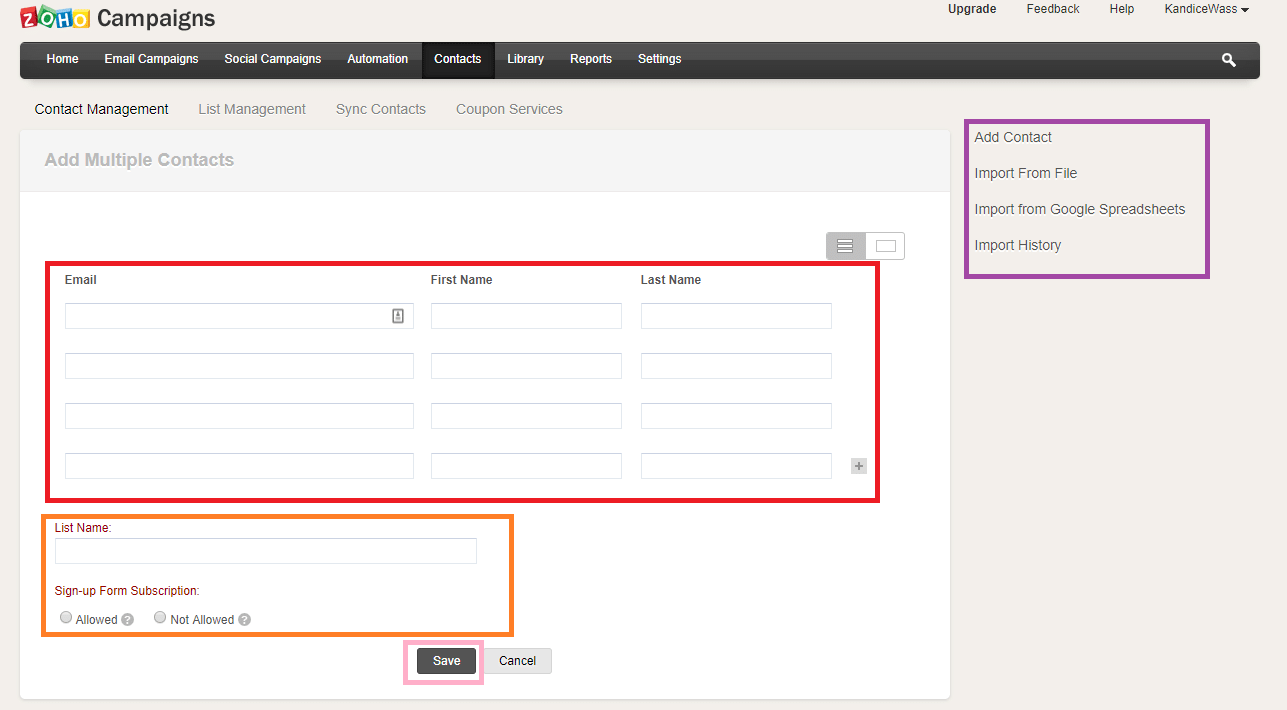 You will need to enter your contacts' email, first name, and last name. You can add a list name to group the contacts together, and then select the save button.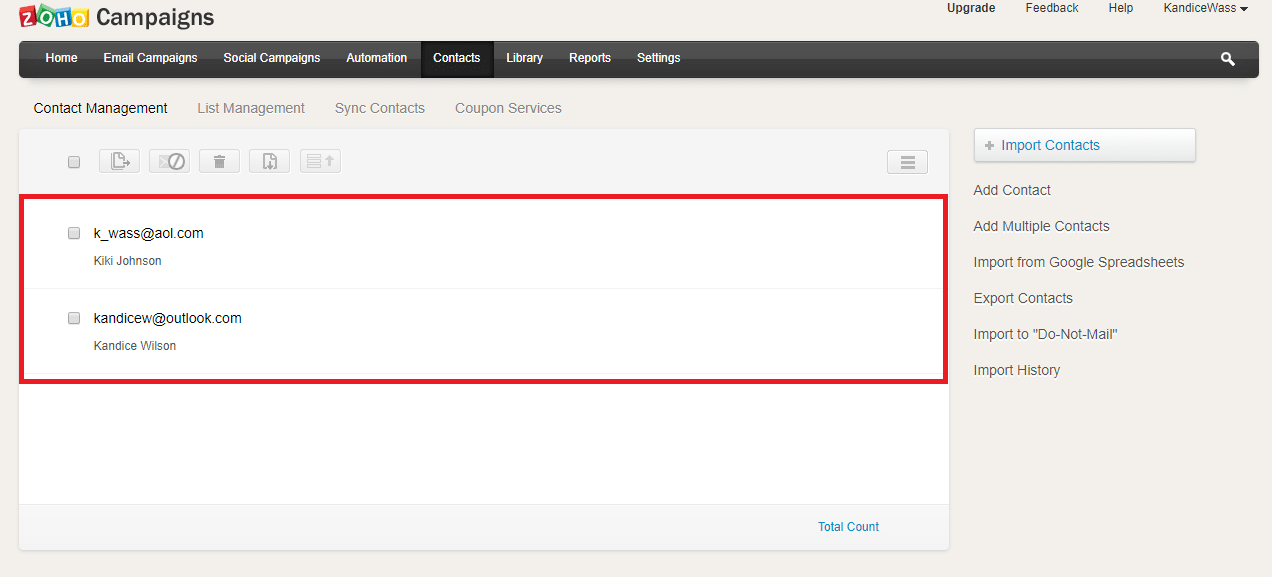 You have now added your contacts and are ready to move on!
Create a Campaign
I love creating campaigns, especially when the templates and editor are easy to work with. I find that the simpler the editor is, the easier and faster it is to work with.
Using Zoho, you can build your campaign in just 9 simple steps!
1. On the dashboard, select the create campaign button under the send email campaign section.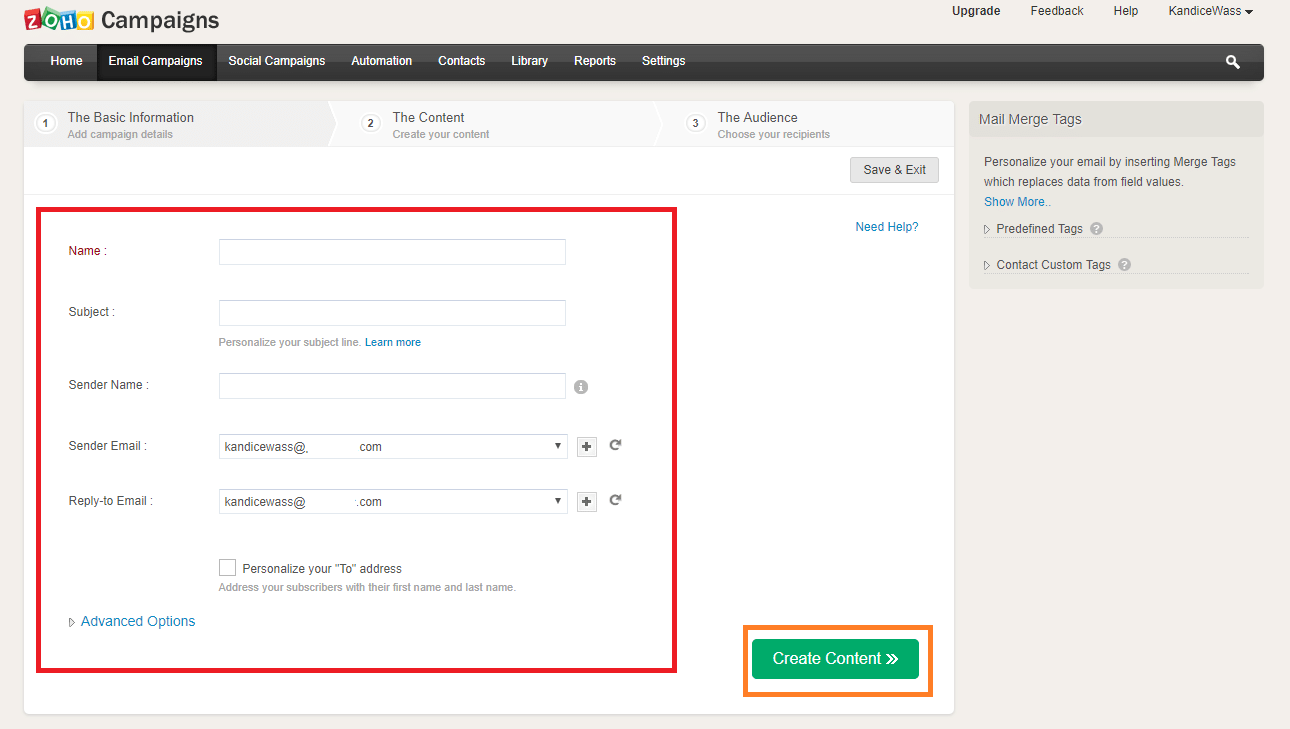 2. You'll need to fill out the name and subject of the campaign, fill in your name, make sure you email is correct, and select create content.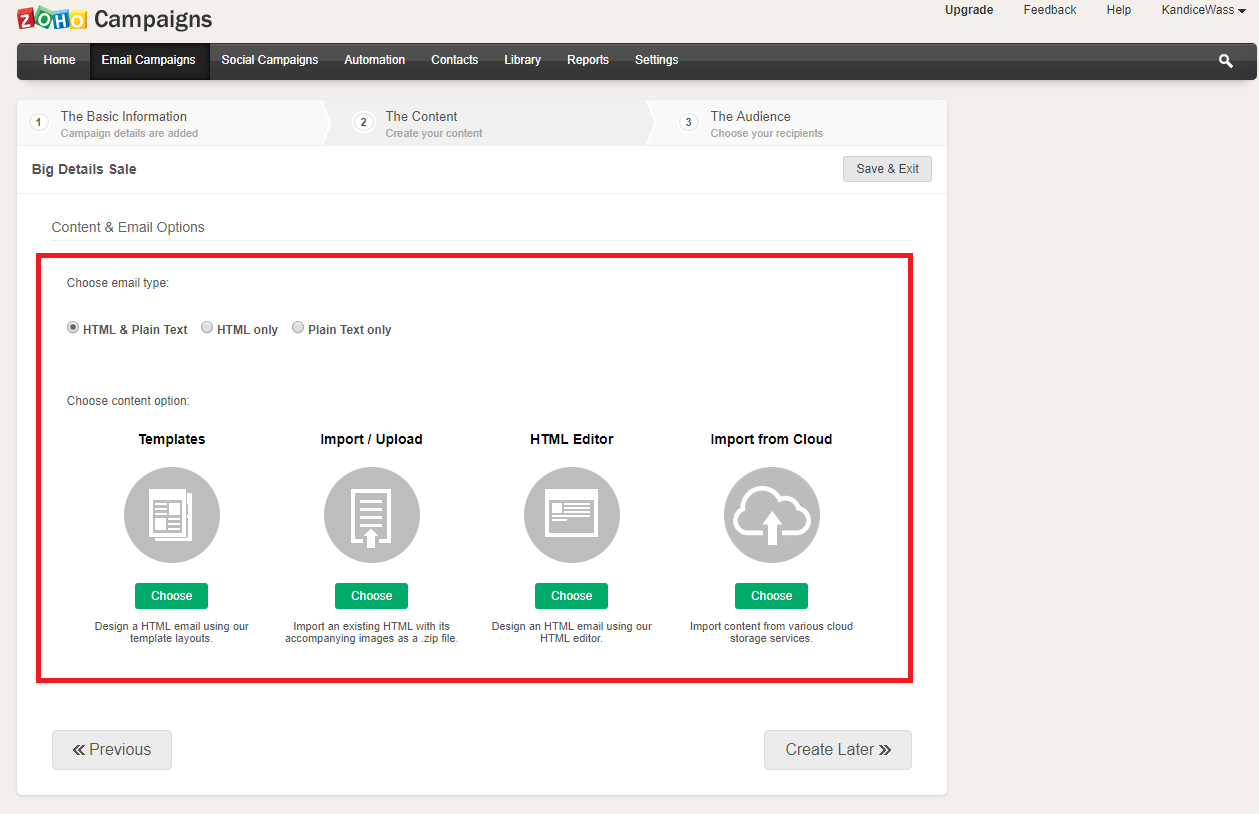 3. Next, you will need to select the content options for your email. When you choose the option that's best for you, select choose underneath it.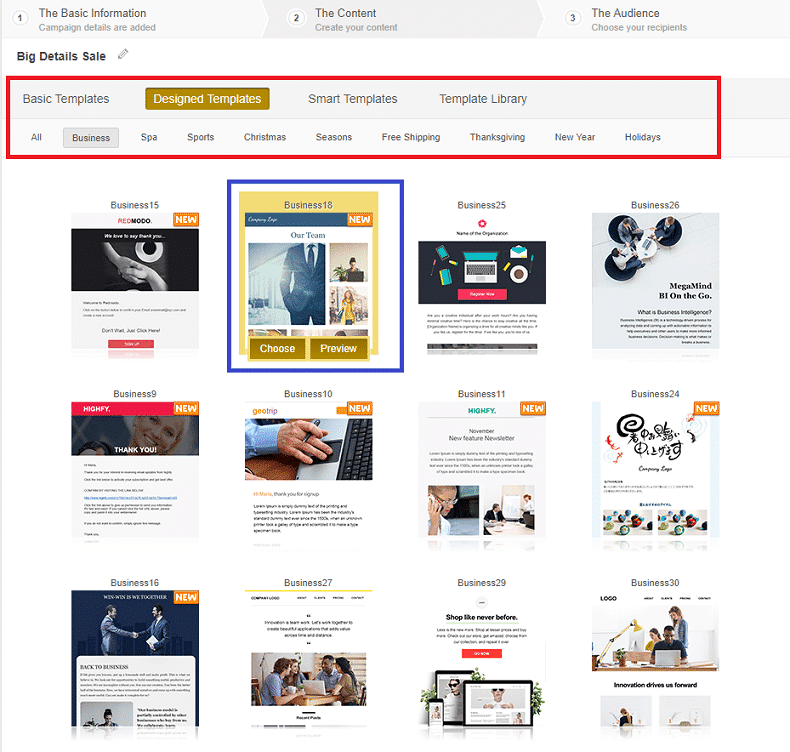 4. The templates will load and you will have a variety to choose from. Select your favorite, hover over it, and click on choose.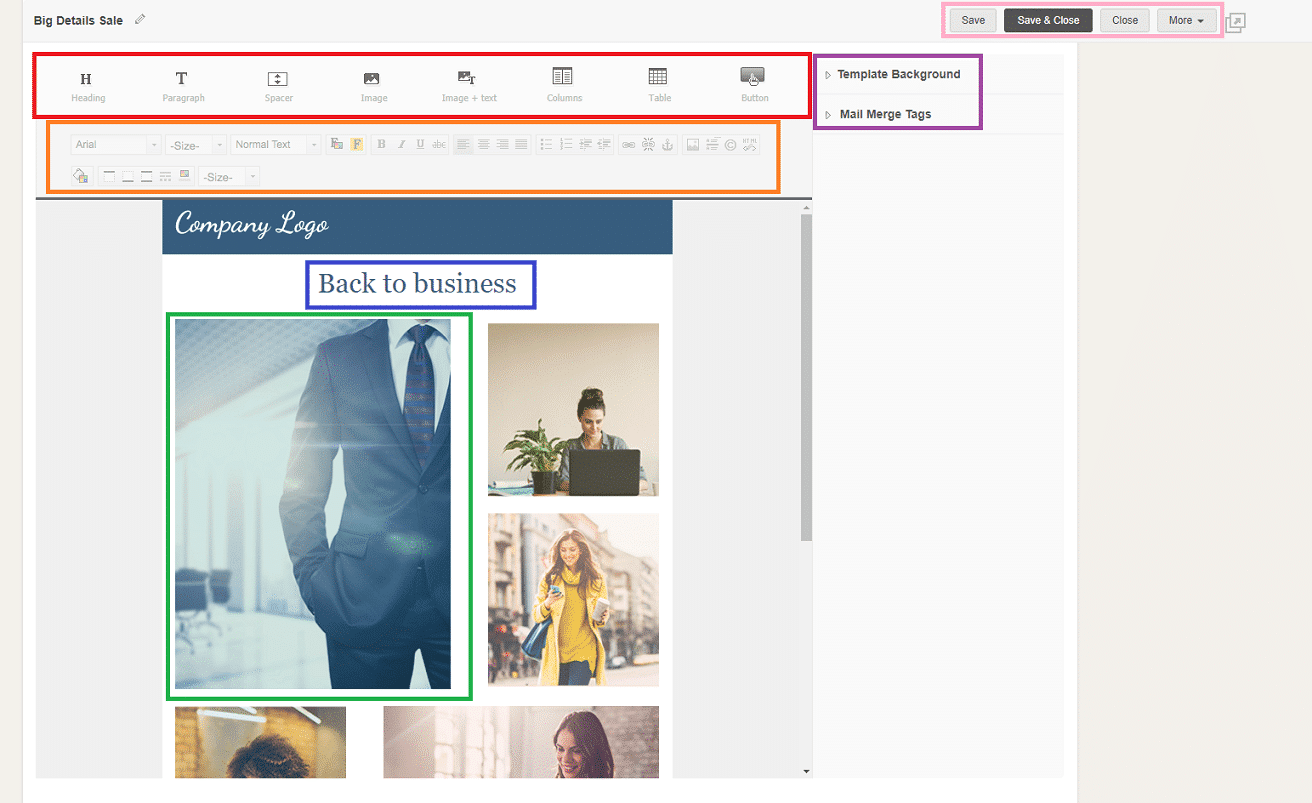 5. On the editor, you can click on any image, text, drag and drop from the top bar and save. Make sure to save often so you don't lose your work.
6. If you click on the text, you can begin typing your information. If you click on an image, you can replace it with one of your own and resize it. I recommend you play around with the editor to find out everything you can do with it. Once finished, select save and then close.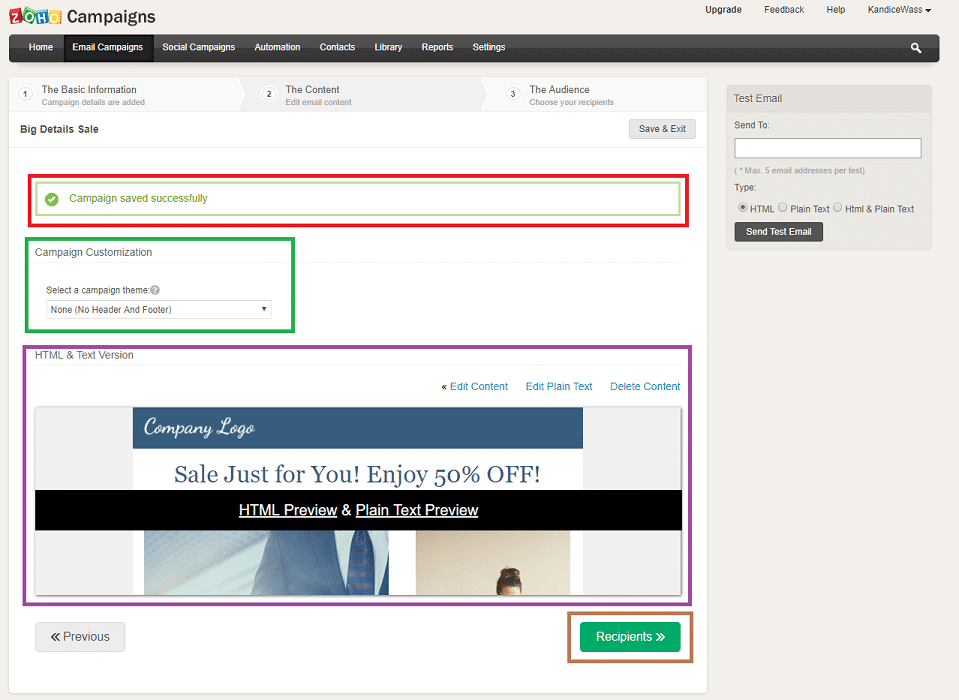 7. You have now created your campaign and are ready to send it. Look over your campaign and make sure there are no errors before you click on Recipients.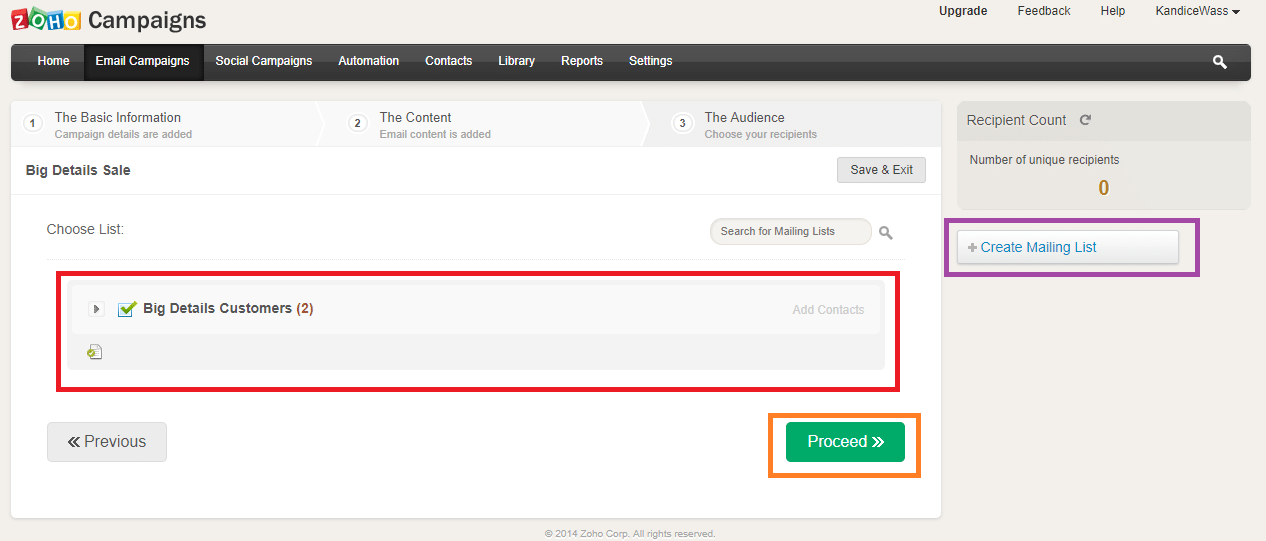 8. Click the check mark next to your list of contacts, or create a mailing list if you'd like, and then hit proceed.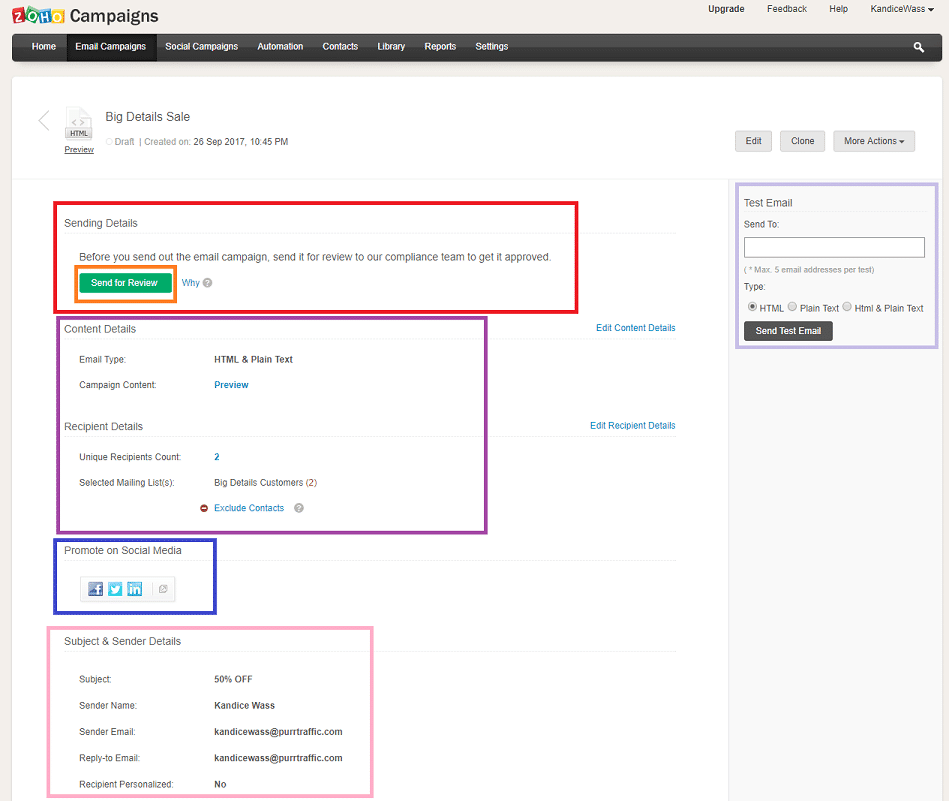 9. You have now successfully sent your campaign to your contact list.
That is all for the campaign creation step.
Run an A/B Split Test
I like running tests that are short and to the point. I don't like spending all day creating slightly different campaigns to compare them, I like drastic ones. However, those are few and far between when tweaking your product newsletter.
I enjoy the test creation process on Zoho because it was quick, to the point, and did what I needed it to.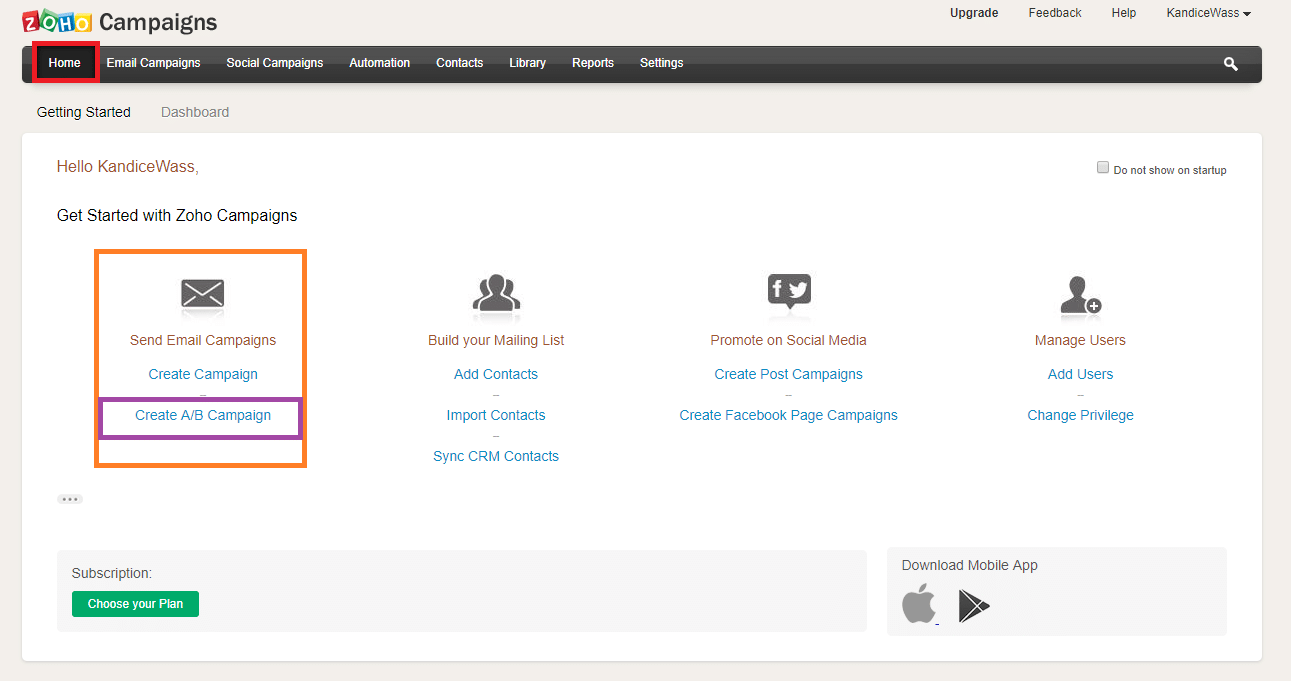 On your dashboard, select the create A/B campaign under the send email campaigns section.
You'll need to name the test, select the difference, define the percentage, choose the winner criteria, and then select next.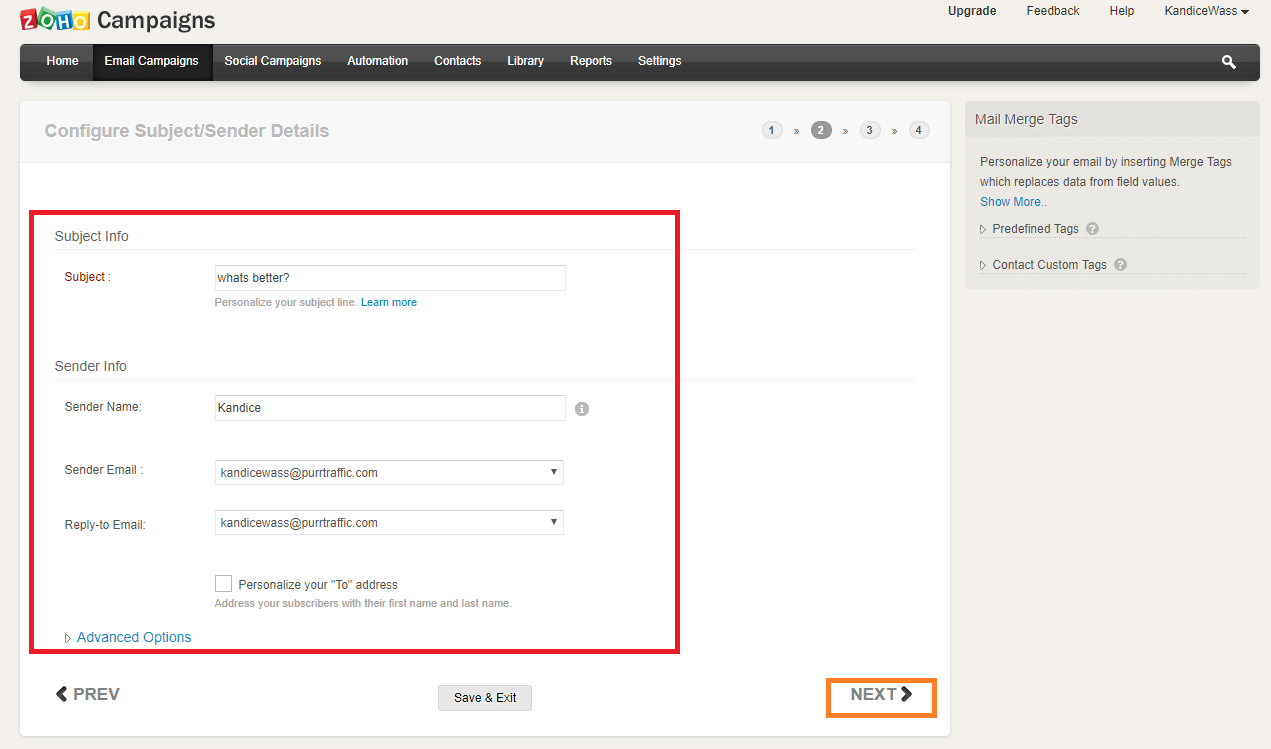 Next, you'll need to select the subject, the sender name, and your emails. Select next when ready to proceed.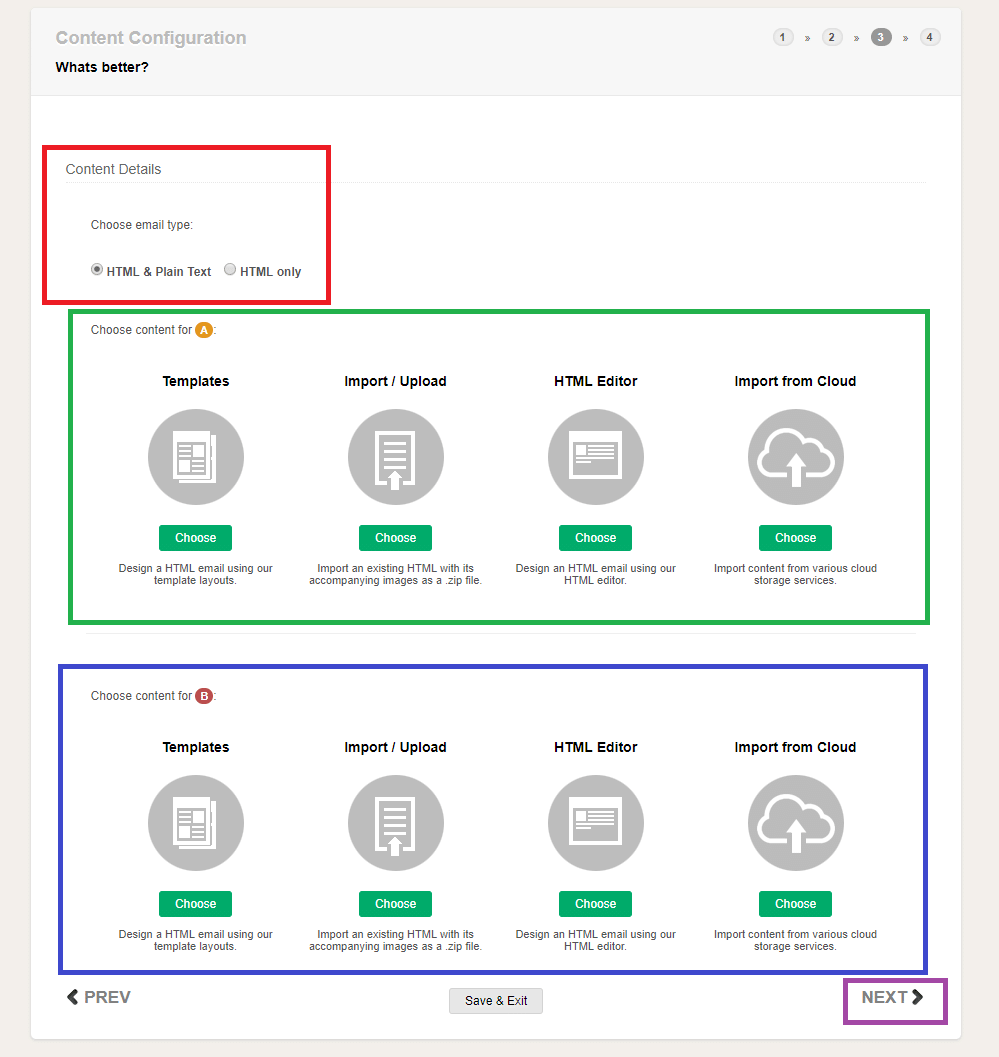 You'll need to choose the email type, then select the content for A and for B. Select next once you finish.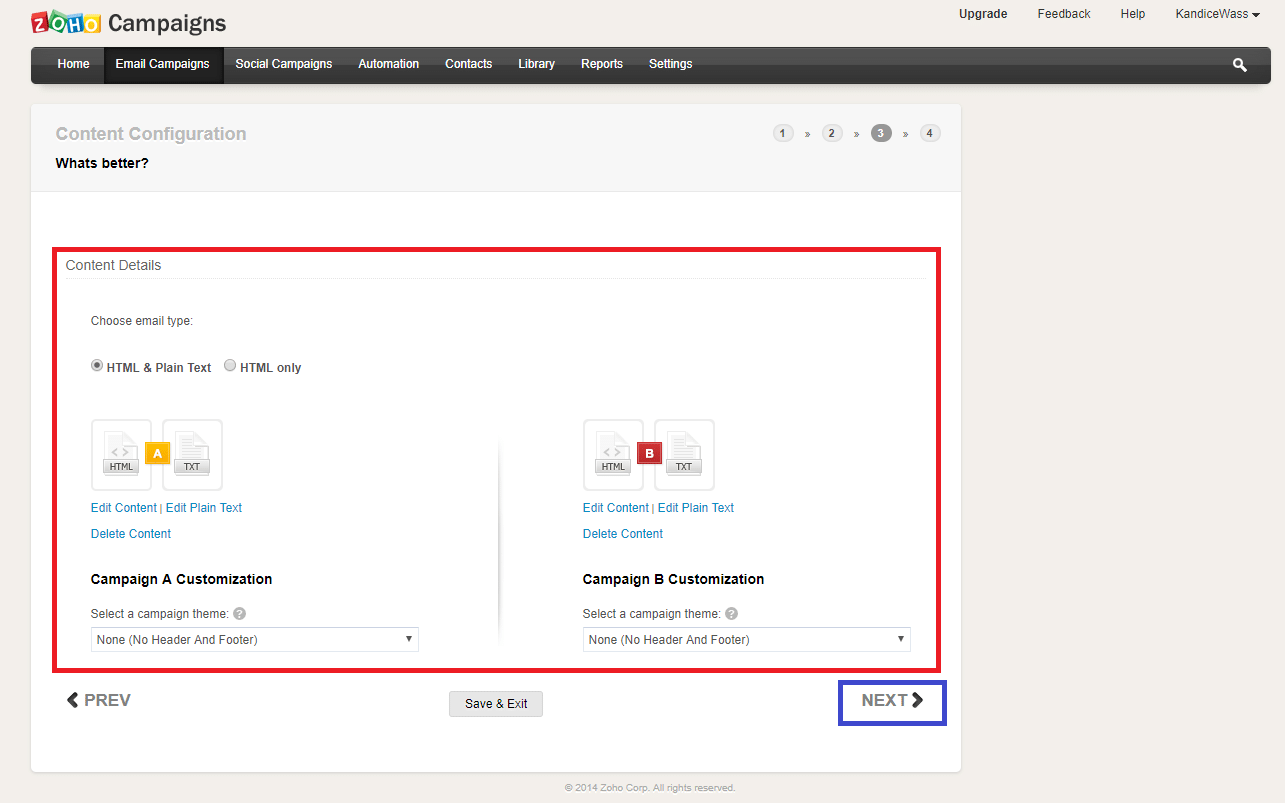 Make sure everything is correct. If it is, you can press next.
Select your sender list and then hit proceed.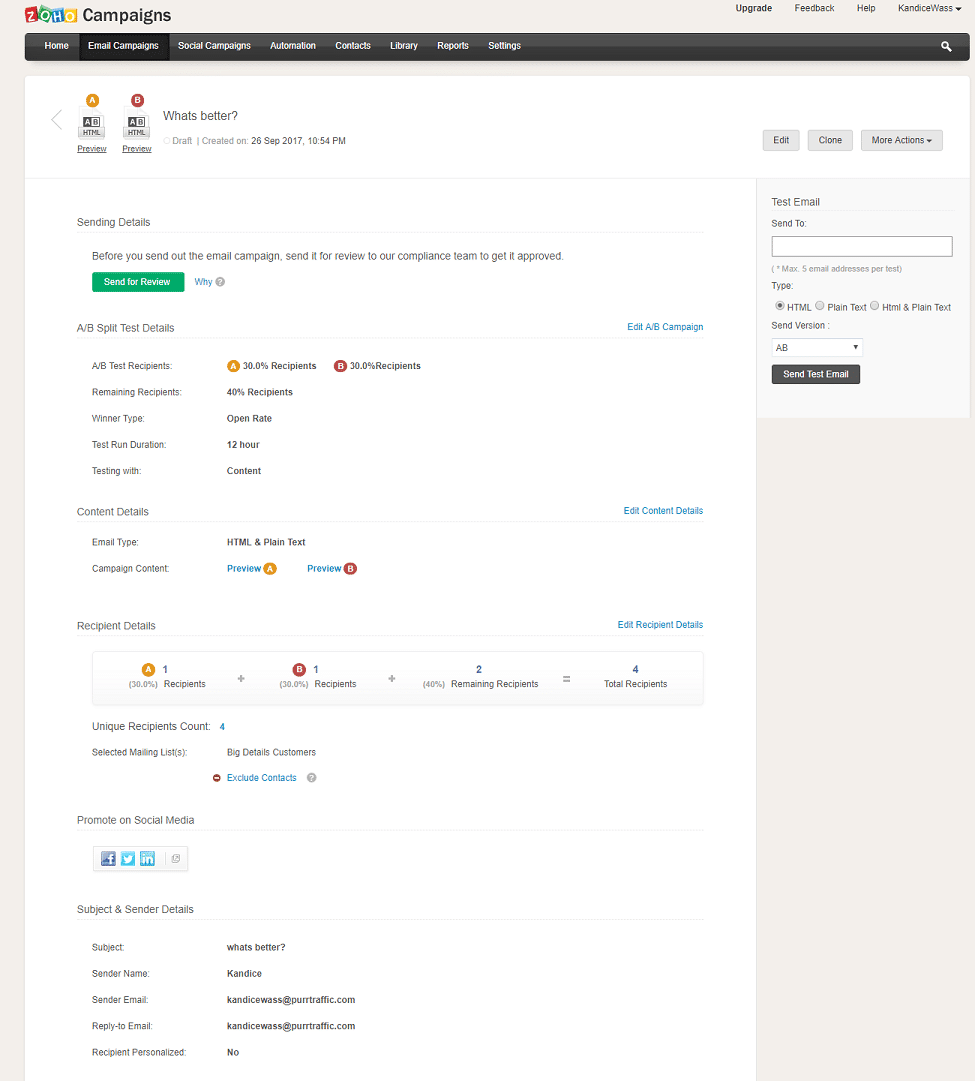 You're A/B test will display all the information you inputted and you can now access the report through your dashboard.
Automation and Social Media
These were two of the things I really wanted to try, however, they are for subscribers only. The little bit I did get from it is that they look decent to use.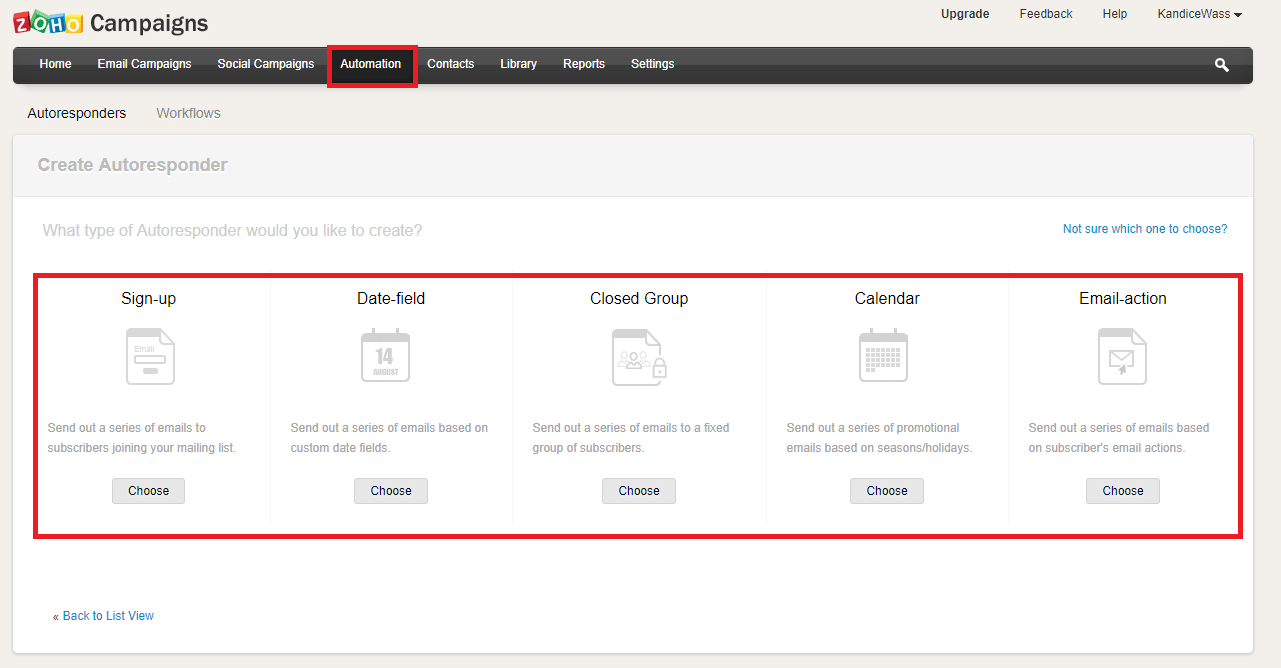 If you click on automation in the navigation panel, you'll be taken to the autoresponders. You can choose from sign-up forms, date-field, closed group, calendar, and email-action.
I liked the idea of the calendar because you can actually set up meetings and tasks you need to take care of in your day. This type of integration makes it easy to be organised.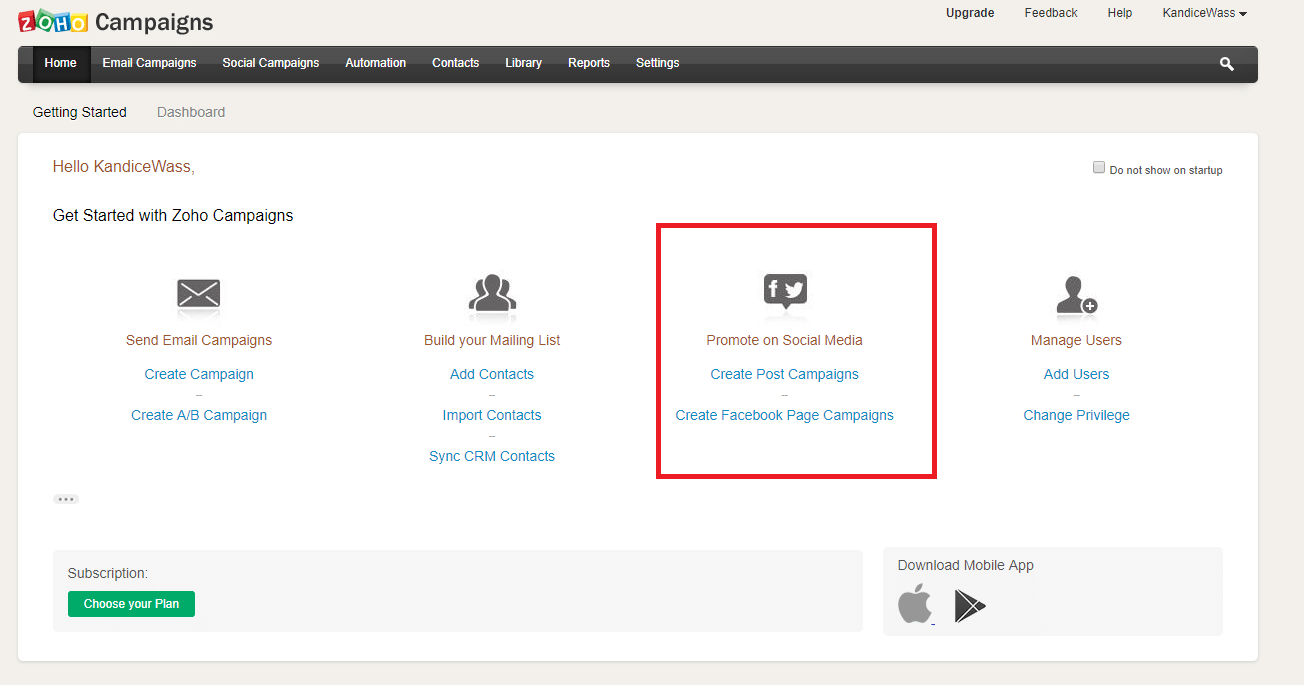 They also feature social media posting where you can create posts and social media campaigns. So you can set up things for another app and sync everything together for a better workflow, I found this to be a very interesting feature I wish I could try out for myself. I think we both agree that your marketing team will thank you for introducing this tool
CONCLUSION
Overall, I found that the Zoho platform is very user friendly, easy to navigate, and very basic when it comes to designing. The editor gives you everything you need and there is nothing hi-tech or fancy about it.
I do like that they offer their services for free (for the most part), but was sad to find that some of the features I really wanted to try out – were locked.
I do think Zoho is well worth it's affordable $5 starting price, and I think the platform is well worth it if you need a simple platform that is affordable and gets your email marketing done.